Type of Algae?
---
I have three things to address. First is this black short-threaded algae that's starting to show up in my Betta 10g tank on a few plants. I suspect this is the beginning of BBA. Is this correct? If it is, can I temporarily transfer my Siamensis Algae Eater over from my 40g to take care of this problem for me? My only concern is, I have Red Cherry Shrimp in this tank as well. Will the SAE eat the shrimp?
Secondly, you can see a clear goo-like substance with a black dot in the middle. Is this a limpet snail? At first I thought they were eggs from either the Nerite or the Yellow Mystery snail I have, but I realized they don't look like eggs and they're moving, but very slowly. If they are limpets, should I be worried?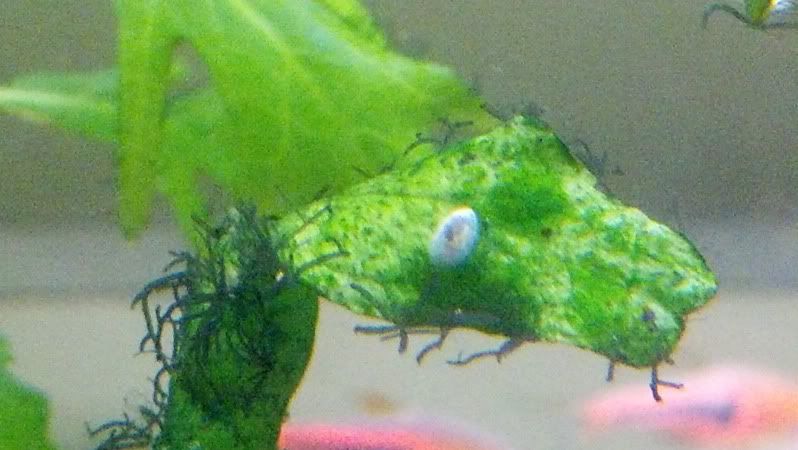 And finally, I've been fighting this brown algae in my 40 gallon. None of my eaters seem to be able to control this, not my Starlight Pleco, my Otos, or my SAE, or my millions of MTS. This seems to grow in rings and streaks. It's pretty clear they're thriving on the light, as they don't grow on the glass where the light is weak. I do regular water changes with this tank. I wouldn't mind this algae except it's extremely hard to scrape from the glass. I have to use my muscle to actually get this off the glass and my arm is tired before I'm even done scraping. This algae isn't showing up in any of the algae sites I've been reading to try and identify this.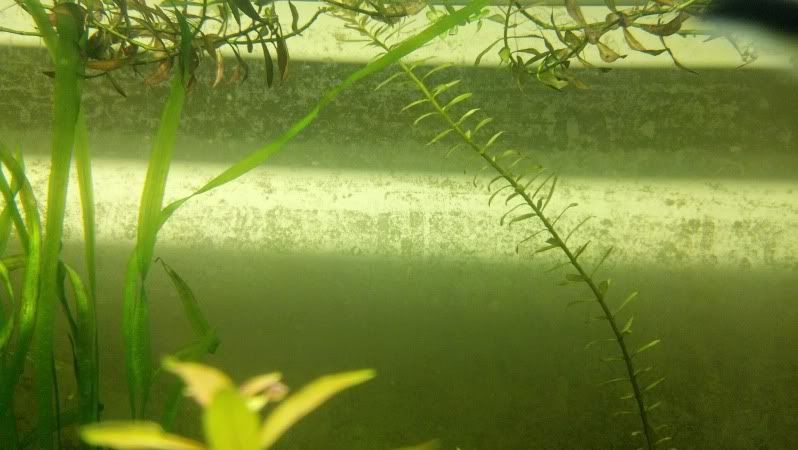 not sure about the first pic, but the algae in the second pic, u mentioned it is brown algae, which can mean low light and excess nuits. try cutting back feeding a bit and when u do w/c make sure to really sift the nastys out of the gravel. hope this helps
The algae in the last photo may look brownish, but that is not diatoms, it is green dust algae which frequently occurs on the aquarium glass. It is caused by light, too intense and too long.

The first algae might be staghorn. Nutrients plus light cause it, some suggest high ammonia too.

Without knowing more about the aquarium--light specs, size, fish load, fertilizing, etc--I can only generally suggest that you limit the light and control nutrients. But this is very general, based on no data.

I've no idea what the "snail" thing is.
---
Byron Hosking, BMus, MA
Vancouver, BC, Canada

The aquarist is one who must learn the ways of the biologist, the chemist, and the veterinarian. [unknown source]

Something we all need to remember: The fish you've acquired was quite happy not being owned by you, minding its own business. If you're going to take it under your wing then you're responsible for it. Every aspect of its life is under your control, from water quality and temperature to swimming space. [Nathan Hill in PFK]
Thank you! I've since added floating plants to help control nutrients and turned down the lighting from 15 hours to 10 hours. That should help!
Posting Rules

You may not post new threads

You may not post replies

You may not post attachments

You may not edit your posts

---

HTML code is Off

---