If I made a large tank like that, I'd have it so the tank would go around the room... exception of a door way...
Then make the rest a regular living room with seating and all that.

Now my wife probably would go for that, but not one with 1500 fish and as massive as the one above.

I dunno, I've been working on designing it for later in life, once we have more money...
Basically meaning once we both are out of college, and I finish grad school (engineering/physics)
Quote:
I just find the scuba diver way too funny in there "Honey where's the diving gear I need to gravel vac"
LOL I actually saw that in mexico too. IDK how many gallons the tank held, but it had multiple viewing windows. Off in the corner of one was a scuba diver with the equivalent of a giant gravel vac.
This one the bigger viewing window, there was a smaller one, and the tank still went beyond both windows.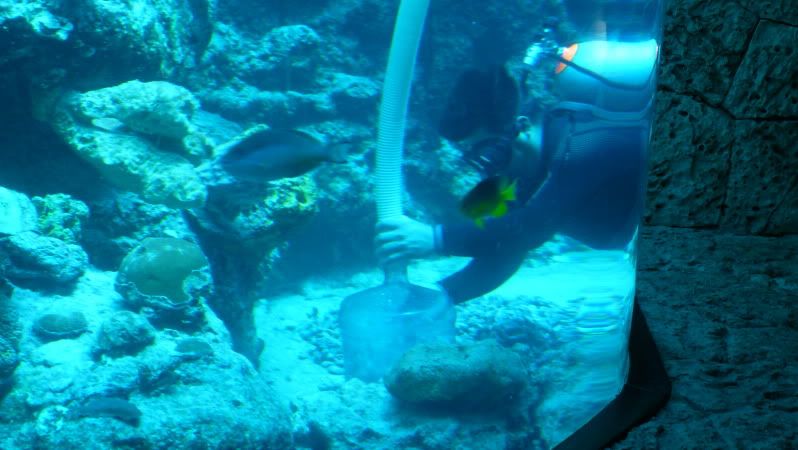 The National Aquarium in Baltimore has some pretty impressive tanks. One is a giant hollow cylinder full of all sorts of marine fish. There's a spiral staircase inside the cylinder so you can walk down the stairs and look at the fish all around you. Very cool stuff.
---
4 8 15 16 23 42
That's impressive! Thanks for sharing.
---
Animal testing is a terrible idea; they get all nervous and give the wrong answers.
Mikaila31: Danggg that's one heck of a gravel vac right there - How to do a w/c in our little bitty tanks in 2 sec or less
---
~ Life Is Too Short, Break The Rules, Forgive Quickly, Kiss Slowly, Love Truly, Laugh Uncontrollably And Never Regret Anything that Made You Smile.
Life May Not Be The Party We Hoped For, But While We're Here, We Should Dance. ~
Oh, I LOVE the Baltimore State Aquarium! That place is huge and the giant hollow cylinder is amazing. BONUS: Cheesecake Factory is right next door
As much as I love cheesecake, I never hit up the Cheesecake Factory after aquarium trips. Instead, I walk over to those little mini-mall things they have at the Inner Harbor and chow down on some Five Guys burgers. YUM.

(Was that off topic or what? Haha.)
---
4 8 15 16 23 42
WHOA?!?!? I never knew there wa a Five Guys Burger there. Looks Like i'll be headed to the aquarium again this summer
Enough to make many aquarists envy of this type of tank. Beats the Regina, Saskatchewan's Delta Hotel lobby hotel little pond with three turtles in it.
Posting Rules

You may not post new threads

You may not post replies

You may not post attachments

You may not edit your posts

---

HTML code is Off

---