So the last few days... (Possible future project)
---
So I don't remember exactly what caused me to get interested in this but the last few days I have been trying to design a tank built primarily out of fiberglass covered in black gelcoat. I'm about 98% sure that once cured it is completely inert, I have worked with it before on large projects. Under IDEAL circumstances this wouldn't happen for at least a few years.
Just wanted to see what you guys thought of the design/stocking. Also get an idea of what kind of filtration/heating would be needed for something like this. I would probably attempt to add black pvc pipe pipes with valves to the back of the tank in a way that intake for canister filters would be on one end and the output would be on another, creating a current and hopefully pulling/pushing wastes into the intake. Also would attempt to use an inline heating system.
This is only for giggles at the moment so any ideas welcome, and any ideas on how the current stock would get along is welcome as well.
Just noticed the mistake on the Datnoid's common name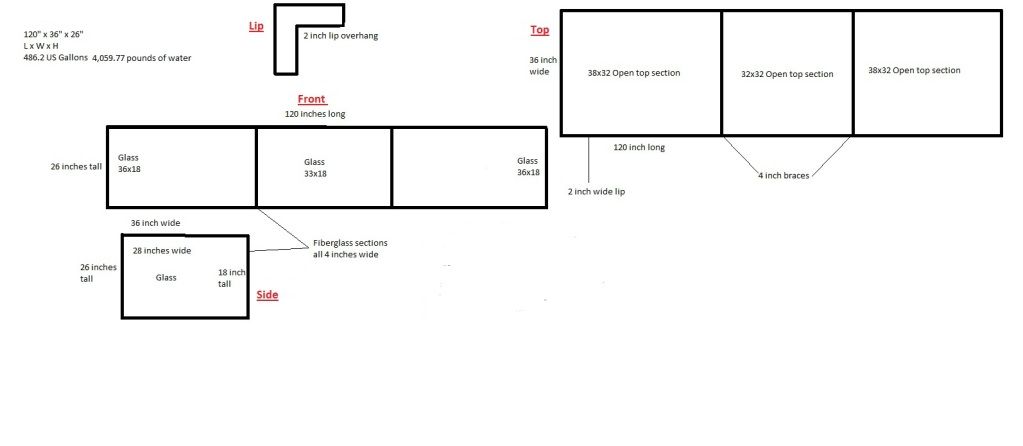 ---
Last edited by Philnominal; 04-04-2012 at

01:36 PM

.
Stock is not a problem at all, everything works.

Find a display (landscape) piece of driftwood as a center piece and to keep the Royal Pleco happy.

Filtration, either a 125g+ sump or a DIY wet dry system. It is going to take an awful lot of bioballs to create a system for that tank.

Return pumps 2/3 Aqueon 3000's would work or a pond pump.

Drill the tank with 2-3 3" bulkheads. With your stock which would make it slightly overstocked even at that size, you are going to be performing close to 40-50% changes a week.

Create the tank out of plywood and seal the inside with Zavlar liquid rubber, that way you save on the horrendous cost of either glass or acrylic. I would be looking at glass for the front panel as opposed to acrylic.

Hope this helps
---
10g Fry / Hospital / QT tank (as needed)

75g Saltwater Reef, Ocellaris Clownfish, Lyretail Antias (baby), Lemon damsel, Longtail Fairy Wrasse, purple dottyback, snails, crabs and a few LPS corals.

220g Still sitting empty (come on Lottery I need the numbers to come up!)
Eh I have a feeling if this were to come to fruition the stock would change until it was fully stocked. I thought about the stocking and it looked a bit much to me too. Especially only being 26 inches tall with the monsters on that list. Stuff like the Datnoid would just take up a ton of vert. room.

Thanks on the heads up on the filtration. I was thinking something about a sump possibility. I was honestly thinking about attempting it to be somewhat planted with low maint. plants. Not sure how well that would work out though.
I'd agree with Tazman, for a tank that size a sump would be the better choice. Keep in mind that a sump also has the benefit of increasing your effective water volume.

For heating, you just put multiple heaters in the sump. Probably at least three to four 300W heaters. That's 900-1200 watts of power just in heaters. Make sure you have at least two circuits to account for your pump(s) and lights so you don't pop breakers if they all kick on at once.

Another consideration is that you will need to hire a structural or civil engineer when dealing with that kind of weight. Even directly over concrete if the ground beneath the foundation is not solid enough your house/garage could settle from all that weight in a concentrated spot. With a 125 gallon sump that's another 1400 pounds of tank+water. Over a concrete slab you have a good chance of being okay.
Posting Rules

You may not post new threads

You may not post replies

You may not post attachments

You may not edit your posts

---

HTML code is Off

---