My last non-live-planted tank (60 gallon) was torn down before the move from Texas to Idaho last winter. It was black Tahitian Moon Sand, a HUGE piece of tangled looking plastic wood & vine with another large plastic stump to finish out the stump end of the largest piece. Plecos had removed the natural looking wood finish, so it was mostly white where they could get at it. LOTS of large silk plants. Black background. Stunning display tank with the Purigen polishing the water. I tore my right rotator cuff over a year ago and it was hard to maintain with my shoulder the way it was, so I left it with my son to replace his 10+ year old 55 gallon tank. I had nothing but glowing comments regarding that tank's appearance. Planted tanks were something I tried back in the 80's. No internet. No one to ask questions to and really no books to guide me. I tried my first planted tank (Fluval Edge) and was hooked. I don't have the type of tanks that have that haunting beauty of the Asian biotopes, but the fish are happy and spawning. The plants need trimming almost every week. I get to give them away and help others discover the fun of live planted tanks. I have enjoyed both worlds and had beautiful tanks both ways. I am attaching photos of a some of my tanks. The first is a Fluval Edge tank that has a blue butterfly half moon beta as the main resident. Blue Pearl Shrimp are the other occupants. Yes, a few shrimp become lunch, but over all, the population is steadily growing. The other photos are close ups of areas of two of my 7 planted tanks. The tanks in the last 2 photos were torn down and replanted 3 weeks ago. Obviously, I have tons of plants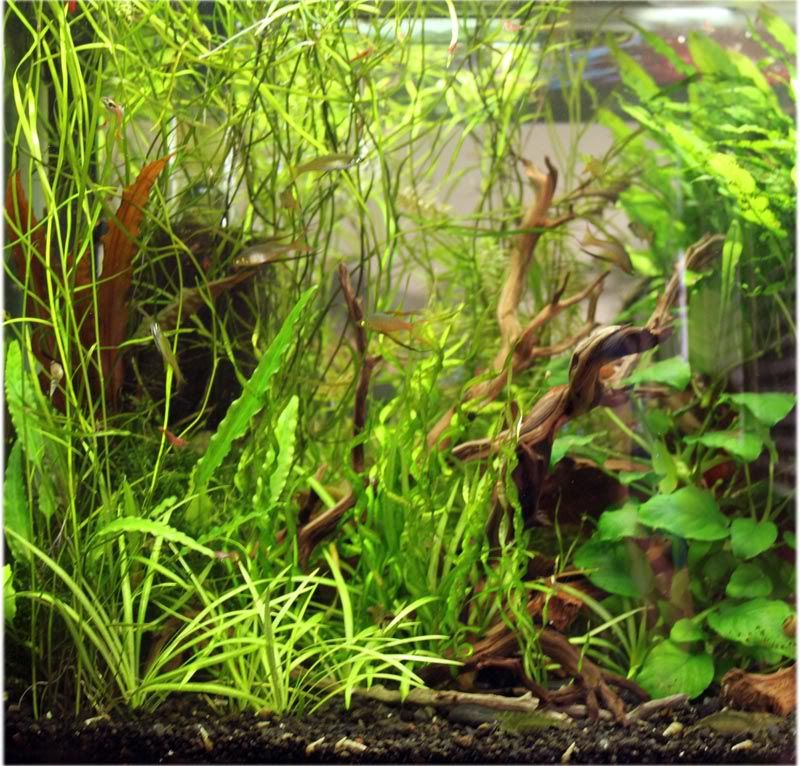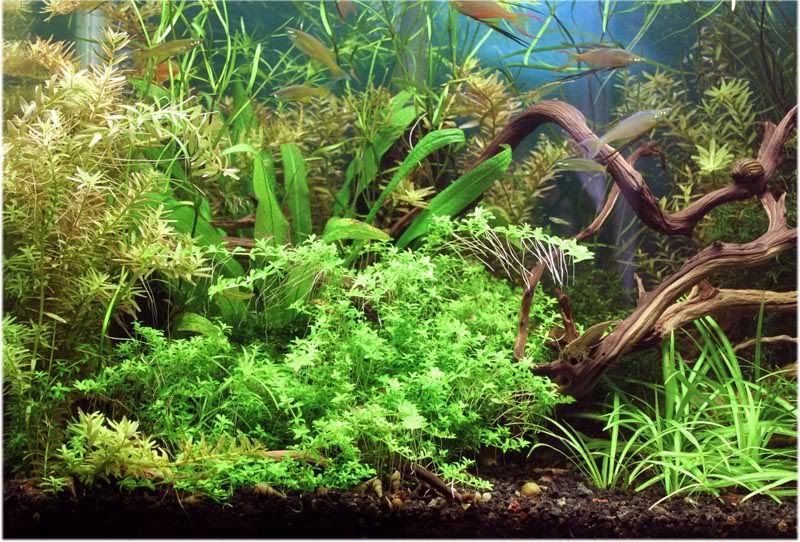 Melanie
---
Last edited by paybackranch; 12-03-2011 at

10:55 PM

. Reason: Photos
I'm resurrecting this thread for a 1 month report since I put 2, 100ml bags of Seachem Purigen in my AquaClear 70 filter. The water has an amazing clarity, much like I would typically see right after a 50% water change, but remains exceptionally clear throughout the week.
There is one caveat to fairly report. At about the same time I began using Purigen a month ago, I also switched to higher quality fish foods that use fresh fish and little/no flour or gluten binder/fillers. This is significant because it quickly became clear to me that there was less fish waste being produced than before. I believe the reason is that the binder/fillers used in many foods can't be digested/absorbed by the fish and just pass through as waste. In any case, a reduction in fish waste is likely to reduce dissolved organics in the water column. Add to this the Purigen adsorbant that attracts dissolved organics and both result in significantly cleaner, more polished water. I have peeked and see the Purigen pellets turning brown.

I give Seachem Purigen a thumbs up and will continue using.
---
Father Knows Best but Abbey knows everything! I once knew everything, then I asked one question.
` •...><((((º>` • . ¸¸ . • ´` • . . . ¸><((((º>¸ . • ´` • .. . ¸ ><((((º>
| | |
| --- | --- |
| The Following User Says Thank You to AbbeysDad For This Useful Post: | |
Great to hear. I've been using it in my 20g shrimp tank and having the same results.

On the better quality food, if you have dogs and increase the quality of their food, you get the same result...less mess and of course they look better. Works for us too...lol
Quote:
abbysdad,

what foods are you speaking of not to change the subject.
I switched to Ed's
Almost Natural Tropical Fish Food
(Freshwater Flakes and Super Green Flakes although he has many more) and
Omega One
Freshwater Flakes.
Unlike most tropical fish foods, both of these brands use fresh
food grade
fish with little/no flour/gluten binder/filler. I'm convinced this will result in healthier fish with far less fish waste.
Frankly, the reduced fish waste seemed like an amazing bonus to me.
---
Father Knows Best but Abbey knows everything! I once knew everything, then I asked one question.
` •...><((((º>` • . ¸¸ . • ´` • . . . ¸><((((º>¸ . • ´` • .. . ¸ ><((((º>
i already use omega one flakes and omega one shrimp pellets.

i have been waiting for your results to use the purigen, i have a tanin problem from drift wood so this is just what i have been looking for.
Posting Rules

You may not post new threads

You may not post replies

You may not post attachments

You may not edit your posts

---

HTML code is Off

---