Rocks in the tank
---
Up until recently i hadnt reall thought too much about putting rocks in a fish tank, then i got into cichlids and into rocks and really like it. I bought some volcano rock the other day and i wanted to see how it looked under water so i stuck one in the 46g and it looks great, not just that but the fish love it. Ive watch them a couple times and the small group of zebra danios zip in and out of it chasing each other and the clown loaches just hang around on or inside it.


Anybody else have pictures of cool lookin rocks in their tank or share my new found love of rocks?

Sorry for the reflection, it was kinda bright out. Kinda creeped out by what looks like a face in that glare.
---
Last edited by Grimmjow; 04-14-2010 at

04:49 PM

.
i had lava rock in my tank once,looked quite good,even though
i didn't really have enough of it,my loaches loved it,the shrimp loved it,
they were forever picking algae from there.
i think the only thing i didn't like was how rough it was,i worried that
the fish would possibly injure themselves,but no one ever did.
dug out this old picture,thinking back if i had waited for the plants to
fill out more,and added rock each week,i would have probably liked it more,however
i'm no good at waiting at all.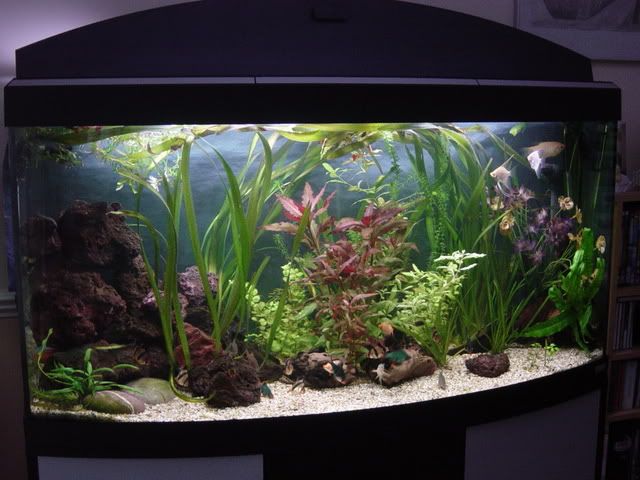 ---
when you set up a new tank,hide an extra
sponge or two behind some decor,that way you have
something seeded for you next filter.
Throwing this out there. I think it would be interesting to see a large chunk of obsidian rock in a cichlid tank. That jet black rock would contrast like crazy with any bright, intense colors of cichlids.
Oh yeah it would, especially with the auratus im planning on getting. It would be so cool to see a male with it being black with silver strips hiding in some obsidian rocks.
Posting Rules

You may not post new threads

You may not post replies

You may not post attachments

You may not edit your posts

---

HTML code is Off

---