That stinks, 800 gallons isnt a tank, thats a small swimming pool lol, good for you though for rescueing these guys, even if things dont work out for the best you did the right thing, its a shame fish like that are even allowed to be sold to anyone who walks in a LFS.
It really should be illegal to sell fish like that in pet stores... sure small time breeders can, but I think anyone willing to hunt down a breeder and such clearly would care more about the fish.. walking into a pet store is too easy for people.
---
taking a break from fish-keeping.
3 lovely male betta still keep me company.

It should be, yes. I recently visited a LFS and saw an 11-inch Pacu and two babies there... I just shook my head and left. Next time I'm going to say something to the LFS workers.

I have a couple of possible leads for the Pacu, but I'm not going to prematurely say anything yet. The woman who was interested in the BP hasn't responded for a while, so I still have the BP. Hopefully soon she'll respond and come and get him.

In the meantime, I thought you guys would enjoy seeing a Pacu and Blood Parrot feeding. :) It's a bit lengthy, but how often do you get to see a Pacu eating?


Aww the pacu is so cute, and the blood parrot is being a jerk! He's got that true cichlid attitude, picking on a fish twice his size.
You can tell the pacu needs more space, he seems so crampt. :(
My LFS has a foot long albino ID shark. The poor thing, you can tell it's been kept in a too small tank all it's life (the store tank is maybe 50 gallons, who knows what it was before). It's entire snout is covered in fleshy sores from hitting glass. And they want like, $35 for it, which is ridiculous (guess it might scare off some idiot that sees "free fish" in a store though). They also have a pleco who's face sticks out of the tank when he's vertical, and several too large oscars. I feel bad because most of these fish are probably dumped on them though.
---
taking a break from fish-keeping.
3 lovely male betta still keep me company.

Great news! The BP has officially been rehomed! He was just picked up 30 minutes ago by his new owners. He's going to a 75 Gallon tank with other BPs, so I'm glad that he'll be with his own kind. They've promised me that they'll add more hiding places for the BPs and photos of him in his new home. They also have a 90 Gallon saltwater tank along with several other tanks. He told me he's trying to offload a few tanks and I was tempted but I'm moving, so it's not the right time yet.
Old photos of the 75 G. The owners told me the Angelfish have been moved to another tank and this 75G is the Blood Parrot-only tank now.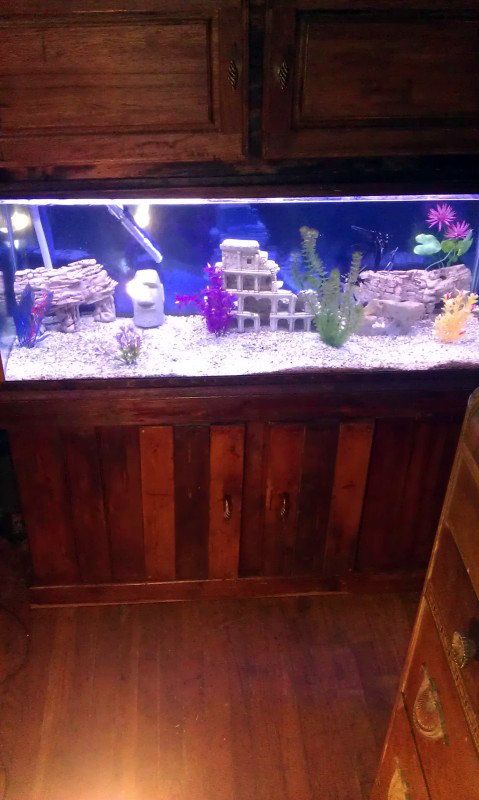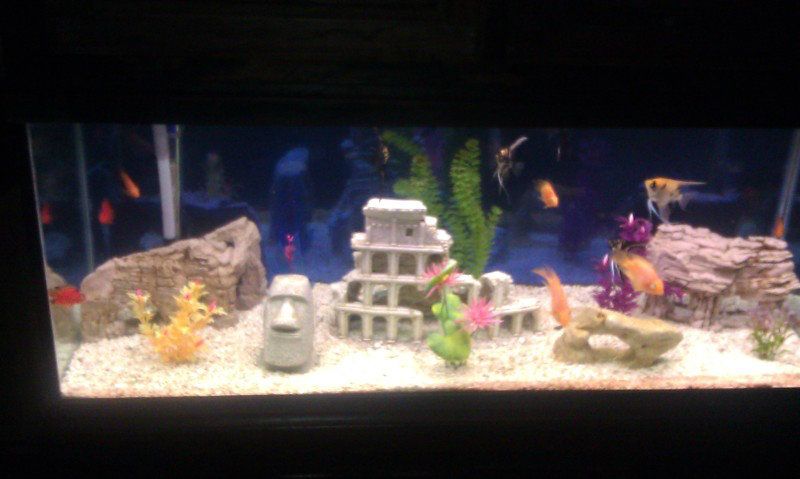 Hopefully they'll send me new photos of him soon. Now the Pacu is left... I'm going to try a few places first, but his time is running out because I'm moving the first week of July.
Poor things! THere has to be somebody that can take the pacu. I wish I could help!
Even though I dont like hybrids I fell god-awful for the little bugger. At least he has a new home!

Wish my tank was big enough.
---
We were two ships in the night
Hell bent on trying to survive and
Capsized

What species is this Pacu and what is the min space requirements..derp okay read through the thread. What would be the min tank size?
---
Last edited by Sanguinefox; 07-03-2012 at

08:23 PM

. Reason: Derp should ask before offering
I'm seeing a lot of people on youtube keeping these guys in 125 gallon tanks. Does it really need 800 plus gallons?
---
Last edited by Sanguinefox; 07-03-2012 at

09:00 PM

.
Great Job! Keep us posted!
Has there been a differnce in feeding since the BP has left?
---
Lyzz.RI.23
RIP Lilly May, our 13 y/o beagle, taken from us 6.8.12

Main tank:50 gal/betta/Guppies/Cories/BNandRNPleco
15 gallon/endlers/least killifish/otos/ADF
45 gal: wintering goldfish
Fry Tank:10gal/Tonso'babies, all ages
2.5:Algeafarm
Poodle Mix.Tomcat.Rats!
*New cattle dog pups! *

Also, check out my journal!

http://www.tropicalfishkeeping.com/j...journal-88547/
Posting Rules

You may not post new threads

You may not post replies

You may not post attachments

You may not edit your posts

---

HTML code is Off

---