The Pacu LOVED the thawed frozen peas! He hid initially when I put in the food, along with the BP, both crowding that slate cave. I really ought to give him another "cave" since they're both crowding the only one.

Anyway, once I sat down and didn't move, he came out and looked at the peas then figured out it was food, he ate every last one up then started picking up gravel to see if it was food, so I gave him some more. Sure enough, he ate most but left a few. The BP just stayed in his cave the entire time. It's odd how colored up the BP is during the night and the morning when the light is out but becomes faded during the day. Maybe it's stress, maybe it's the bluish light...

I'm positive this is the most nutritious meal the Pacu's had in a long time. I called NC Asheboro Zoo and ran into a dead end. The people there weren't really friendly at all even after I'd told them the story. So I decided to try the smaller National Science Museum here in Greensboro. The people there were much more friendly and understanding. The Co-curator of reptiles and aquatics called me back since he'd been busy at the time, and said that I should try the owner of a fish store, Aquarium Center of NC. The owner may be able to help me locate a home for the Pacu and possibly the BP.

I'm not going to allow him to be resold in a pet store, but we'll see. I'll call tomorrow and update what happens.
Places I've called so far -

Virginia Aquarium & Marine Science Center - NO

Riverbanks Zoo - NO

Virginia Zoo - NO

NC Zoo - NO

Greensboro National Science Museum - NO

Aquarium Center of NC - NO

NC Aquarium - NO

Charlotte Natural Museum - NO

NC State Museum of Natural Sciences in Raleigh - NO
I posted an adoption ad for the Blood Parrot on my local Craigslist -
Quote:
5-6 inch Blood Parrot looking for a home, must have at least 55 gallons or larger tank size. Would prefer it go to a tank that has other Blood Parrots but will do fine on its own. Must show knowledge of caring for fish.

If you have all of this and understand how to care for one, then it is yours for free. It was a rescue blood parrot from horrible conditions and I will not have it live in another bad situation. The first photo is the tank when I first rescued the BP. The other is a current photo. The tank is not up for grabs.
Within an hour, I got an e-mail. I've been talking with the potential new owner of the BP. Here's our e-mails -
Quote:
Her: I would love to have your blood parrot. I have a nice 80 gallon swim through tank that I have set up. It is clean, cycled and ready for an inhabitant. I have sand in the bottom and filter has been running a month. I will send a picture if you want. Lmk. Thanks.

Me: What have you been using to keep the cycle going? Have you had experience keeping fish?

That's a very interesting tank. How wide are those swim-through tunnels? BPs can get up to 9 inches.

Her: It was cycled a couple weeks ago. They are 4 inches but can be blocked off to prevent harm or to have two separate (non compatible) species. I use a solution for cycling tanks called nite out 2 (microbe lift ) treatment. We use it in our saltwater tanks also. I have a 75 gallon that I can transfer him to when he gets bigger. My saltwater tanks are 75 gallon and 90 gallons. I have a 10 gallon set up for my betta and one for my kids goldfish... we like fish.

Me: Okay, that last email convinced me. He's yours. :)
Here's the photo of the interesting swim-through tank before it was filled with water and sand and cycled, etc -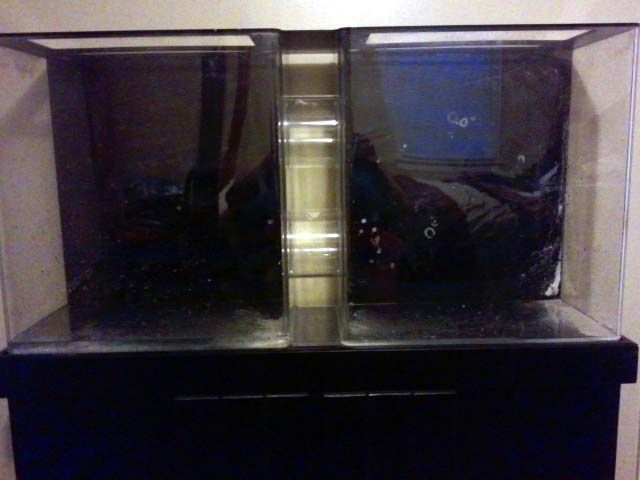 When I went closer to the tank for an examination of the BP, I discovered it had black spots covering him. At first I didn't know what it was, but then I realized that the BP is most likely RECOVERING from ammonia burn. It's possible the filter before the tank was rescued was so overloaded with ammonia that the bacteria couldn't process everything and the BP was being slowly burnt. Now that it's been in clean water for a while, it's finally starting to heal itself.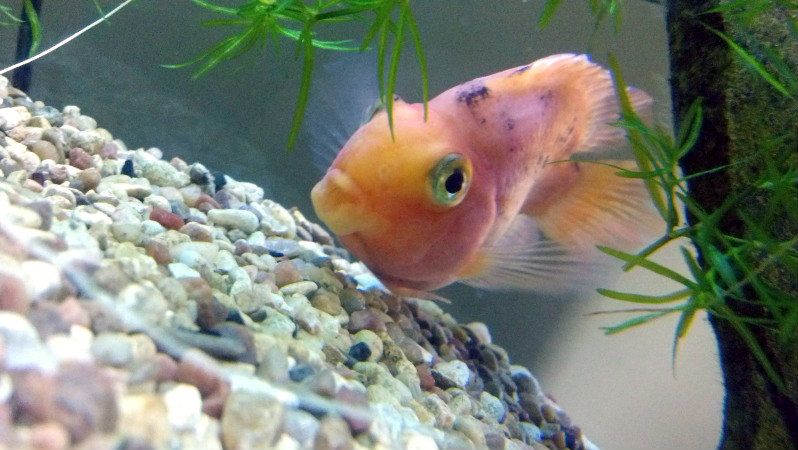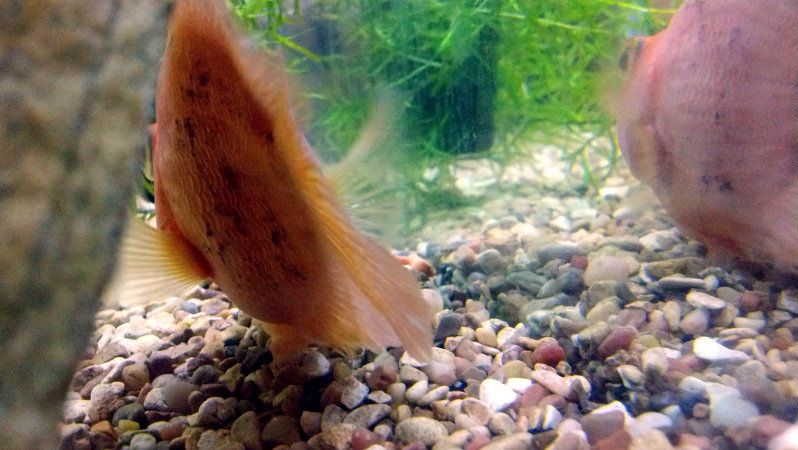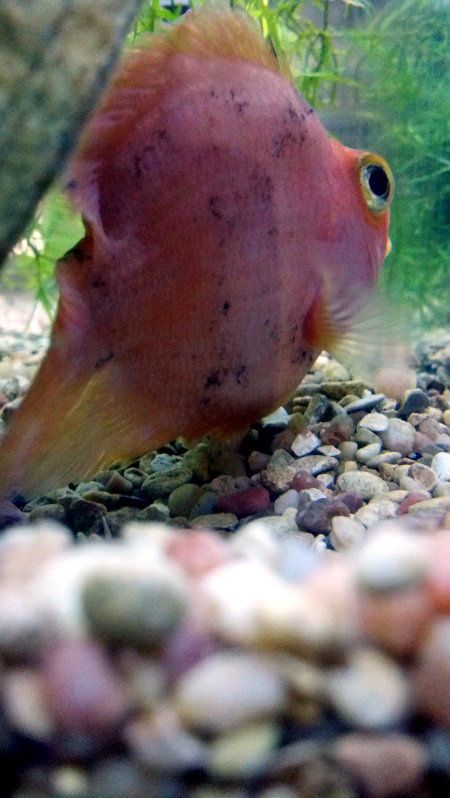 Also, it's a good thing this BP is being adopted, as it's been starting to go after the Pacu and the Pacu has nowhere to escape.
ZeeZ - you are a saint!!! Those poor fish! Isn't it amazing what they can adapt to? I'm glad you gave them a shot at living a better life.
Please keep us posted on their progress and new homes.
---
Animal testing is a terrible idea; they get all nervous and give the wrong answers.
The Shedd Aquarium's lines were busy the three separate times I called. I have called a total of 16 Zoos and Aquariums. None are accepting. When I called the Tulsa Zoo and Aquarium, they said that they had gotten three other Pacu calls today before me. The Tanked people were not answering their phone calls, but I've sent them e-mails. This is making me lean toward the lines of euthanasia if I cannot find a home for the Pacu.

I just don't know what to do next. This was done with nothing but good intentions, but as they say, good intentions can and do end badly. I don't want that to happen with this Pacu.

I will keep trying, but I'm beginning to see that this particular Pacu will have the fate of many other Pacus... a short life.
The Ripley Aquarium in Myrtle Beach has a nice tank full of South American giants, they might like a Pacu.
Did no one on monster fish keepers have a spot for him? :( Poor guy.
Posted via Mobile Device
I'll try the Ripley aquarium but I doubt it... And nope, no one on Monster Fish Keepers wants him, it seems. A few said, "Wish you lived closer..." Which is nice but doesn't help me.

I've been thinking about getting one of those kiddie pools. You know, the $15 dollar ones. I wouldn't really need a heater now that it's warm during the day and stays fairly warm at night. I'd have to get a small pond filter for it. I found a calculator and it says 5 feet by 2 feet deep circular pool comes out at 300 gallons. It's not a permanent solution, but it's a heck lot better than what the Pacu is in right now. I have a tarp to cover the pool to help keep him calm and keep things out.

It would sort out his living situation for at least several months during the summer and give me more time to find him a home while he would have plenty of space and room to grow.
Do you have any local aquarium clubs you could contact?
I've been trying those as well. The thing is that this Pacu is just a huge tankbuster. It needs something along the lines of 800 gallons or more.
Posting Rules

You may not post new threads

You may not post replies

You may not post attachments

You may not edit your posts

---

HTML code is Off

---