To plant, or not to plant?
---
Good Day, Everyone.
I'm fairly new to these boards (and anything larger than a baby biorb), but already received an incredible amount of credible information. It's unfortunate how overpopulated the internet is with incorrect or misconstrued information regarding freshwater fish and their tanks. Thank goodness I found this place!
I set up a 20 gallon tank a week or so ago. Tested the water every couple days to ensure proper quality, and purchased fish for the tank.
Dwarf Gourami (1)
Dwarf Red Fire Gourami (1)
Dwarf Powder Blue Gourami (1)
Emerald Cory (1)
Julii Cory (1)
I have a few questions.
When we purchased our dwarf Gourami's the attendant suggested some live plants for the tank. Which ones would be best? I've attached a picture of our current tank setup for comparison. I have no experience with live plants, so plants that would be suited best for Gourami and a beginner would be best.

I have a second tank - a Baby Biorb. However, currently there are four guppies (2 males, 1 female, and 1 unknown) and an albino cory in it. We're going to move the albino cory into the larger tank with the Gourami, but wanted some advice regarding the guppies. I've read that it would be wonderful, others say they will be slaughtered, and some say it would be a great idea since the Gourami will eat the fray. Conflicting, to say the least.
Thanks for any and all feedback/advice given.
Welcome to the forum. You are right, this place is a wonderful resource as there is much knowledge to be shared on this board.

To start, I would suggest some floating plants for your Gourami as they like to hide under plants. Something like Pennywort, Water Sprite would be great places to start. Both are very easy, reasonably easy to come by. They both grow quickly are are quite attractive. I have both in my tanks. Pennywort looks like tiny lily pads from above. They are both quite lovely.

To keep it simple IN the tank you might wish to consider a couple of sword variety. They are substrate rooted plants and are beautiful to look at. My Gourami hang out in the Amazon Swords in my tank with the Pennywort floating above.

One thing I noticed however is that you have 3 Dwarf Gourami. My hope is that you have 2 female and only one male as fights could break out in Gourami land. I see only 1 Cory as well and I would suggest you get a few more of the same species as they prefer to be in groups of 5-6. They are quite comical and very social little creatures.

If you do not have a good water test kit, I suggest you get one. The API liquid test kit for the fresh water aquarium is one I suggest. Chances are that if you just set your tank up a few weeks ago, it is not fully cycled and problems could ensue for your Gourami or any other fish in there. Live plants will help this a LOT but you need a rather heavily planted tank. The Pennywort and Water sprite are excellent for using up the Ammonia, Nirtrite and Nirtate which could harm your fish. These are common in a tank that is not fully cycled.

Also, you can check out our plant profiles above to learn more about other plants you might be interested in. I cannot say enough good things about live plants in an aquarium.
---
"The greatness of a nation and its moral progress can be judged by the way its animals are treated" Mahatma Gandhi
Hello and welcome!
For your questions on fish compatibility I'll point you to the fish profiles here on the site. Almost all of them are referenced from published books and journals so you can trust the information presented. The link is on the top of the page, blue bar, second link. If you type out the name the same way it is listed in the profile, it will be shaded in your posts and you can just click on that. For example Blue Gourami. You may have trouble with having multiple Gourami in the same tank.
I will note that Cory's are a shoaling fish, which means they like to be in a group of
their own species
. With mixed species in a tank, it is still recommend to have at least 3 of each species. Singletons will be stressed, and with stress disease is more probable.
Do you know your water parameters (pH, GH, and KH)? Your guppies need hard basic water, all the others prefer soft acidic water.
I have a 20 gallon tall tank like the one you have pictured (I like your aquascape by the way). The standard fixture that it came with had an 18" T8 fluorescent bulb. That is going to be low light. Some good plants are Java Fern, Java Moss, Anubias, Amazon Sword (several varieties) and Crypts. Floating plants are good to have for all fish, Water Sprite and Amazon Frogbit are good ones. Just make sure they don't completely cover the top as the Gourami will need access to the surface as all Anabantids do.
This is mine: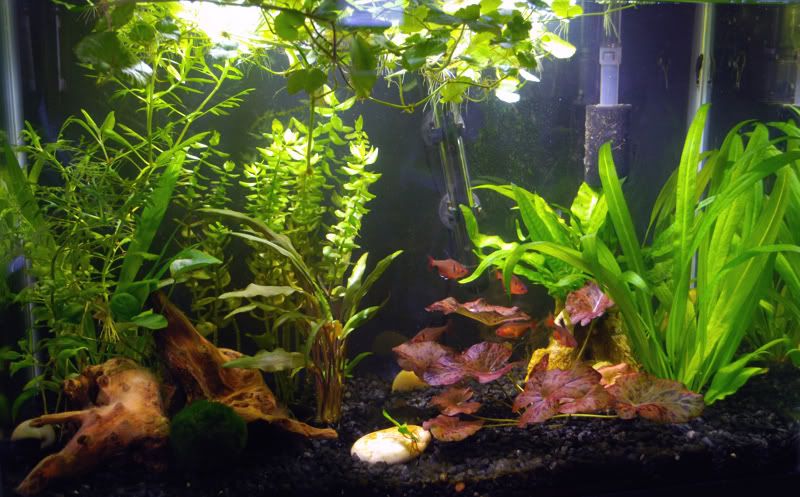 I don't know if it is just the type of plants I have, I think it is my "floating plants" which are to blame, but the leaves just get all over the place. My filter intakes get clogged with leaves and I honestly kind of which I would have just not done plants.
---
www.youtube.com/vulemax
<---My fish!
Quote:
I don't know if it is just the type of plants I have, I think it is my "floating plants" which are to blame, but the leaves just get all over the place. My filter intakes get clogged with leaves and I honestly kind of which I would have just not done plants.
I have a few leaves on my filter intake at all times as well. It isn't a problem as long as you are getting water through it and plenty of flow.
The good of the plants outweigh the few negatives in my opinion.
---
"The greatness of a nation and its moral progress can be judged by the way its animals are treated" Mahatma Gandhi
Hey Sybil, welcome to TFK... this place is awesome, and everyone is super friendly and helpful!
Firstly, like the others have said I would have a read about dwarf gourami in the profiles here as from what I understand they should only be kept in sexed pairs, so like Inga mentioned you could have trouble in there.. (I have never kept them, just info from what I have read)
Definitely get some more corys, they are awesome fish and like to be in larger groups. I currently have 3 in a 29g and would love to get another 2 or 3. most entertaining fish when they are active!
The most important thing you need address is the quality of your tank water, Personally I would get some live plants in there pronto! anything will do, but the likes of green cabomba and Anacharis are fast growing and super easy. Thats what I started out with, well and some others as well! if you can get them, the floating plants apparently are great for ammonia and nitrite/nitrate absorption.
After 1 week your tank will not be cycled, there is a good article about aquarium cycling on here...
http://www.tropicalfishkeeping.com/f...m-cycle-38617/
hope that works!
I managed to keep 7 glow light tetra from the second week of my new tank and seemingly bypassed the whole cycle process by having loads of live plants in my tank from the get go.
Cant recommend live plants enough, they look great, are beneficial to the fish and the water, and keeps things interesting in the tank as when you reach your stocking limit, no more fish can go in....so you can stay interested with adding new plants and making things look as good as possible! heres a picture of my tank so far, its now around 8/9 week mark from a brand new tank... and my first one!
I have around 13 different plants in there at the moment, green cabomba, java fern, java moss on bog wood, small swords, pigmy chain sword, anubias, wisteria, anacharis, giant vallisneria (I believe) and a couple I'm not sure what they are... I love heavily planted tanks, the more the merrier I say!
Thank you, everyone! I've read through all your responses and eagerly looked at every one of your fish tanks. Very pretty! The live plants are gorgeous and obviously much more natural in appearance.
I will be buying some live plants in the next few days. I love how they look in the tank and they are very beneficial to the fish. Win-Win. How many? Also, is there any tip or trick to introducting a live plant into a tank? Or are there any light requirements that aren't going to be provided for by the current light structure in the tank?
What kind of test kit would you recommend? Currently we have a four strip paper type, however I've read about liquid types as well. Which one is the best?
I've also read some conflicting information regarding food for the Dwarf Gourami. What kind of food do you feed yours and how often? I suspect food type and frequency will be determined based on fish species. I bought a tropical fish specific container that has flakes, bite-sized granular, and baby shrimp. The Guarami love the shrimp, not so keen on the granular, and like the flakes.
How often do you change the water? Weekly at 20%? I purchased a gravel vacuum and a nice large bucket for such occasions.
My apologies for such newbish questions, but I'd like to provide a healthy home for my colorful darlings.
Just had to share a bit too. I love my Gourami. My dwarf is a bit of a hound and is forever flirting with my Opaline who happens to be the most peaceful fish alive. She just ignores him for the most part but is never aggressive with him, thank Goodness.
I feed them once a day and do 70% water changes every 5 days or so. It is more because of my want for crystal clear water though. The water is never off on the numbers with all the plants. I also don't over stock like some people do. I prefer fewer fish with more room to swim and heavily planted but we all have our likes and dislikes.
I feed my fish a variety of foods, not just flakes or pellets.
Oh, and never apologise for trying to learn proper care for your much loved pets. That is what makes a good mama/daddy to the fish. :)
Sorry had to show off one more of TwoTone, my Flame Dwarf Gourami.
---
"The greatness of a nation and its moral progress can be judged by the way its animals are treated" Mahatma Gandhi
---
Last edited by Inga; 04-18-2012 at

01:56 PM

.
Those photos (and the fish in them) are beautiful Inga.
And for that matter, all the tanks in this thread are lovely.
Sybil, to your plant questions. Plants like fish have differing requirements, though most (but not all) are normally much more adaptable. But light is crucial. you have a 20g tank, what is the current light fixture (incandescent being screw-in bulbs, or fluorescent tube)? And what bulbs/tube do you now have in it (there will be some printing on the base of bulbs or one end of the tube)?
A complete liquid fertilizer is recommended. Nutrients for plants occur naturally from fish food (through the waste) and tap water at water changes, but depending upon the plants and light this may or may not be sufficient to balance. I recommend either Seachem's
Flourish Comprehensive Supplement
[make sure it is the Comprehensive, there are several products under the Flourish name] or Brightwell Aquatics'
FlorinMulti
. With the latter again make sure it is this one, there are several products with "Florin" in the name.
What are your water parameters out of the tap? GH (general hardness) you can ascertain from the water supply folks, they may have a website. And pH too. These are more important for fish than plants, but there are some common plants that do better or not depending upon the GH and related pH. You should have a pH test kit, and most of us here use API. You can buy the Master Combo which has pH, ammonia, nitrite and nitrate that are the essentials to test especially initially.
One suggestion on water changes, increase the volume to 40-50% of the tank every week. You can never really change too much water--unless the tank water and tap water are miles apart in parameters.
Guess I should add a photo to show a simple-approach planted tank, so here's my present 70g flooded Amazon forest setup. And, before I forget, welcome to Tropical Fish Keeping forum.
---
Byron Hosking, BMus, MA
Vancouver, BC, Canada

The aquarist is one who must learn the ways of the biologist, the chemist, and the veterinarian. [unknown source]

Something we all need to remember: The fish you've acquired was quite happy not being owned by you, minding its own business. If you're going to take it under your wing then you're responsible for it. Every aspect of its life is under your control, from water quality and temperature to swimming space. [Nathan Hill in PFK]
---
Last edited by Byron; 04-18-2012 at

02:42 PM

.
Byron, that tank is rediculous...... I'm so jealous!! I'm defo going to get myself some flourish comp. and a dark, rooty stoney background similar to yours, instead of the marine one I have at the moment... Seemed like a good idea at the time!!

Badly want some floating plants like you have too, but alas cannot find any..
Posting Rules

You may not post new threads

You may not post replies

You may not post attachments

You may not edit your posts

---

HTML code is Off

---