Quote:
Actually the Malaysian driftwood (at least that's what the LFS called it) was the culprit. Odd thing was it took two years before this fungus appeared.

Maybe it was carried in during a water change? I was using spring water at that point and though the local water company did treat it with chlorine sometimes they used very very minimal doses of chlorine.

Purchased an interesting rock from the LFS to root the anubis to. Purchased a small piece of Mopani from petsmart which I will start soaking tonight. The LFS has another piece of Mopani that is interesting but nowhere near as intricate as the previous piece was.

Going to go rinse the rock with boiling water and put it in then set the mopani to soak.

More plant purchases in the future now. Need to find a good floating plant, petsmart had some anacharis but it looked pretty nasty (brownish green color instead of the healthy bright green). Will talk to LFS owner tomorrow to see if he can order something.
My FAVORITE floating plant, which can also be put in the substrate/planted is wisteria!!! I have like 3 or 4 bunches in my 29g and one large bunch in my 15g!! And since its a stem plant it takes in ammonia/ammonium quicker than rooted plants. And wisteria kept in bunches looks so beautiful, and in my opinion the name and the look when bunched is whimsical.
Moneywort and Pennywort can float, but I think it looks better "planted", and with enough of it lined up it looks like a bamboo forest which is pretty awesome looking.
---
*They call me, Amanda*
Tank 1: (29 gal planted) empty
Tank 2: (15 gal) empty
TAKE TWO
Sorry about the reflections off the glass, I was in a bit of a hurry and forgot to turn the room lights off.
No room for the rock I purchased unfortunately. I'm going to take it back see if they can exchange for a smaller piece.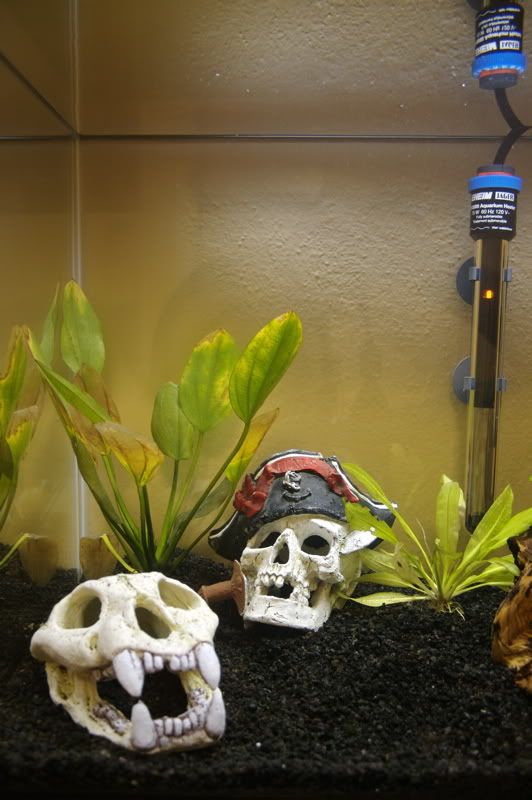 Moved both skulls to one side. A little busy perhaps, but should be less noticeable once I figure out something to plant up front (betta bulbs perhaps?)
I am really digging the big new darker piece of driftwood, there are a total of four natural holes straight through the piece! I plugged one up with the java fern though. Two of them are big enough for fish to swim through (and yes the piece is quite smooth). Other piece mainly acts as a prop to keep the other piece from falling over, but makes a nice archway of its own (not shown) and adds a bit of color to the tank.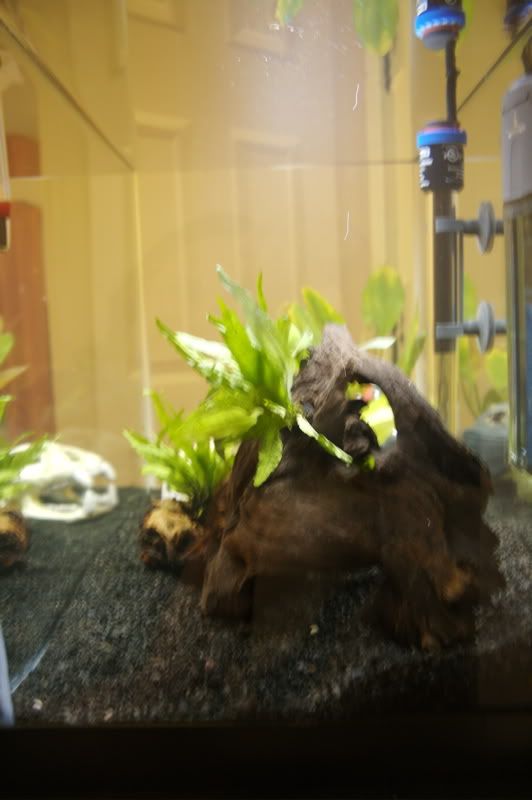 Really poor quality on this shot, I'll try to take some better shots again later. But showcases another hole in the wood, and the arch under the piece.
Very nice!! I am digging the darker piece of wood!!
---
*They call me, Amanda*
Tank 1: (29 gal planted) empty
Tank 2: (15 gal) empty
Posting Rules

You may not post new threads

You may not post replies

You may not post attachments

You may not edit your posts

---

HTML code is Off

---