Pictures for everyone! THis is the tank, I still have some of the plants bunched up so it may not look like as many.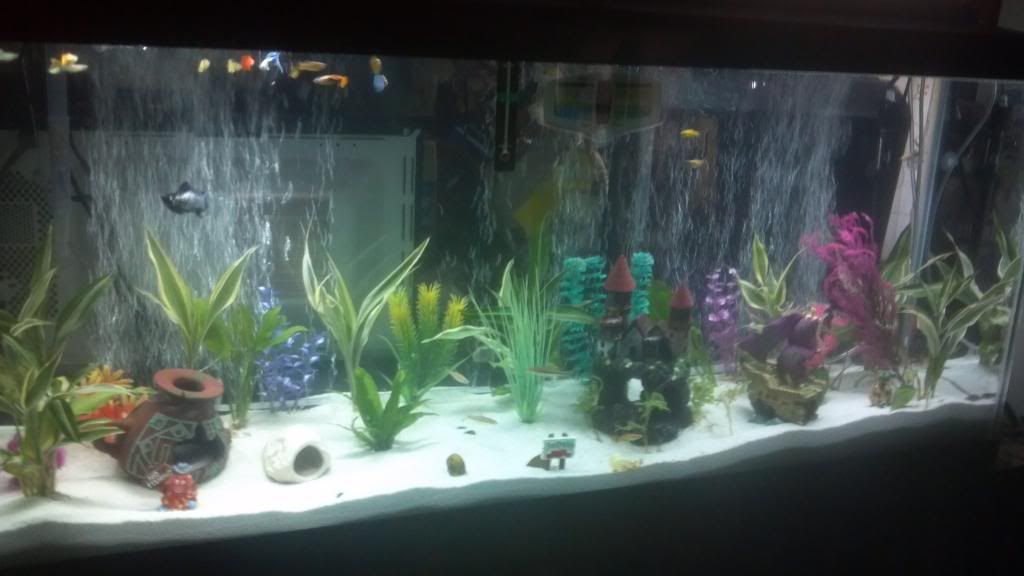 ---
Last edited by dodgefate; 02-09-2013 at

09:21 PM

. Reason: worng pic
Here is what was sold to me as Rainbow Gouramis. I think they are banded Gouramis though any oppinions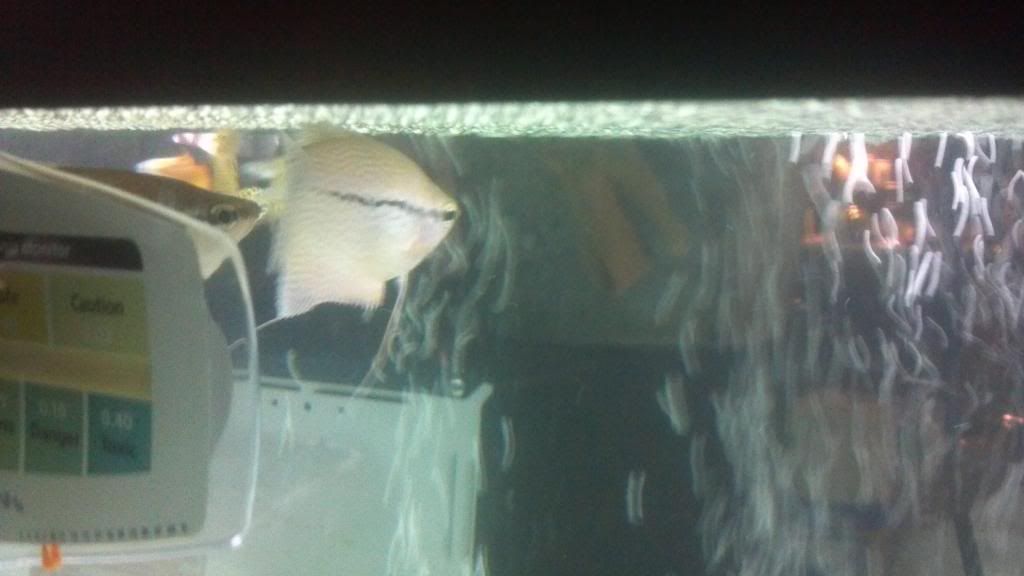 Last but not least...... Here is a pic of a clown loache, shrimp and flounder fish hanging out or the flounder and loach are talking over dinner......
Those are pearl gourami. Any idea as to the genders? Should be in a ration of 1M/2 or 3F.
The males will get really orange throats when they settle in to their environment, and have longer dorsal fins than the females.
I would say then they as of now I will conceder them both females.

Back to asking for advice (Sorry). When I cam home yesterday morning from work, I noticed that the temp in the tank spieked to 80 degrees, when I usually keep it at 74 degrees. I found out that one of the impellers for the filter was stuck and heating up and I am guessing this is what caused the water temp to rise. I checked the Ph and it dropped from a 7.6 to a 6.0 and the ammonia was at a 1.0. So my question is would the lack of filtration and warmer water cause these to change so much? After the temp came back down I adjusted the ph to 7.0 and the ammonia to 0 using chemicals. Any advice would be appreciated!
Also I feed the fish about 3 pinches of flakes, 5-10 bottom feeder pellets and at night I add a cube of blood worms. All the food is gone after about 3 to 5 min. Am I over or under feeding them?
Update: When I got home from work this morning The Ph was 7.0 (My ideal is 7.8 or at least that what I have read it should be, due to the different species of fish, low end for some and high end for others but perfect for some). The Ammonia was at a .25. While checking the tank, I located a fake plant that collected a lot of the uneaten bottom feeder pellets. I cleaned this plant off and stirred up the tank to have the filter pick up the rest then cleaned the filter elements. I also separated all of the plants that I had purchased and I have a total of 27. So questions:
1. Should I get more plants and if so how many?
2. is it ok to have a Ammonia level over 0 for a short time to feed the plants?
3. Thank you all for bearing with me as I have come a long way but still have a long way to go!
I think the number of plants you have is fine. As far as the Ammonia goes, Having a little bit of Ammonia is Fine IMO even expected. If the Ammonia gets up to 1ppm I would start being a little more concerned. Although even then it's nothing a good water change can't handle.

As far as adjusting parameters , I would be careful using chemicals to do this because depending on what your adjusting, these numbers could bounce right back to where they were before dosing. I found that the best way to adjust things or level them out is to use Reverse Osmosis water for water changes. I'm not sure how to Naturally raise the PH to what your aiming for but I do know Driftwood will lower it slightly over time and I think plants have the same effect.
Well I have very bad news for this ongoing saga. Three days ago I went to the local petsmart and spoke to the alleged "Fish Expert". I told them about the problems that I have been having with my ph. They suggested that I use this wonderful (NOT) product called Perfect PH. I bought the product and retuned home with it. I put in the recommended amount and went to bed. Woke up the next morning and fish were ok, less the cloudy water. I went out for the day and when I returned home half of the fish were dead floating covered in a white film. I quickly scooped out the remaining alive and half-alive fish and transferred them to my 10 gallon tank that I had prepped for when the female guppies gave birth. I dumped in some slime coat and prayed for the best. when I woke up for work today (well yesterday 02/18/2013) A good portion had died. So the only survivors were the 2 Pearl Gornomies, 2 clown loaches, Raphael catfish and tire track eel. I am pretty sure that they all had a chemical burn due to the fact that after they died they all turned pale white.
So now I am going to drain the 55 gallon tank, add fresh water and live bacteria and cycle it again. As for the ph when the tank is up and running I'm just going to leave it alone. Either the plants are responsible for lowering it after I raise it or the filters for filtering out the additive. Either way I'm just going to leave well enough alone this time ... Hopefully I don't lose any more of the fishies in the mean time. I'm not mad about loosing over $100.00 in fish but sad that they died. Now that I need to restock the tank in a few weeks any sugestions on what to get that would work well with the remaining survivors and with a ph of 6.0 or lower?
Posting Rules

You may not post new threads

You may not post replies

You may not post attachments

You may not edit your posts

---

HTML code is Off

---