THe eel and catfish are hiding along with the crabs and don't want thier photo taken. The catfish is a Striped Raphael catfish, Platydoras armatulus. the eel is really close toThe Tire track eel (Mastacembelus armatus) but redish. Thanks for being helpfull and understanding. THis tank has been running for about 5 months or so with little to no problem unitll latley.. I appricicate all the good advice I have been getitng
Ahhh, thanks for getting the pictures up! That clarifies a bit. Especially with the clear shot of the flounder - it/ they do indeed look like what I was referring to in my previous posting - the 'freshwater flounder' that *actually* requires brackish. Looks like you've found the info you need on the catfish, as well -another fairly big fish! As the tank has been running for 5 months, I must assume that you are correct in the fact that it is cycled.

The cloudiness is likely to be a bacterial bloom caused by the death of one of the suckers (ARE they common Pleco? I couldn't find it/tell in the shots) and/or the heavy bioload of the tank. To address the bacterial bloom itself - which is what you asked about initially. . . in *most* cases, the best thing to do to get rid of them is nothing. They clear up on their own, and in most cases it doesn't take very long - a few days, perhaps. In THIS situation, however. . . and considering your heavy bioload and all else. . . it may not. It seems to me that the cause of your bloom is likely related to ammonia spikes cause by an excess of organic waste in the tank. Perhaps this was sparked when your Pleco died and rotted in the tank, but with all of the fish in there, and the amount of time it's been running, it could also very well be that your tiny 10g has finally reached the point where the fish have grown enough so that the bacterial colonies behind the nitrogen cycle have reached a point where they simply are unable to cope with the bioload of the tank, and things are starting to get out of control. As a rule, a weekly water change is a must - and as you have gravel and no live plants, a gravel vac is also necessary to remove waste that falls down into the substrate. If you haven't been doing either one of these things, now is the time to start, as it is very likely that you have a build up of mulm just beneath the gravel that won't be helping things. To give you a comparison, if I skip a water change on my 29 gallon tank stocked with 8 Platy, the amount of crap that I pull out of the gravel 2 weeks later is jaw-dropping. Mollies and guppies both have high bioloads, Pleco are even worse. . . and with all of the others you have in this smaller tank, I imagine you would need to do water changes with vaccing 2-3 times a WEEK to catch up! If you have an extra air-stone/bubbler, now is a good time to toss it in there. These bacteria DO take up the available oxygen in the water column, and your fish could be in danger of suffocation. Lack of oxygen, to the best of my understanding, is really the only THREAT to the creatures that is caused by the actual bacteria in the water column - but the underlying cause of the bloom is really a danger to all of the life in the tank. If you don't have a bubbler, you can use those spare filters - they'll help in adding oxygen, and may give the beneficial bacteria a bit more area to colonize on - but still nowhere near enough to actually fix this tank. I'd also reccomend that you strictly limit feeding, as you're adding to the waste in the tank. Fish can actually skip a meal or two with no problems, though. . . with this crowd. . . I don't know if they'd chomp on each-other, instead of flakes.

It's impossible for me to tell from these pictures, but another very possible reason for the cloudy water is algae in the water column. Most of the above applies to this situation, as well - too much decaying organic matter to feed the algae - with the addition of keeping the lights off and/or significantly lowering the amount of time they are left on in general.

I still stand by everything I posted in my previous break-down of your situation, though. You really have some tough decisions to make if you want a healthy, thriving tank - or even two. If you refuse to take action soon, then nature WILL choose for you.

I'm sorry, I feel for you and I've gone through it before. To look back on any of my threads will show you quite plainly that I am one who gets terribly attached to my wetpets. I consider them friends and companions, and the idea of parting with any of them is very upsetting to me - I understand how hard it can be to give up on creatures that you've become attached to - all monetary considerations aside. I also started on the wrong foot once upon a time, and I had to re-home many of my fish. It wasn't easy, but it did make me feel better to know that I was giving them all a chance at survival and a happy life that I would not be able to provide for them in my current situation. . .

I recommended that you keep the guppies and Mollies, because that's what I chose to do back then. These are wonderful fish that can handle a few beginner mistakes and come out not *so* much worse for the wear. The others. . . are just not going to be able to manage in your tank at the present time. Today I'm running seven tanks, all of which are well-maintained and healthy (well, one fish is sick, but that's neither here nor there). Though I haven't gone down the path of the oddball fish that you seem drawn to (yet) I'm positive that if I chose to, with proper research and planning, I could keep them happy and healthy at this time. But when I started I didn't have the knowledge and understanding yet to be able to keep fish with very specific needs such as many of those you have here - and, sorry to put it bluntly, neither do you. You have a lot to learn about basic fish-keeping still, and that's okay - we all start somewhere. But for the sake of these animals. . . send them away. At least until you gain the experience necessary to keep them properly, and the proper tanks in which to do so. They WILL NOT wait for you to get a new tank (or 4) set up and cycled. These fish are very much in danger, and every day that passes will bring them closer to their end.

I think you've been given a fair idea behind many of the issues that your tank is currently facing, and I sincerely hope that you choose to give many of these fish up to ensure that they ALL are given a chance at survival. There is simply no way that you'll be able to do what you want to do at this time and with this assortment of very different species.

Good luck to you!
---
Last edited by Chesh; 01-26-2013 at

12:07 AM

.
Sorry it took so long to get back to you all. Here is what I have done in the meen time:
took back two kissing gormes, 2 plecos and puffer fish.
Tested the water for amonia initial reading was an 8.0
did 50% water changes daily
hevely planted the tank
running three filters which are filtering 250 gallons per hour
now I havent chnaged the water in 3 days and ph is a 6.5 and ammonia is a 0 water is crystal clear and so far everything looks stable. Thnaks for all the advice!
Thats really good news dodge!
Me and chesh discussed this at length and said we had offered all we could really, Jes especially with her book posts
, and it was all up to you now........and im SO happy youve gone such a long way to making the changes you needed to! Especially the returning of fish, as its so hard once attached. (But i suppose not as hard as watching them die.)
Ammonia of 8.0?!?! Holy cow batman! Glad you jumped right on top of that issue and got it sorted! AS ammonia does some really severe damage to your fish, gill burning etc.
Can we have a new pic of the planted tank? Pwease!
And stocking level?
As for the 3 filters. This might be overkill once your plants are up, growing and thriving as they will do most of the work when it comes to absorbing ammonia and nitrites. Up to you, i'd just imagine having 3 is unsightly.
also, ammonia is 0, but what were the levels of nitrites and nitrates?
So happy D.F.
---
55G tall planted community
15G Dwarf puffer tank
15G plant propagation tank
5G Snail breeding tank
Quote:
I missed this thread altogether. Good for you for getting this back together.

This particular quote jumped off the screen... Dangerous ground you're treading there. I know enough about wives that if you have an 8' length of wall, there is already some other plan in mind that you will not be aware of until you try to take that space up.

Then take cover.

Jeff.
Aye, and most of the time, the plan will be NOT to have an 8' tank there!
What else will go there? NOTHING. Just NOT your tank! Haha
---
55G tall planted community
15G Dwarf puffer tank
15G plant propagation tank
5G Snail breeding tank
Here are the pics! Cant see that much of the plants due to them being small still.... I planted 10 diffrent kinds (dont ask me to name them, I threw out the pacaging). As for the nitrates I did not buy a tester kit for that so I am still unsure I was more worried about eh ammonia levels. I still plan on getting a bigger tank after I get my money in. I told the wife I wanted 100 + gallons but she is trying to limit me to 55..... We shall see ha ha ha... I do have a pregnant guppie (lil scared of being a baby fish owner) I can see the gravity spot on her and she is starting to plump up but thats a whole other conversation. My Rafiel Catfish, Eel and flounders finaly started eating yestorday so I am super happy about that. The dalmation mollies are getting huge but not eating all the fish food in the tank. I vaccumme the gravvel twice a week for now until everything stableizes and i feel that I can back it off. Thank god for the down time at work all I have been dooing is reading about fish keeping and have learned alot. THanks again for all your help!
Here is two of the filters, THe other one is hidden by the top and runs off of a air pump. I also forgot to say that I installed a new air stone that takes up half of the tank.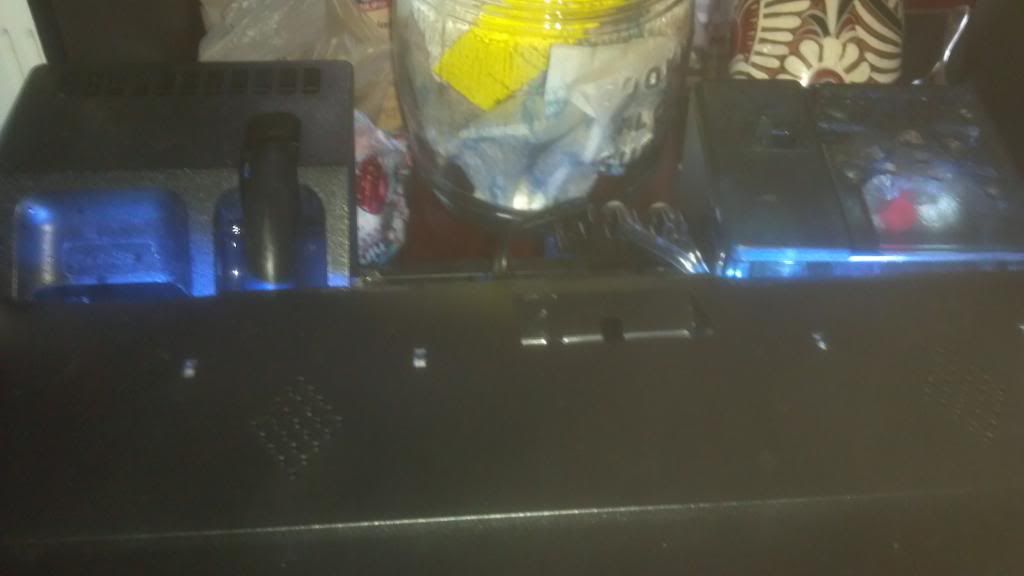 Posting Rules

You may not post new threads

You may not post replies

You may not post attachments

You may not edit your posts

---

HTML code is Off

---