Weekly water changes are fine...25-50%.

You can change the carbon cartridge about every 3-4 weeks. I actually emptied the carbon out of mine and just use the pad in the filter. Just swish it in used tank water each week during your water change. That way your not constantly having to buy new cartridges. Leave the biowheel alone unless it gets clogged and stops turning. Then you can gently swish it in used tank water to clear any algae and debris off it. Never use tap water to clean because this will harm your bacteria.
---
150 Gallon - Mostly American Cichlids
135 Gallon - Angelfish Community
75 Gallon - Odd couple (Polleni/Angelfish)
55 Gallon - African tank
20 Gallon Long - QT
10 Gallon - Empty

Remember when doing water changes to bring the fresh dechlorinated water to roughly the same temperature as that in the tank to prevent shocking the fish.

I would advise that you do rehome the pleco as they get huge and it will soon outgrow the tank.

For bottom dwellers, I agree that a group of corydoras would be a nice addition - they're great fun when kept in a group. Another option would be kuhlie loaches - although they are more comfortable in a well planted tank with lots of hiding places.

Are you planning on adding more live plants to the tank, and do you have any pictures of it? :)
I am planning on adding more live plants, I actually want to get rid of all the fake and make it an all live plant tank.
I don't have any pictures at this moment but I will see about getting some tonight.
Here is a pic of my tank,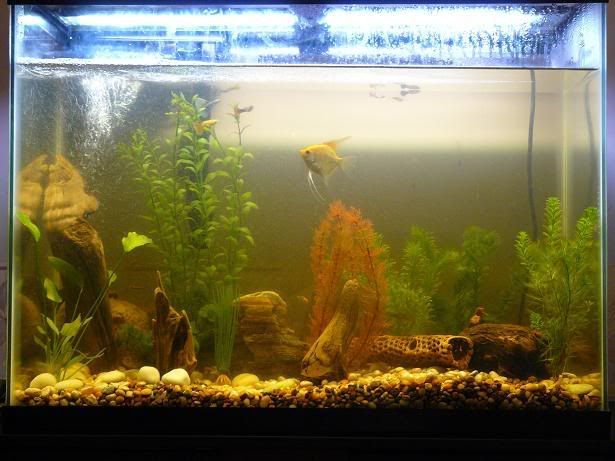 I have also just discovered two large shrimp which I believe are bamboo shrimp, a fourth guppie and two unknown small fish, they are almost clear with a blue strip in their center and they are about 1/2 inch in size.
Tank looks great. Any closeups of the fish?
---
150 Gallon - Mostly American Cichlids
135 Gallon - Angelfish Community
75 Gallon - Odd couple (Polleni/Angelfish)
55 Gallon - African tank
20 Gallon Long - QT
10 Gallon - Empty

Tank looks good already! I would suggest rehoming the pleco as well, it gets too big for the tank. As already suggested a group of corries would be GREAT in your tank and they are fun to look at. As a side note, you should add some more water to your tank, when the water level gets that low you are making the filter work harder, try and keep it about half-way up the black strip at the top.

You could try removing the drift-wood and boiling it to remove some of the tannins (which are staining your water). You could also add a product called purigen to the inside of your filter pad. Also, if you want to grow live plants you will need to remove the carbon from your filter as it will remove all of your nutrients in the water column. Good luck and keep asking questions!
WOW thanks for all the advice. If I remove the carbon what do I put in it's place?

Thanks for letting me know about the water level, I had no idea it needed to be that high, will the flow still break the water with it that high?

Are all types of corries okay to get, we didn't know if we should only get one kind of if we could get any of them, also how many would you suggest and will they kill the bamboo shrimp?

The pleco is going to be rehomed, we are just trying to find somewhere for him to go.
Instead of the carbon just use filter floss. It's very cheap and available in most fish stores.

Stick with one species of cory, they hang about together in their own species and are much more fun to watch this way, and they seem to feel happier and more comfortable. 6 is a good number of them to keep depending on your stock list.

I can't imagine you having a problem with the shrimp.
Thanks again everyone for all the help, I would be lost if it wasn't for this forum.

I am going to go to the fish store tomorrow and find some filter floss, I am also going to look at the cories and see what I like.

I will let you all know what I get.
Posting Rules

You may not post new threads

You may not post replies

You may not post attachments

You may not edit your posts

---

HTML code is Off

---