Newbie here! How do I get the water in the tank?
---
LOL I tried hand cupping water in but it took forever!
Hi all! I didn't see anything on introducing yourself but to cover myself Im doing it here!
My names, Mickey and just started a 55 gallon tank. And I have seemed to have gotten addicted!
Questions:
Parameters, I never knew it was this in depth! I have only been dropping in some water clarifier...
Any recommendations on a test/treatment kit? :) the most bang for your buck kit!
I started with some Koi and was planning to transfer them to my pond later in spring but they are taring the plants up "mating too". Can I make the transition now? I live in Maryland if that help you, the water is pretty darn cold and they are in 70* water now. Should I hold off?
Seems like there's to much Particulate flowing around in the tank. I'm thinking I have to many bubbles causing it not to settle. Could that be it or is it something else going on?
Im getting shoots from one of the plants. The shoot or stem has knots every few inch's along leaves and roots growning from the knot. Can I trim before and after the knows and replant, how close do I cut it from the knots?
Fungus? I have these little white string looking things attaching to the walls of the tank....What in the world is that and what needs to be done to get rid of it?
Here's a few photos for you!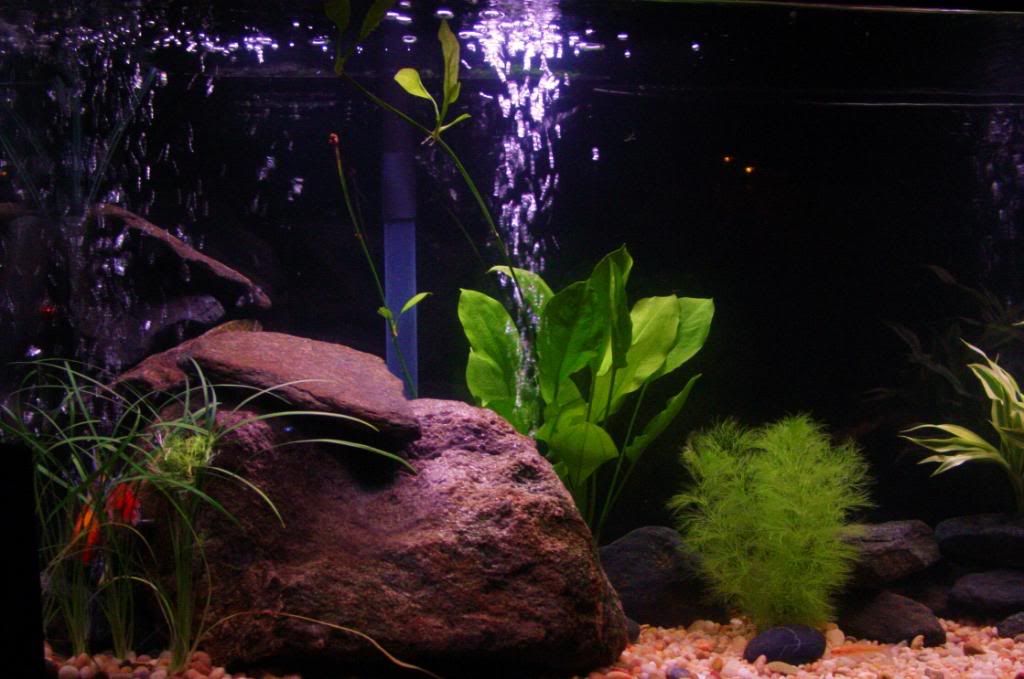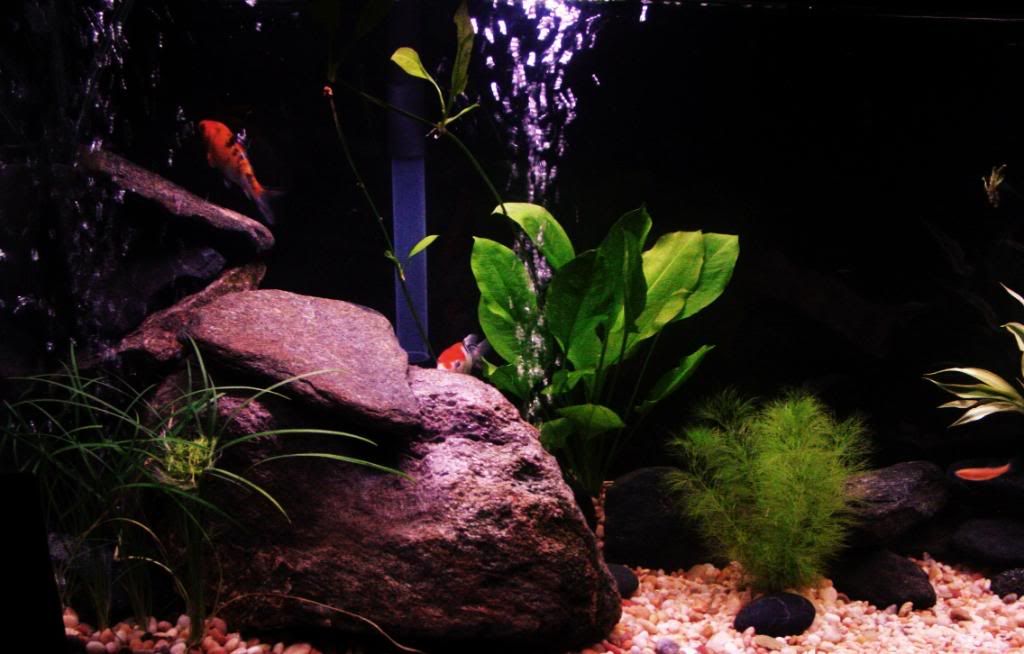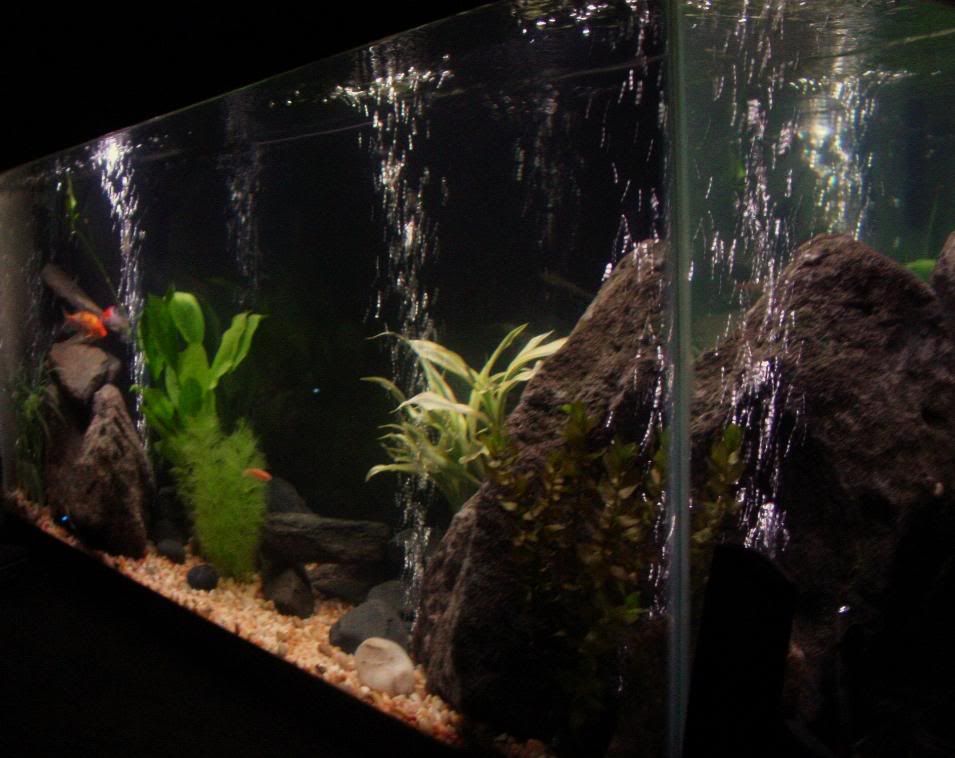 First off welcome to the forum!!!!
This is def a hobby that can suck you in, I was a victom of that.

The liquid test kits are better over the test strips. API master kit would be good.

Since you don't have a test kit I'm assuming you didn't cycle your water, is this correct?

The yellow and green leafed plant you have on the right ISN'T fully submersable you may want to remove that so it doesn't rot and make your water nasty. I got the same one from petco, I fortunatly found out it wasn't submersable before any harm was done.

When my plants get shoots that grow thier own roots I will clip them and let them float for a few days and make sure they survive.

I had gotten the little stringy things when my tanks were cycling and they eventually went away after the cycling process was done so time will tell.

Oh and nice setup I really like it. 8)
Cycling, Are you talking about a 10 to 20% water change every few weeks?

Oh I heard of the petco plants when looking over the forum. They are headed to the pond as well. If they donít hold up out side then oh well, donít have anywhere else for them.

I donít know if it would be a good idea for me to let clipped plants flout, I think the Koi would tar them up. They have already started attacing the shoots where the roots are starting. Any other ideas as to where to put the new clipped plants, Can I just put them right into the gravel?
Cycling is letting your tank run for 2-6 weeks so it can grow beneficial bacteria. The beneficial bacteria will keep amonia, nitrites, and nitrates down which in turn keeps your fish from getting easily sick.

You could plant the clippings, I let them float so if they look like they aren't going to survive it's easier to get them out. I'm lazy lol.
Quote:
Originally Posted by Dtld9
Cycling is letting your tank run for 2-6 weeks so it can grow beneficial bacteria.
OK now I am lost!
"Run" what for 2-6 weeks?
Is that just letting it go with no up keep?
there is a sticky on the forum about cycling. i'll try to find it for you. and back to one of your first questions....dont put the koi in a pond until the pond water is warm. if they go from 70* water to cold outdoor water they could die from shock.

and i love your tank.
Cool thanks! I found it too :P I got rid of the petco plants hehe! But bad news is, I wasnt home over night and ran in on my way to work today and the Koi tore up all the plants
Posting Rules

You may not post new threads

You may not post replies

You may not post attachments

You may not edit your posts

---

HTML code is Off

---