New Tank, I need some help with a sump
---
Iím setting up a new 90 Gallon tank with a ESHOPPS R-200 Sump, I managed to figure out how the plumbing connects but I donít understand how the rest works, this is a fresh water setup and I have a AquaClear 110 filter hanging off of the back.
The tank is a MarineLand Corner flow.
This is my second tank; the one that still has the fish is a 55gallon Wal-Mart special.
This all started because I needed a stand, and I wanted room to upgrade, the stand I got turned out to have a skeleton top and my 55gallon would not workÖ so about $900 laterÖ
Here is a picture of my new project
I could really use some input on the sump, it did not come with any instructions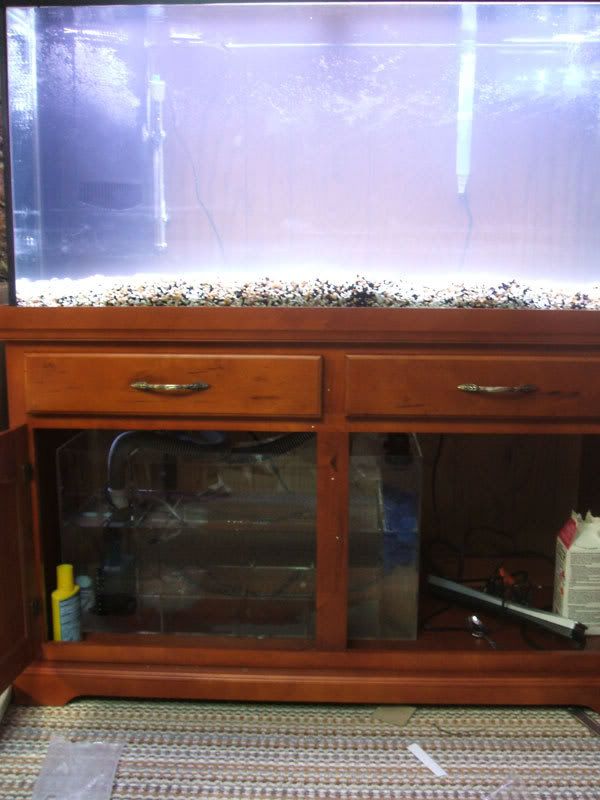 The picture kind of sucks, if needed I can break out the lights and stand and get a better picture of the sump
The sump is where all of your filtration will be kept. The water should flow in 3 stages. First, thru a filter pad. You will buy this in bulk and cut it to fit snug on top of the first egg crate. Second, the water flows thru activated carbon. You can also buy carbon in sheets, similar to what you use for an at home air purifier. Third, is the biological filter, which is what the blue bioballs are for.

I suggest going to a pet shop and asking to see a sump system in action.
Posting Rules

You may not post new threads

You may not post replies

You may not post attachments

You may not edit your posts

---

HTML code is Off

---