new and could use some help
---
I have even searched the web and the forum...I am loking for a stand for my 72bowfront...Its a drilled tank, and I need enought room below for the wet dry sump....The wet dry dunp I have is BIG 3' long 20" high and 12"wide

I have considered buying a 75 sump...But I still can't find a stand...I have searched the web and drove all around the tri-county area today...Tampa, St pete, largo ETC...I have even looked in furniture stores....But I dont thing the furniture store stuff wouls support the weight...I would prefer a rectangle stand with door beneath to house the sump

About 3' high 48"or more wide, and At least 18" wide
You could try ebay as well...if you haven't already. One thing that would come to mind in this situation, Custom. If you have any talent working with wood you could make your own...or you could get someone you know to build one for you. This would allow you to be able to house the sump and everything like you'll need, and you can get materials at any lumberyard type store, Lowe's, Menard's, Home Depot...etc...
I am stoked...I found one today and the store was going out of buisness, so I only paid 225.00 for the stand and figured I would get a new sump for the price...got Sealife 125 sump for 110.00!...Just ordered all my media , kit, pump, and top today, and should be in by Fri...So lools like I will be ready to fill it on friday,and start prepping...This tank is going to be an African Ciclid tank, with about 5-7 males in it...do you think that is too many?
Also ordered the glass top, my Live mixed media, overflow kit,and rio hyperflow 17 pump for 240.00
Now all I need is to buy lights and a heater
any other advice would be great as I am a newbie to a tank this size, with a "REAL" filter system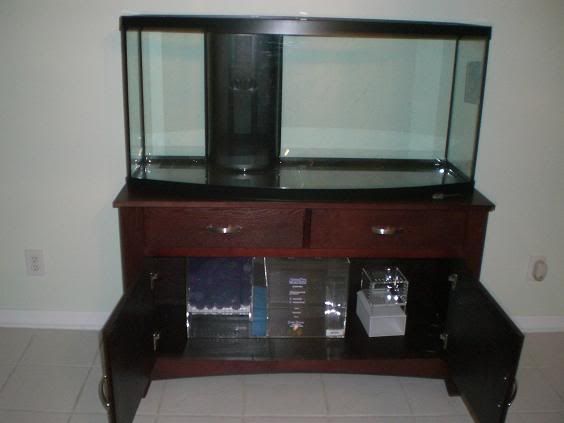 ---
Last edited by FlatsINC; 11-18-2008 at

08:31 PM

.
Oh, My!! THAT is exactly the stand I want!!!! It's a Home Impressions design, right? I can't beleive you got it for $225! That is an amazing deal. It's classy, built well, and is furniture grade. You are one lucky guy/gal!

I am setting up a tank of similar size right after Thanksgiving. Are you planning on doing a thread on this forum on the development of your tank?I think people usually do it in the pictures/video section. I would love to keep track of your progress and learn right along with you!
Good looking stand.

As for the stocking question, it's really hard to answer until you pick out particular species you want. Some are far more aggressive than others, and the sizes vary quite a bit. I recommend picking one lake and getting fish from only that lake.
---
4 8 15 16 23 42
Thanks for the great comments....I will put up some pics on the build...I just picked up some wood and slate....Also Since the store was going out of buisness...I prepaid on some fish I ended gettting a $55.00 fish for like ten bucks...
They will hold them for me till my tank is ready...Here is a possible set up that I put together tonight....I want to keep it simple and somewhat classy...
What do ya think yes/no? I'll be filling the tank Friday evening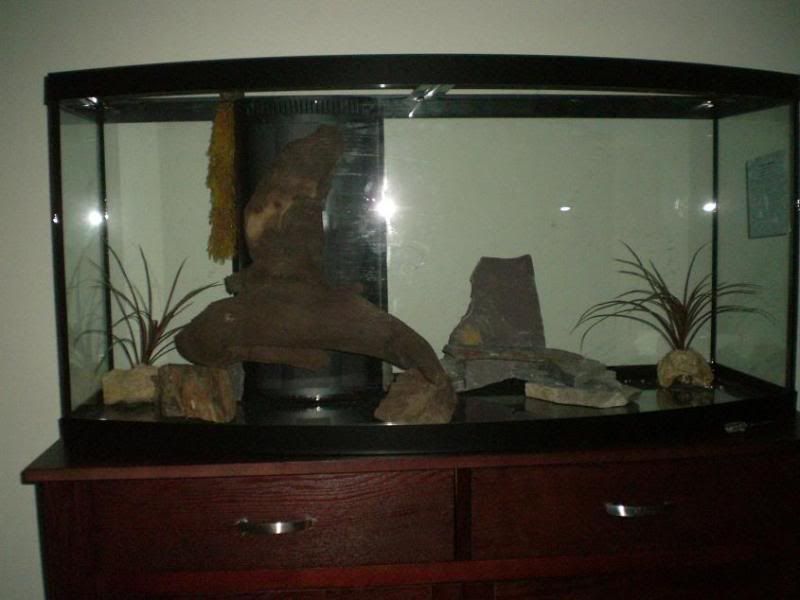 I think it's gonna look great! I'm looking forward to seeing it filled with water. How exciting...!!
---
If you don't stand up for something you'll fall for anything...
What are you planning on using for substrate??
---
If you don't stand up for something you'll fall for anything...
I am planning on using a live crushed seashell substrate. about 80lbs worth should give me a 1 1/2" of bedding...All the rest of the stuff minus lighting comes in on friday....I am a little undecided on the lighting...and have spent a good penny so far so lighting may have to wait...

Does someone have a good diagram for all the hookups for the wet/dry, and overflow kit? This is my first setup like this. I want to do things right the first time, also I got a heater today...can I place it in the sump so it's hidden?

As far as drilling the holes in the top of the stand, do I drill them the same size that the tank holes are?
---
Last edited by FlatsINC; 11-19-2008 at

08:03 PM

.
I can't help you with the plumbing stuff as I don't have any drilled tanks or sumps. You also might want to check in with the saltwater section of this forum as our saltwater tank people tend to know their stuff about setting up sumps. Although, of course, a freshwater sump will be significantly different from a saltwater one.

That's a cool piece of driftwood. How about some more rock piles? African cichlids really love their rocks and caves, and having big heaps of slate will provide them with a lot of hiding places to prevent disputes.
---
4 8 15 16 23 42
Posting Rules

You may not post new threads

You may not post replies

You may not post attachments

You may not edit your posts

---

HTML code is Off

---