Name that rock!! Granite or Limestone?
---
I am collecting rocks to re-do my 2.5 gallon with and I am stuck between whether these are granite or limestone. I have them in a container of treated water to see if they alter the chemistry, but in the meantime I am curious if any of you know! I am leaning more towards granite due to the white marbling throughout them, but this could just be scrapes from being picked off the side of the road. Here are the photos --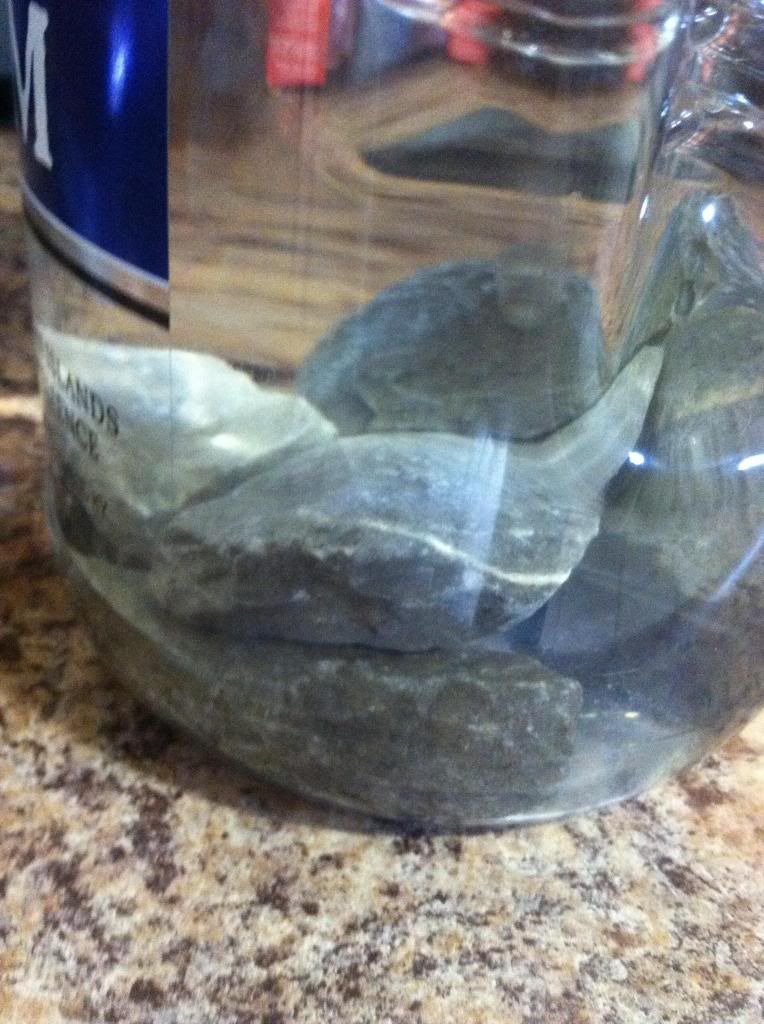 Also, does anyone know how long it would take limestone to alter the water chemistry? Will it take a few days or would it be somewhat instantaneous? I put them in yesterday around noon and was going to test pH and GH Monday.
Should only take a few days to alter it,if it is going to. I usually use muriatic acid to test rocks for possible breakdown but I have seen other people use strong viniger for the fizz test as well.
---
...........
I don't want to play with chemicals seeing as I'm 9 months pregnant and i vinegar tested it but limestone won't fizz even though it will break down.

I got impatient and tested the water (it's been a little over 24 hours now) and my pH was the same as usual and I just went ahead and put 14 drops (I have hard water and that's the general number I get) in the GH test and shook it and it was green so it's not doing anything yet. I'm about to check with google to see how fast it should alter my water.
Good ol google,you should check with him about the other types of acids that are safe.
---
...........
Google doesn't have an answer, but harder water will show less of an increase than softer water. I doubt I'll see much change if it is Limestone. I guess all I can do is let it sit and keep testing it, but all I did was rinse the stones in a bucket of hot water twice before adding a dash of conditioner and filling it so I feel like if it were actually limestone, I would be getting readings due to dust and fragments (I pulled larger pieces out of landscaping gravel near the road) that weren't removed. I may pick up my dirt and do my hardscape next week but not add water yet (I'm DYING to do my hardscape, lol) because I want to dry-start a lot of the plants that will be going in here.
depending on how you feel about this.

could put a guppy or feeder gold-fish in there and see if it gets sick, ... not very humane i know :(

i wish i could see (at work most pictures are blocked :(
A fish may get sick in here anyways because it's a rum bottle that I cut the top off of. I rinsed it a few times, added some vinegar and rinsed again until it didn't smell of rum or vinegar but there could be traces of it left I'm sure the fish wouldn't like.

I just found someone that said limestone isn't capable of raising pH over 8.3 (mine is 8.2-8.4 regularly) but nobody has anything to say about GH. I'll do the tank Saturday or Sunday if I do happen to get dirt this week so it'll have a full week to sit and test.
LOL, ... i dono, maybe the fish would get sick, ... maybe it would get drunk :)
My husband made a comment during a conversation a few weeks ago that fish don't get drunk, they die. Apparently his friend dumped some rum in a tank with an Oscar to get it drunk and it died.
People in the military don't often have better things to do, unfortunately. He know's I'd kill him if he ever decided my fish need a drink.
Posting Rules

You may not post new threads

You may not post replies

You may not post attachments

You may not edit your posts

---

HTML code is Off

---