Moonlight
---
Anybody have any experiance with setting up a moonlight for a tank? like using blue LED lights or something
I was actually debating to make a thread about that or not.
You option is LED's or cold cathodes. Cold cathodes are generally easier unless you understand how to wire LED's together with resistors and all that. You can simplify the LED's by buying one of those premade chains. Cold cathodes are very easy to do and cheaper. For either one you need a AC/DC converter for cold cathodes a adjustable one is ideal because you can dim them. Or you can use a old phone charger or something similar if it has a good enough output.
I did this yesterday. My first LED wiring
! I'm so happy with myself.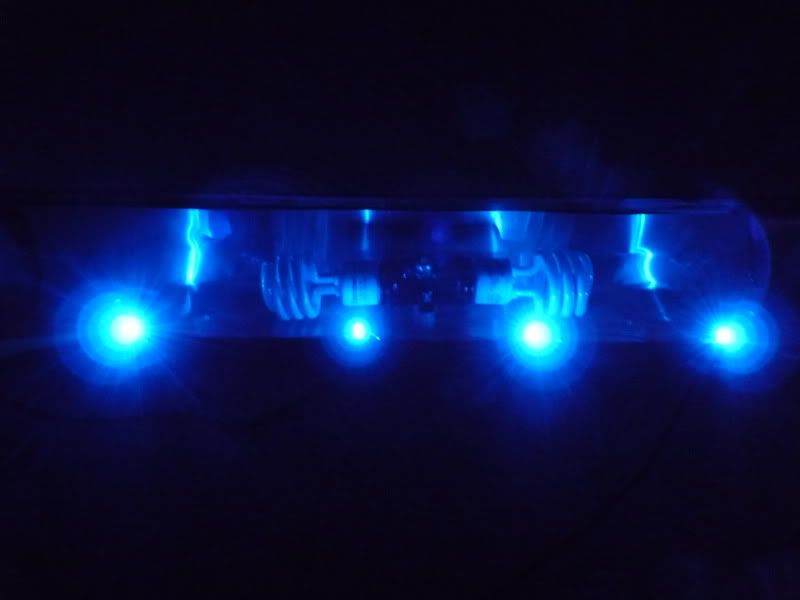 If I wired it different it could a little brighter. It is brighter than it looks in the pic, but my camera hates the blue light. I haven't figured if that one is too bright or not yet. I can post pics later of the cold cathods running on my 55gal. With those I can control the brightness. If they are fully powered the fish will stay awake.
Heres
a site that goes over how to use cold cathodes. Installing them is your hood is harder than wiring. Most people have a spare ac/dc converter that will work to power them. These are like old phone chargers, toy chargers,ect. Any of those plugs that are big bulky square boxes are usually ac/dc converters. It will say what their output is. That page gives some figures to which ones will light and which ones won't. You usually don't need to cut up a adapter unless its got a really tiny plug on it.
Cold cathodes on high. They can dim down so low that the camera can't detect them.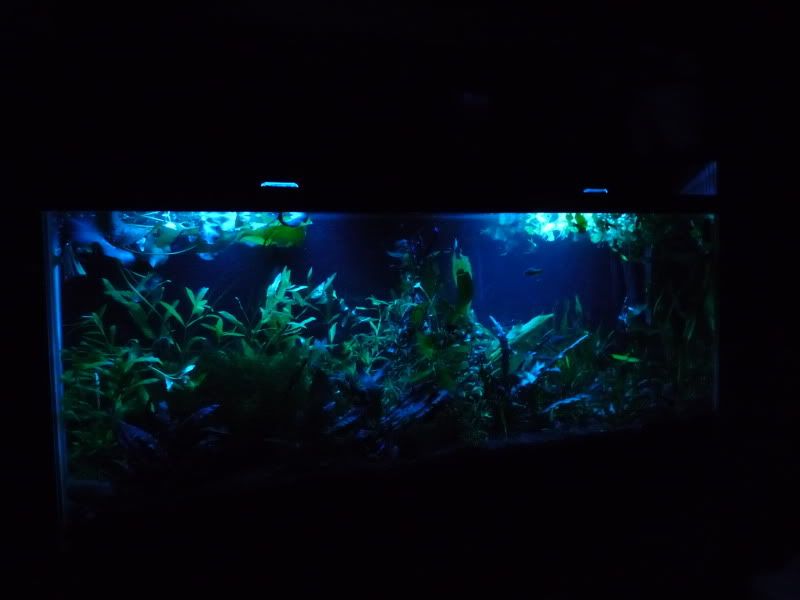 Very cool. Mikaila31, you should do a step-by-step thread in the DIY section
---
4 8 15 16 23 42
oh yeah that would be very cool please please please......
---
Back in the Game!!! Live Bearers in a 40 Breeder
I've been looking at ways to make an LED moonlight, but got impatient. So in the interim, until I put one together, I used a small fixture from a 1 gallon hex tank I have laying around. I switched the bulb to a 15w blue light and hung it on the back of my Coralife fixture. Works great and it was cheap. Fixture = free, Bulb = $2.49.
Posting Rules

You may not post new threads

You may not post replies

You may not post attachments

You may not edit your posts

---

HTML code is Off

---