betta definatly. i have 2 golfish in a 30 gallon and there still way messy 8)
For the other tank you could get a couple of african dwarf frogs they are incredibly cute and funny. I agree with the snail suggestion too you could put one in each tank. I love my mystery snails.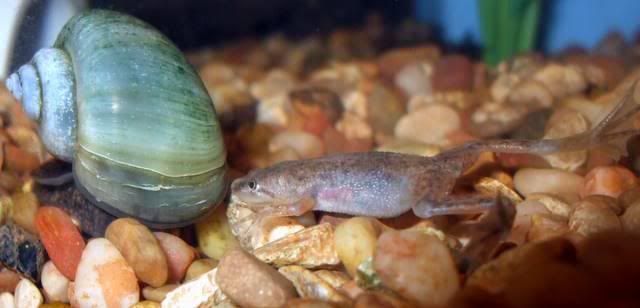 I agree with lindsey88, African Dwarf frogs are great! Very interesting and active. I love to watch them hunt down their dinner; they especially love live (or frozen) bloodworms. I've kept several, although I don't have any right now. I'll be getting some more soon though!
The thing you need most right now and won't like to hear is a testing kit to monitor your cycle. You have not done an intentional one before getting fish so you are now at the beginning of a "fishy" cycle. Please read here
http://www.fishforum.com/viewtopic.php?t=3738
before you go any further. It will save you trouble in the long run and may save your betta.
Quote:
Originally Posted by Lindsey88
I love my mystery snails.
I agree! And I like the ADF I never bother getting any though. The ones my LFS gets in are sad looking. But they would be great additions to any tank! And they would be great for kids too. Better then the average fish. Nice picture btw Lindsey! Lol I would say that the frog got a little to close for the snails liking?
---
And just before you laid dead weight upon its shores, I stung you in the face for that's the nature of my core.
Quote:
Originally Posted by tophat665
Quote:
Originally Posted by Holly
What you guys thing about 2 small goldfish. Cold water so they won't need a heater and then each kid could have a fish of thier own
Goldfish need about 10 gallons each.
Really?! I never had them, except the feeders you win at fairs and stuff, so i don't really know. Good luck wiht the Beta..those are wonderful fish and very pretty.
---
"Cycling best friend is a good liquid regeant test kit, and a good barber to fix your hair after you pulled half of it out."
Not all bettas are compatible with snails. It really depends on the personality of the betta. Get one only if you're prepared to rehome it into another tank.

I added one to my 5 gal. tank with my male betta and he bullied it. Didn't nip any parts, though, just kept him pinned down in one spot so the snail couldn't move. I might try putting them together again when I upgrade to a 10 gal. that way they'd have more room to get away from eachother and more plants to hide in, etc.
---
Susan
I agree. Some bettas don't accept mystery snails. Three of mine do and one doesn't. It just depends on the betta.
Been there and done that!! The reason I got into fishkeeping was because of my kids! I had to fish-sit and that was the beginning of this for me. Now I love it more than the kids.
My suggestions for a 2 gallon would be no more than 3 zebra danio. They are very active fish that can live through MANY water conditions, and do not require (although prefer) a heater. They do sell small heater for tiny tanks. I have a 3 gallon for my son with danios and I bought the smallest heater I could find and it's on a very low setting. Just get a thermometer and make sure you start low and slow should you decide to heat the tank.
Here are my two favorite links for starting an aquarium. They helped me more than anything when I first started. I also highly recommend BioSpira, which is mentioned in the article. I use it all time and it has worked wonders.
http://www.bestfish.com/newtank3.html
http://www.bestfish.com/breakin.html
Enjoy your new hobby! I bet you'll eventually realize that you got the last laugh with your mom! : )[/url]
---
Susan

Pardon the pun, but I'm hooked!
i have danios and neon tetras too, and they are great, if you would want to get maybe a 5 or 6 gallon, you could get 5 zebra danios, or the long-finned variety, which have longer fins (no kidding) and i think are much prettier. i also have blue l-f danios, and i think they are better looking then my zebra danios!

and good job with your success with the kids!
---
The first rule of Fight Club is - you do not talk about Fight Club. The second rule of Fight Club is - you DO NOT talk about Fight Club. Third rule of Fight Club, someone yells Stop!, goes limp, taps out, the fight is over. Fourth rule, only two guys to a fight. Fifth rule, one fight at a time, fellas. Sixth rule, no shirt, no shoes. Seventh rule, fights will go on as long as they have to. And the eighth and final rule, if this is your first night at Fight Club, you have to fight.
Posting Rules

You may not post new threads

You may not post replies

You may not post attachments

You may not edit your posts

---

HTML code is Off

---