Just switched from gravel to sand
---
Hi,
I have a 26 gallon tank which had a fine gravel substrate and a 10 gallon bowfront (it's a bit more than 10g really) that had a mixture of pea gravel and fine gravel. After reading a lot about which types of substrate Cory Catfish like best, I decided to switch both tanks to playsand. I plan on keeping Cories in the 26g and will use the 10g to quarantine any new fish before I put them in. I know there's a debate about whether barbel wear is due to rough gravel or dirty water/substrate but I would love to see my Cories playing and digging in the sand and figured they would be happier this way.
I thought it'd be best to do the switch now rather than later when I've got a full load of fish, I just have some Neon Tetras right now. It took ages to change both tanks but after many hours and one very bad back later, it's finally done! I kept lots of gravel from the 26g and put it in some knee high stockings that I've put in both tanks to keep some of the beneficial bacteria that was lurking there.
There is a point to all this, sorry, I just wanted to explain a few things first! So my question is, how long do you think I should keep these "gravel sausages" in my tanks for?
Will the good bacteria eventually migrate to the new sand or was keeping some of the gravel unnecessary?
26g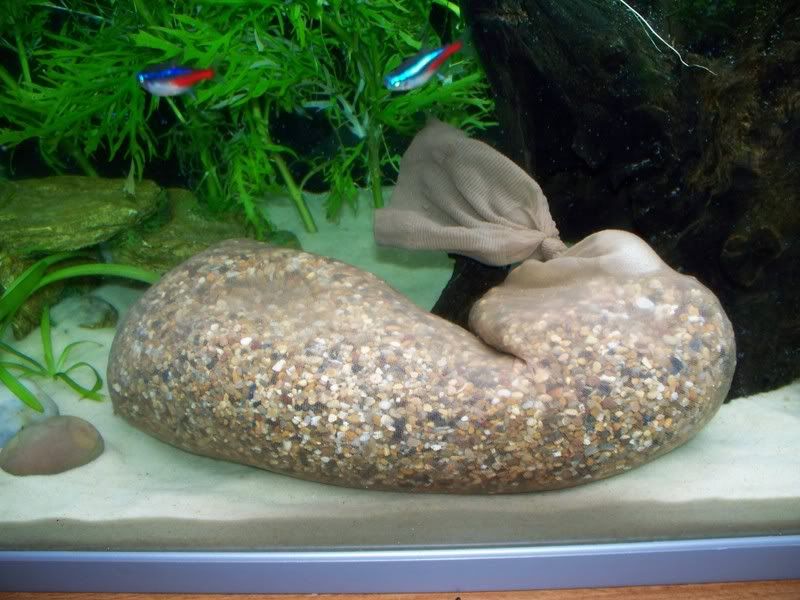 10g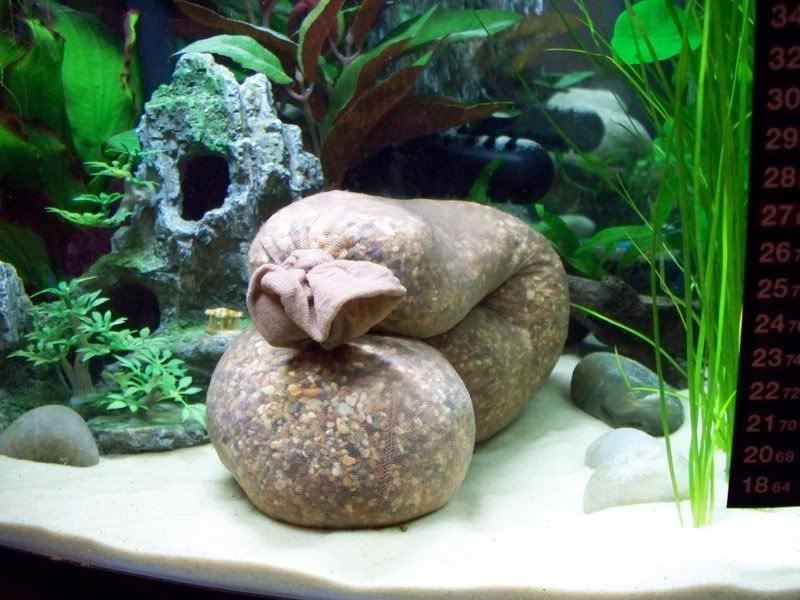 My Tetras have recovered from white spot and are looking really happy and healthy, thanks to everyone that helped me with this. I'm going to my LFS at the weekend to get some malaysian trumpet snails to stir up the sand and some Black Neons that I'll quarantine before adding to my main tank.
The best thing about switching substrates so far? Everything got a good clean, so no more pond snails! Woohoo! :D
Nice sausages!

I could be wrong, but I wouldn't leave them in there for *too* long. I get the feeling that if you left them in until you started stocking the tanks, removing them after the tanks are stocked could really be removing a ton of beneficial bacteria from the biological filter and you wouldn't have enough bacteria to deal with the added waste from the fish, possibly sending you into a mini-cycle. I think you'd be better off removing the bags at least a week before adding new fish, which would give your bacteria time to grow in your sand, filter, etc after the gravel's gone.

BTW, great looking tanks!
---
4 8 15 16 23 42
Given that the bacteria will grow to use the available nutrients I'd say take them out soon or they'll delay the growth of bacteria in the tank since the ones in the sausages will be consuming all the nutrients.
---
Tetra Fanatic
Watch my tank progress from Craigslist salvage to fishy habitat:
Aaron's Tank
The only things that happen quickly in an aquarium are bad things.
I'd leave them in there until you don't have any ammonia readings. With a lightly stocked tank, you shouldn't have any problem removing them at that point, as there should be plenty of bacteria elsewhere to compensate.

Congrats on switching to sand. I'm a huge proponent myself and I love it. Nothing is cuter than watching cories snuffling around in the sand for food, as they can really get into it without hurting their noses/barbs. It will certainly be worth it for you! My cories have gotten so chubby since moving to sand, and they all have very long, gorgeous barbs.
Thanks for your replies and thank you iamntbatman for your compliments on my tanks and sausages, hehe. I'll post some proper pics in the freshwater pics section soon, when everything has settled down and some of my plants have recovered from the snails that were munching on them.
It's great to hear that about your Cories okiemavis, it really sounds like it'll be worth it and I can't wait to get some now!
Similar Threads
Thread
Thread Starter
Forum
Replies
Last Post
Gravel or Sand????

sheena0709

Beginner Freshwater Aquarium

14

07-23-2008

03:25 AM

Sand vs. Gravel

CindyLovesFish

Freshwater Aquarium Equipment

29

07-18-2008

03:41 PM

sand or gravel

hjkaga

Freshwater Aquarium Equipment

7

12-28-2006

08:23 AM
Posting Rules

You may not post new threads

You may not post replies

You may not post attachments

You may not edit your posts

---

HTML code is Off

---