Input on Driftwood Requested
---
After Christmas I will be acquiring a new 65gallon tank with overall dimensions of 48" long by 18" deep by 18" high.
I have a piece of driftwood that I got a while ago that I would like to use in the tank, it's about 24" long by 9" deep by 13" tall.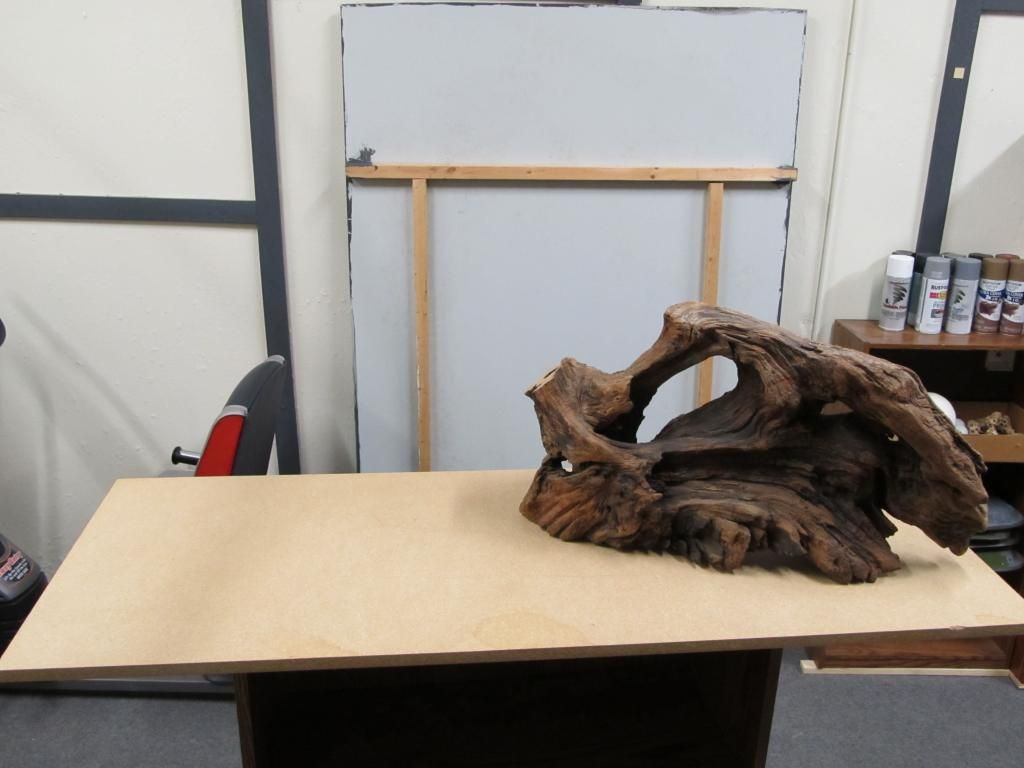 The board that the driftwood is sitting has the same footprint as the tank I wish purchase.
If I place the wood at an angle across the rear corner I create a large space that will not be very visible from the front of the tank, but could be used to hide the uptake for my canister filter, the heater, the spare sponge filter for my quarantine tank, etc. as seen below: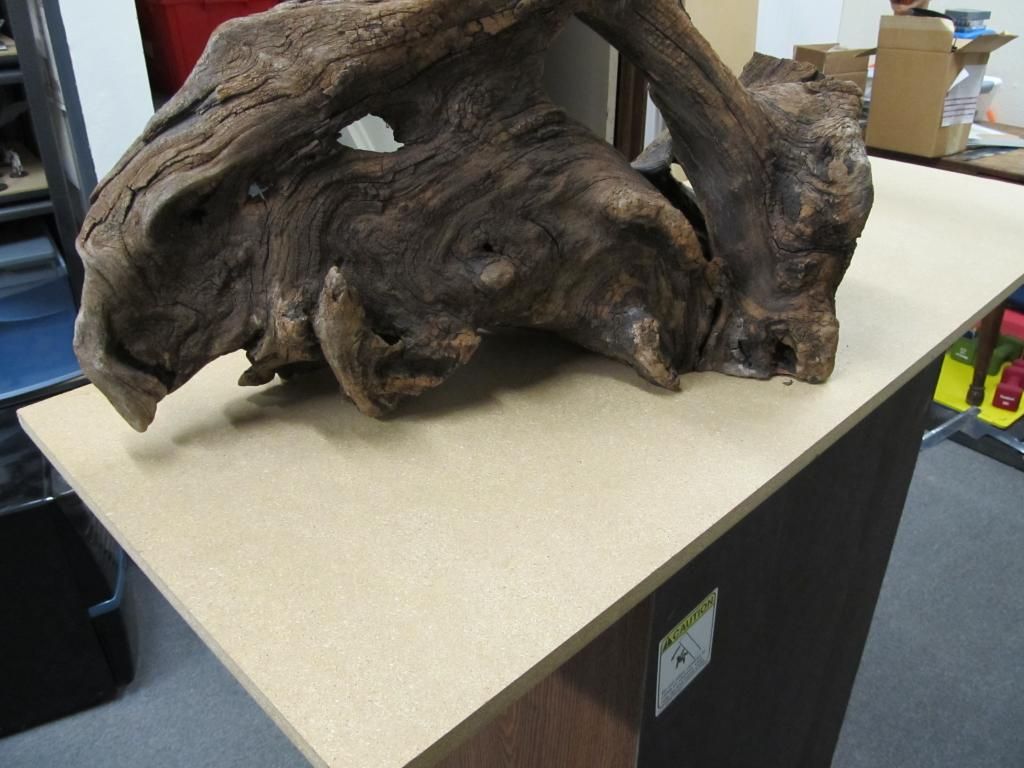 The alternative would be to section the piece horizontally to leave the two swimthroughs at the top, and then chunk up the base for scatter pieces, like so: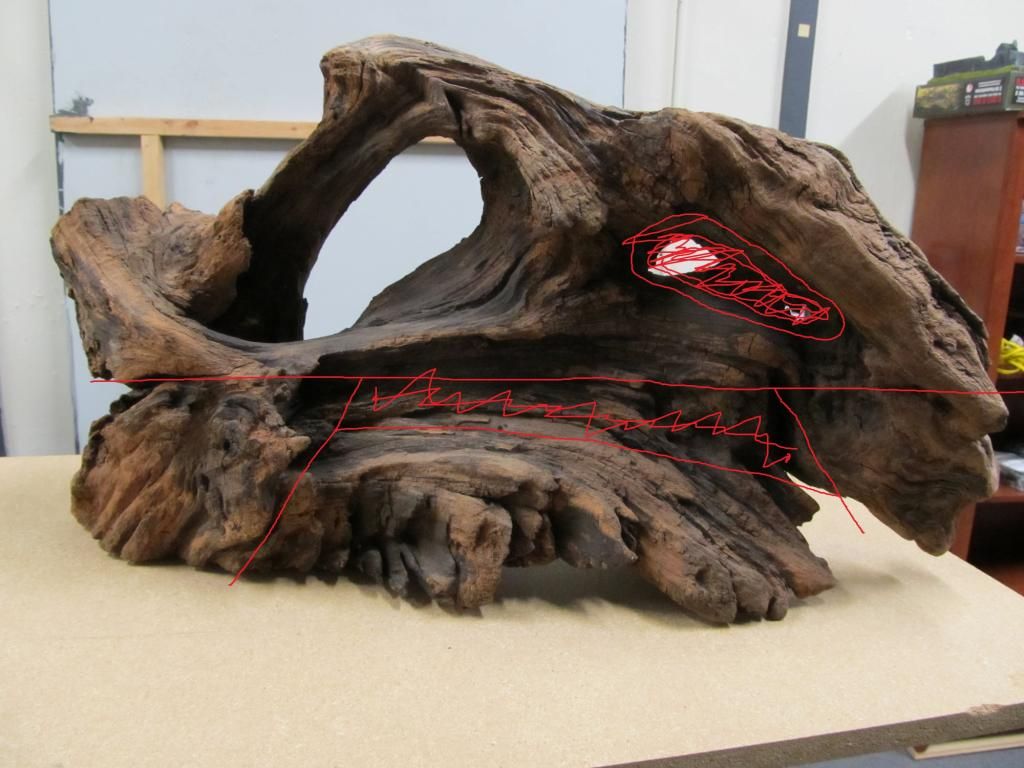 This would give me all the wood I needed for the tank, but I think it kind of ruins this great piece of natural wood.
The more I look at it, the more I like the thought of using it as one big piece.
It leaves the other end of the tank open for heavy planting with a large swimming area in the middle and gives shy fish a place to truly hide, as well as providing a centerpiece on which to theme the tank.
The argument against it would be that it's half as long as the tank and simply fills up a large amount of the available volume.
Any thoughts would be welcome.
That IS a beautiful piece of driftwood. I'd be inclined to use it as is since it's balanced now visually, and provides several key attributes for aquarium use (swim through options and hiding places).
please dont split it!!!!, tat s an amzing piece! How you even questioning using it is hard to believe, id liove a piece that visually stunning
That is a lovely piece of driftwood! Don't split it up! I think you have the right idea in the first picture. Make a hardscape with the wood on one side and heavily plant the other. Or you could moderately plant the other side and find a more spindly piece of driftwood to go there. Either way, that's too beautiful to split up!
Concur. Please use the single piece off-center and use it as the tank's focal point. Start a little java moss growing on it - beautiful! Perhaps balanced out with a truly massive sword plant on the other end of the tank?
---
18 species/varieties of fish, 15 species/varieties of plants - The fish are finally ahead of the plants!
*560 gallons (2120 liters) in 5 tanks -> you do the math.

Has the piece been used in a tank before? If not, try boiling as much of it as you can for a few hours on each exposed piece you can. New driftwood leaches tannins (not harmful) that will turn you water tea color very quickly. The only way tp get the water back more clear is constant water changes. Mind you, I like the stained/tea color look but my wife doesn't and we have two large pieces in our 65 gallon tank. I'v e heard up to 6 months wothout boiling before they stop leaching and around 2 months or so if you boil them.

PS, PLecos love natural driftwood.
Well, I've got it soaking in a large rubbermaid tub.
I was sure that it was heavy enough that it would stay down, but when I added the 4th bucket of water it bobbed like a cork :(
Oh well, I've got a few weeks until I need to be able to put in the tank.
There's an aquarium plant show here in SE Michigan in mid February, so that's my due date for having the tank up and ready to go.
Fantastic chunk of wood. I agree with others, leave it solid. That has great potential. Off-centre, as someone mentioned, but not right at either end or it will draw attention to the tank size.

If kept submersed, it will eventually be water-logged and not float. But you might want to plan for some "weights" just in case. One method I've heard of is to wedge a chunk of rock somewhere, as in a crevice or opening. With the right piece of rock, this can be very natural and thus form a part of the aquascape without being there just to hold down the wood so obviously.

Byron.
---
Byron Hosking, BMus, MA
Vancouver, BC, Canada

The aquarist is one who must learn the ways of the biologist, the chemist, and the veterinarian. [unknown source]

Something we all need to remember: The fish you've acquired was quite happy not being owned by you, minding its own business. If you're going to take it under your wing then you're responsible for it. Every aspect of its life is under your control, from water quality and temperature to swimming space. [Nathan Hill in PFK]
Posting Rules

You may not post new threads

You may not post replies

You may not post attachments

You may not edit your posts

---

HTML code is Off

---