i would like opinions on my 29 gallon blackwater layout
---
The tank is getting into the nitty gritty part of the cycle process. My 3 neon tetras are still doing great (eating and swimming normally, bright vibrant color). Anyways I have been doing some research on blackwater tanks and am really liking the idea. From what I have read, caring for them is nearly identical to that of clear water tanks with the exception of possibly changing out almond leaves (if I went that route). My main concern is how to correctly test the water. All of the tests I know of are color coded, which I have a hard time believing will still be accurate with tea colored water. Does anybody know of a way around this?
I also had the idea of kind of making this a black water river bank. Have the substrate start higher up in one corner or side of the tank and slope down. Maybe put some plants up on the slope and build some caves into the side of the slope using pvc pipe or rocks. I have a rough sketch. There are plants on a slope on the left and then driftwood and a rock on the right. The dark circle just below the plants is supposed to be a cave Thanks everybody!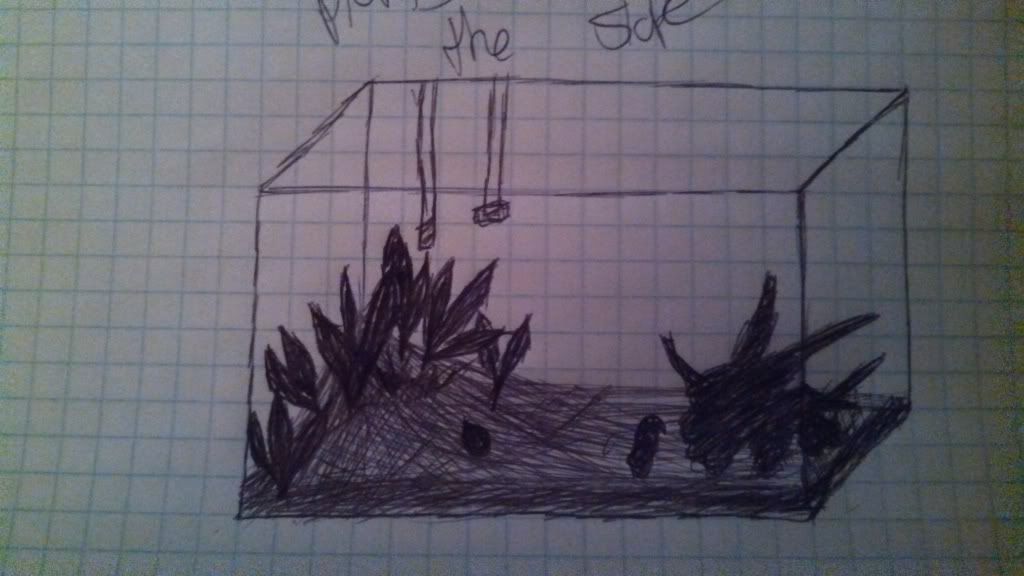 Also I am running an aqueon quiet flow 30 filter. It does have activated carbon in the filter media. To my understanding this will filter the tannins out of my tank (which isn't a good thing obviously if I'm going for blackwater). I have read I need to remove the carbon, which in this filter would be done by simply cutting open the filter bag and dumping out the media, then placing the now empty bag back in. Has anybody tried this?
I don't know a way around the testing kit dilemma, but I know a few members here have blackwater tanks and should be able to chime in.

As to the carbon, I've done it. You just use a knife or scissors and slice the package and dump out the carbon. It's the type that's in the mesh cartridge, right?
Yes its a semi rigid mesh pouch that I can slide in and out of the filter assembly
I've never had any problem with testing. You just do it the exact same way as you would on a clearwater.
Does the darker water not throw off the color of the results? Especially with the nitrate test being in shades of orange and red?
More often than not my tank is a weak tea color and that doesn't interfere with any of the tests. Now if it's really dark that might cause a problem. It's best to darken the water slowly though so by that point you should have a good feel for it.

*makes confession* My blackwater has been set up for 2 years, the last fish added to it was a year and a half ago. I really don't test it often anymore as I know what the readings will be. Bad I admit.
ahh gotcha. well that makes sense i reckon. i probably won't begin transitioning it to blackwater until it finishes cycling and is more stable. I'm not sure how dark I want mine to be, but with the tank just starting up new fish will be being added so I will definitely need to keep testing. And the fact that your fish are still doing great after so long, I don't need a test to tell me you know how to keep a healthy tank
So are there any thoughts on my river bank kind of layout? All I have is that rough sketch so far
I don't mess with substrate, so my opinions are second hand, but...

Looks like the angle of repose on your bank might encourage a downward settling (slow-motion avalanche) as vibration shakes up your substrate.

A riverbank is usually hung-over with marginal vegetation. I mimic that by putting a towel over part of the tank top. I like to use floaters and driftwood as part of my bank illusion. I also light only one half of the tank. The bankside half is dimmer.
Posting Rules

You may not post new threads

You may not post replies

You may not post attachments

You may not edit your posts

---

HTML code is Off

---