Bad snail smell=dead snail.

Snails smell HORRIBLE when they die.
dont know much about snails, but you should ask lupin he knows more about inverts then any body i know
Quote:
Originally Posted by
NickJonasLover
View Post
how do i get him out of the shell
If you want to remove a dead snail from its shell, the following options may work.
1. Cut the columellar muscle which connects its body to its shell.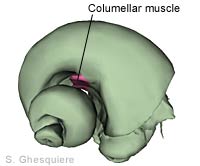 2. Dare your fish to eat them clean out of their shell. Not going to work with anything but the botiine loaches which are avid snail consumers. The trouble is once a snail is already dead, the water fouls up quickly and most fish are not going to chance eating the snail with its smell.
3. Let them sit in the water for a long time. You don't want to deal with the gross smell even though the stench decreases over time in your attempt to clean the body out of the shell.
4. Let your live snails pry off the dead snail and eat them. The downside is this increases their cannibalistic tendencies towards other snails so this is not advisable if you want your snails to socialize with others. Once they get a taste of the meat, they will do it again if opportunity arises even if you think your snails are wellfed.
5. Bleach solution. Perhaps the easiest method. It liquifies the body and makes the smell more bearable.
If you want to preserve the shells, you can use nail polish to paint them. In another way, nail polish works for severely eroded shells. Just make sure it does not come in contact with the sensitive bodies of the snails as it can kill them.
Quote:
Originally Posted by
NickJonasLover
View Post
well it has been a day but still nothing but one thing he went back into his shell last night but he hasn't moved other then that so what do you think and do snails smell bad at times or is that just me
Snails can go dormant for hours, even days. There are a few ways to determine whether the snail is dead or not.
1. Pull the operculum gently but do not forcibly pull it that it becomes severely stressed from using too much energy in its effort to defend itself. If it seems to resist by retracting further in its shell, it's still alive. If it is pulled and appears limp, then it is dying or already dead.
2. Sniff them. Yes, they will smell rather horrid even from a distance once they die and can quickly foul up the water.
3. If the snail is floating limply rather than the 'hamburger face' where most of its body parts are still exposed despite closing in its shell to aestivate, then it may be dead. Check first two options to be really sure.
---
Sent from my desktop or phone or whatever else I am holding on to

I'm ready for the pressure.
The drama and the pleasure!

If there is one thing I want to see here, it's HUMOR.

I believe I can fly!
I believe I can touch the sky!
I think about it every night and day!
I stand in awe of my body.

My snail is weird to. sometimes he sleeps upside down outside of his shell. then a couple of days he will float around and not do anything. but some days he gets on the log and Walks around the tanks really fast.

One time he was at the water line of the tank as i was siphoning water he fell alseep and was suctioned to the wall as the water line got below his body he started to slide down but he was still asleep LOL.

What im trying to say is if the snail is COMPLETlY OUT OF ITS SHELL as in its entire body is out than its dead.

if you lift the snail out of the water and it falls out of its shell. its dead. ( what i heard and happend to my sisters hermit crab)

and what lupin said were all true.

My snail doesnt react to getting gently poked. And he is very much healthy and alive.
Similar Threads
Thread
Thread Starter
Forum
Replies
Last Post
How fast are you?

Lonewolfblue

Off Topic Discussions

8

01-14-2008

03:59 PM

How fast are you ?

Daz

Off Topic Discussions

17

06-20-2007

08:22 AM

help really fast

xxthrwitdwnxx

Tropical Fish Diseases

18

05-03-2007

03:06 AM
Posting Rules

You may not post new threads

You may not post replies

You may not post attachments

You may not edit your posts

---

HTML code is Off

---