There are 2 different kind of ammonia test kits. One with Nessler Reagent (1 bottle) which goes from clear to yellow.
Another one is Salicylate method (2 bottles) which goes from yellow to green.
Thus depending on which one, will show different colors.

As Byron stated, high ammonia at pH lower than 7.4, no need to panic.

As far as levels increasing, cant say for sure but DO NOT vacuum gravel nor disturb the filter during such mishap. By disturbing, you are probably reducing amount of benefial bacteria.

Simple, small but frequent water change and controlled feeding shoud reestablish this tank with time.
As long as nitrite is registering, tank is going toward right direction.

Just have patience and try, if possible, to keep pH lower than 7.4, until at least ammonia is well under control. What is pH of your tap?
My Ammonia test goes from yellow (0) to A very dark green (8.0)
I scanned the card I have to illustrate this (colors are a bit off from the scan but I think the point gets across that in my test kit, golden is good)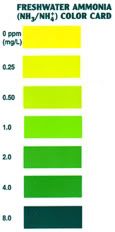 pH of my tap is 7.6, same as my tank. I've always shied away from messing with pH as I know done incorrectly it could really stress out my fish!
That's explained. So with this same test kit, the one scanned, your tap water is yellow but the tank is dark green, correct? Just want to ensure this is so.

Agree with previous advice, monitor and do pwc as this works through.

Byron.
---
Byron Hosking, BMus, MA
Vancouver, BC, Canada

The aquarist is one who must learn the ways of the biologist, the chemist, and the veterinarian. [unknown source]

Something we all need to remember: The fish you've acquired was quite happy not being owned by you, minding its own business. If you're going to take it under your wing then you're responsible for it. Every aspect of its life is under your control, from water quality and temperature to swimming space. [Nathan Hill in PFK]
yep! you got it byron :)

And yep, I'm definitely monitoring them and am ready to do a PWC if needed right away.
Well, its definitely cycling!

Tests have my ammonia at a little less than .05 right now for ammonia. about 1 for nitrites and 5 for nitrates. I'm quite amazed at the progression from last week to this week to be honest!

Of course been monitoring the fish, still no signs of stress, still have healthy appetite and very colorful. Been doing my Stability bio-additive every day still, and will until ammonia and nitrites are down. Based on these readings, it doesn't seem to be hindering my progress at all.

Thanks everyone again for all of the help you've provided. Just wanted to chime in and let those of you watching the thread know the status!
im glad to hear you tank is finally starting to complete its cycle!!
---
"Fish are friends not food"
isn't it awesome when you get a detectable level of something besides ammonia??? I know the feeling of your tank showing signs of cycling...because I just went through it myself : ) and afterwards, there's nothing like a nice, unquestionably yellow vial for ammonia.
Haha yes, I felt like such a dork when nitrites stopped being just baby blue and started turning pink/purple.

What was funnier is I got excited and rushed to show my fiance, who just looked at me with a blank stare as I showed him the vial. Number 1, he likes fish but leaves the science to me, and didn't really understand the significance of it. Number 2 - he's color blind lol

Glad you're ammonia problems are behind you, too!
LOL sounds like my hubby, he loves the tanks and loves watching them but leaves anything else to me and on the new one's he kept going like "is it ready yet? LOOKS ready don't it" and I'd say like "Naw its only reading 0.25 yet" and I gotta stare back and he'd ask next day is it reading YET llol....
---
~ Life Is Too Short, Break The Rules, Forgive Quickly, Kiss Slowly, Love Truly, Laugh Uncontrollably And Never Regret Anything that Made You Smile.
Life May Not Be The Party We Hoped For, But While We're Here, We Should Dance. ~
Posting Rules

You may not post new threads

You may not post replies

You may not post attachments

You may not edit your posts

---

HTML code is Off

---