And here are some........
---
PICS!!!
They aren't the best quality - took them with my phone, cause I couldn't be bothered chasing hubby for his camera. LOL
I have to say, I am so glad I switched over to sand, and so are my fish! lol
Enjoy!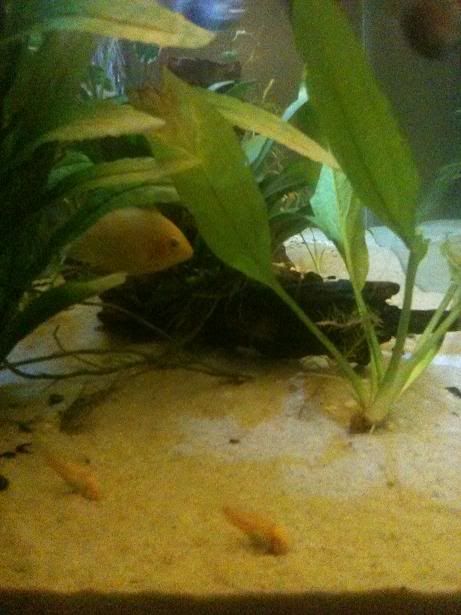 ---
Ah, the serenity......nothing more relaxing or beautiful to look at than fish gliding around their tank......
Looks good......I made two small sand beach's in my big tank..and am thinking about a total change at some point. but I just planted a few weeks ago!!!!!!........I will be watching yours!!!!
Good looking tank and awesome looking sand but that sand will soon be full of poop and dirt and stuff that should not be there(from my xp it tends to clog faster than larger substrate).
Also sand tends to suffocate the roots(that only matters if the plants are real ...).
It can be kept clean but some vacuuming will be needed.
Good job none the less!
---
I expect nothing. I fear no one. I am free.
Excuse my bad and rusty english but i did not have your luck to be born or to live in a country where the main language is english.
P.S I am not rude, i just hate stupidity and act accordingly.
Sand can be done, and I never vacuum the substrate. Looks nice.

How thick is that sand layer? You have problems with compaction when it gets above 3 inches...

Stir the sand occasionally... The fish waste and such will eventually break down.
I tend to be fanatical about keeping my tanks clean. So I can't see the sand getting dirty. lol

It's 1 - 1.5in thick. Maybe 2 at the most. I know all about the risks with sand substrate. My fish are my priority tho, and my bottom dwellers are happiest with the sand.

Cheers!
Posted via Mobile Device
I think she's also said that she has some Khulis which will help with some natural mixing. Win! Looking good.
---
30g SE Asian Tank
15 Lambchop Rasbora
2 Gold White Cloud Minnows
3 Dwarf Chain Loaches
2 Powder Blue Dwarf Gourami

55g Amazon Tank
2 Wild Type Angels
1 Marble Angel
1 Black Angel
1 Koi Angel
2 Bolivian Rams
14 Pristella Tetra
10 Dwarf Pencilfish
2-3 Twig Catfish (to come)
Posting Rules

You may not post new threads

You may not post replies

You may not post attachments

You may not edit your posts

---

HTML code is Off

---