Well, here it is. I'm done adding things for now. Just kidding! I'm playing Family Feud on GSN.com for extra aquarium money. LOL. I was hoping to get some low light plants from
http://www.aquariumplants.com
. Does anybody know if that is a reliable site? Anyway, here is my tank after I added 4 river rocks and 2 slate rocks from my backyard.
Full tank:
Big driftwood:
Left side: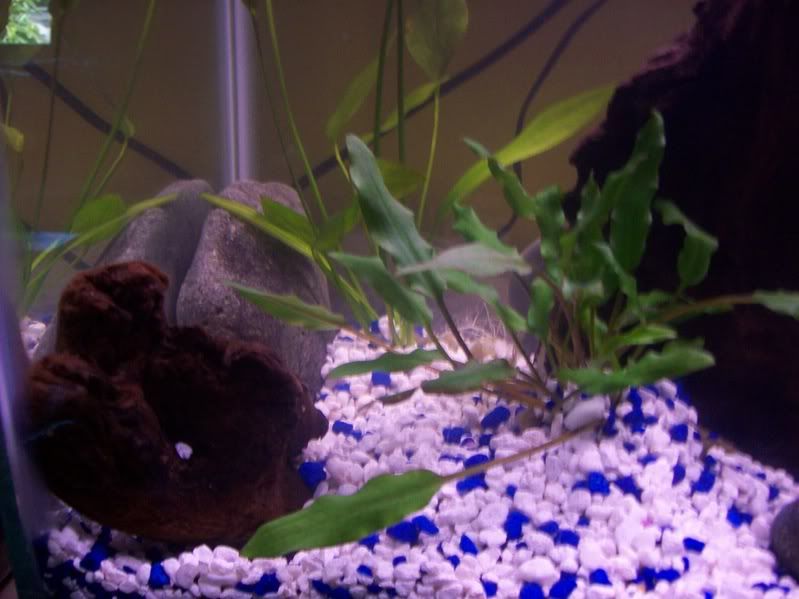 Right side: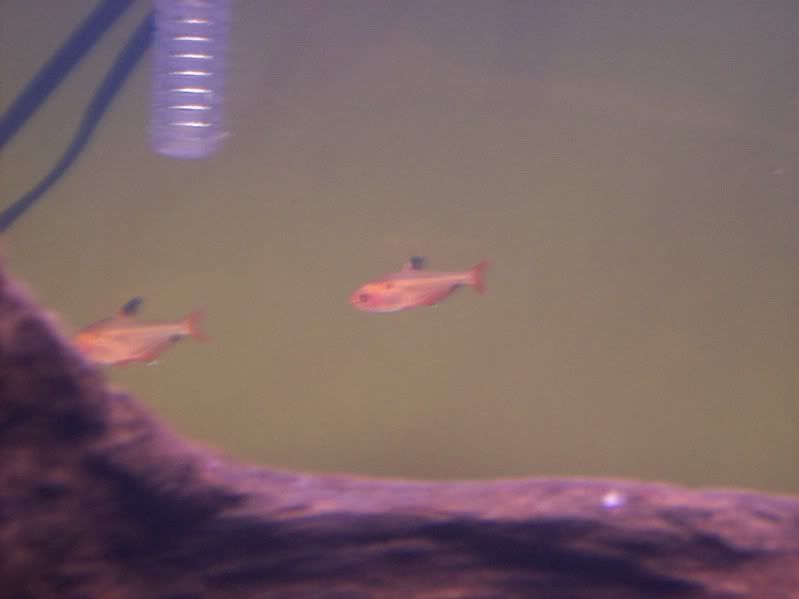 Here are todays, May 18ths, readings:
pH - 6.5
Ammonia - .50ppm
Nitrate - 0ppm
Nitrite - 0ppm
Why did the pH go down by .7 over 4 days? Is this an ammonia spike? If not, how high is the ammonia going to get to be considered a spike? What comes after the ammonia spike in the cycle?
---
My 30 G FW Tank
6 Serpae Tetras
1 Swordtail

< Avatar Pic taken by me in the Florida Everglades!
The tank looks good. Did you rinse the rocks well, or pour hot water over them before putting them in the tank?

Yes, this is an ammonia spike. You need to do a 25-50% water change ASAP for the health of your fish. Right now it is toxic.

Also, nitrite comes after ammonia. Nitrate is last. I'm not sure what could be the cause of your pH change.
---
Fancying the fish world!
I'd say the driftwood but that's a pretty big drop.
---
This is the song that never ends...
I would agree with Flashygrrl . Driftwood is a natural way to lower the PH value but that is a pretty big drop. Are you using any products to lower the PH? sometimes it is best to wait an hour after a water change to test PH it can in my view fluctuate a bit. You may also wish to consider root tab fertilizers for crypt plant or plants. You place them in the gravel near the roots of plants to help them recieve needed nutrients. Once your tank has matured ,you may or may not need them then.Be patient and dont overfeed and soon you will be able to SLOWLY stock your tank with fish you have been researching to insure they all get along and can thrive in your tank. good Luck! :)
---
The most important medication in your fish medicine cabinet is.. Clean water.
I'm not positive about this, but I think some rocks have an effect on the ph. Driftwood lowers it a bit, but usually not by that much. Maybe test the rocks by putting them in a dish of ph tested water for a day or two and then test the ph again. I think I've read that certain rocks can have quite an effect.
I've never heard of any sort of rock lowering the pH, but they can certainly raise it.

Was your driftwood purchased already soaked in water? Or was it dry? If it was dry I imagine it might lower your pH quite a bit more than pre-sunk wet driftwood that's been in a LFS tank for a while.

Keep in mind that a pH of 6.5 will be fine for your tetras in the long term and that a fluctuating pH can be more dangerous than a steady one, even if the steady pH isn't that close to neutral. Going to extremes to change your water's pH could have disasterous effects. I would just keep monitoring it to make sure it doesn't fluctuate wildly.
I have 2 pieces of small driftwood in my tank. They have this clear gunk on them that makes little bubbles. The other pieces of driftwood are fine though. What is it?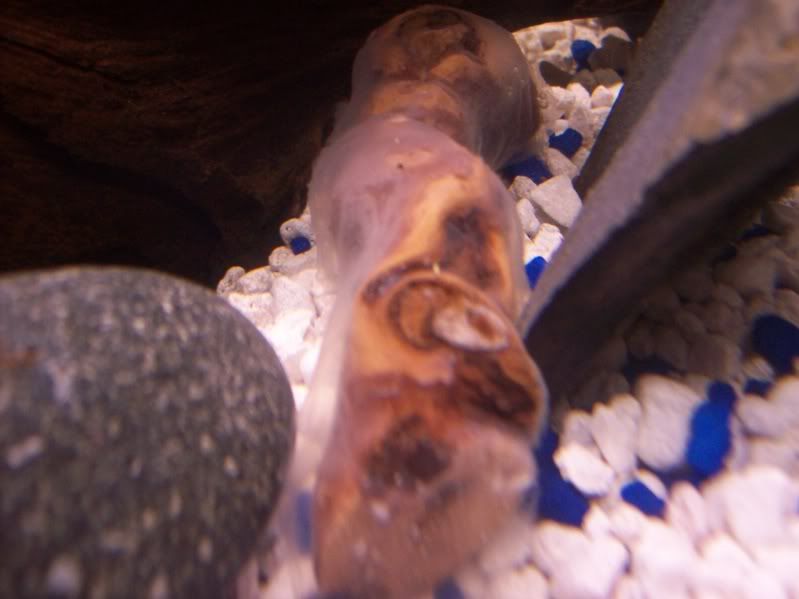 Also, can someone help me identify if these are males or females? At first, I thought the 2 slimmer ones were males, but one has a large, white belly. Here he/she is: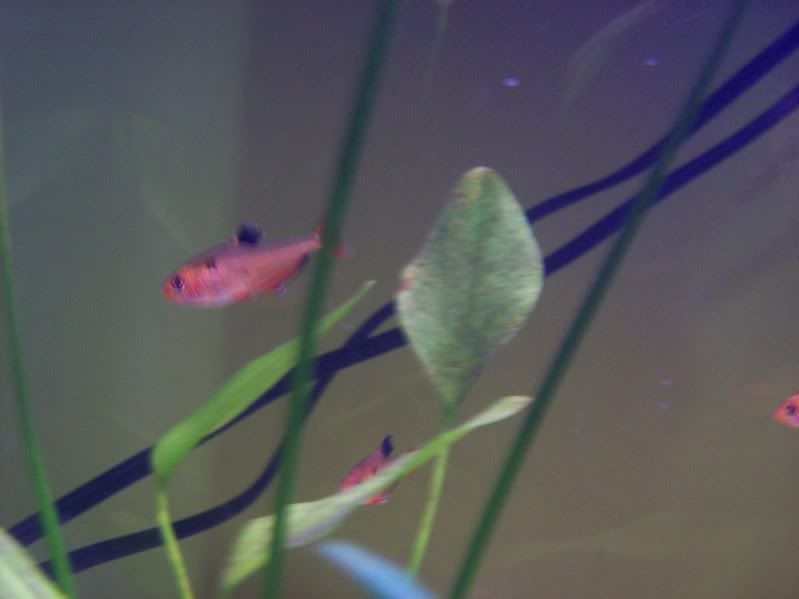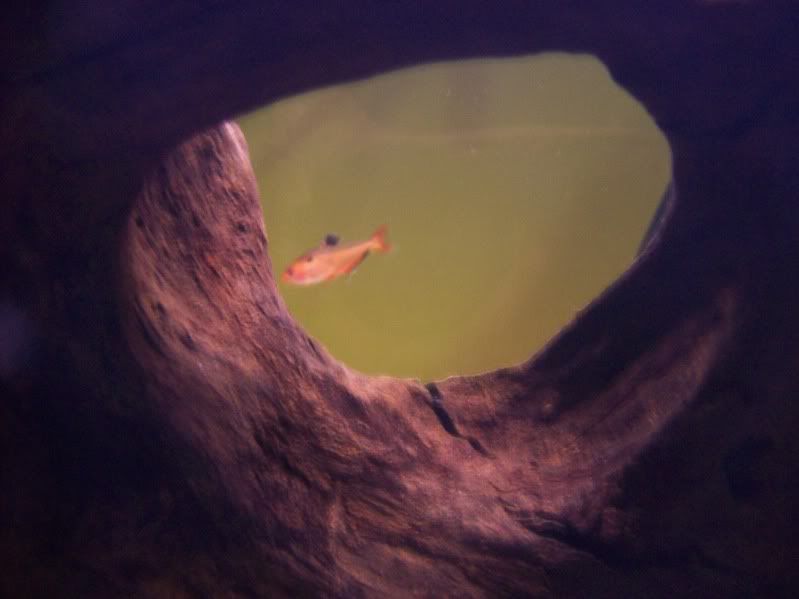 And I think this is a female:
So, are either of them pregnant?
---
My 30 G FW Tank
6 Serpae Tetras
1 Swordtail

< Avatar Pic taken by me in the Florida Everglades!
You should take the driftwood back out and boil it to remove the moldy stuff. It will just pollute your water.

Do you know what sort of driftwood this is? Wood from fruit trees will continue to slime up like that forever, so you'll have to get rid of it if that's the case. Otherwise, with some serious boiling you should be able to add the driftwood back to your tank without the slime coming back.
You can suck the white slimy stuff off with your 3/4" water change hose minus the big end syphon piece (if you have one of those store bought deals.) It comes right off and doesn't hurt anything. Mystery snails will eat it but don't get enough of it off of the wood to make it look good. In the meantime, it doesn't hurt anything, just looks ugly. Eventually, it will go away.

If you really want to get rid of it quick, just take the wood out and scrub/wash it.

BTW your aquarium is coming along nicely. I vote for a more natural-looking gravel too. I think you would like it.

Also, I gotta tell you that I find mystery snails more interesting than my fish at times. You might like to try getting a couple/few.
Well, MTS hit me quick.
But first, I just removed the 2 pieces of wood with the slime on them. Then, I bought a bubble wall and tubing for the pump(pic below)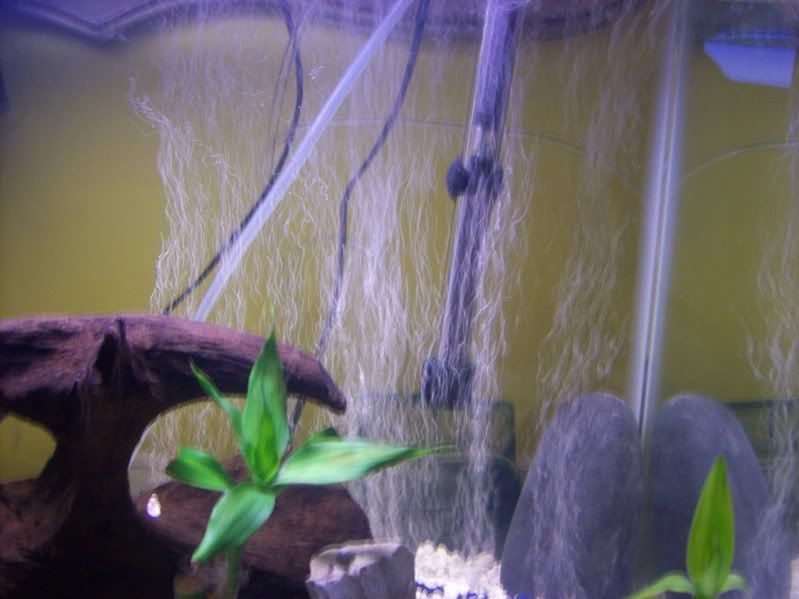 And as I was saying, MTS struck fast. My mom was out yard sale hunting, and we found this 30 g tank, with filter, heater, hood, stand, algae wafers, and airpump + bubble wall for only $20. I was amazed. (It also came with gravel and these fake plants, but I threw them away.
I was thinking of a SA tank with maybe some tiger barbs. What else could go in there with the tigers? Any other ideas?
---
My 30 G FW Tank
6 Serpae Tetras
1 Swordtail

< Avatar Pic taken by me in the Florida Everglades!
Similar Threads
Thread
Thread Starter
Forum
Replies
Last Post
Helping my uncle

musho3210

Vivariums and Reptiles

18

03-20-2007

08:23 PM
Posting Rules

You may not post new threads

You may not post replies

You may not post attachments

You may not edit your posts

---

HTML code is Off

---