Okie, it is Lovely Pets in Quincy, MA. Here is the website:
http://www.lovelypets.com/
Update - Today, the water still seems a little milky/cloudy. Getting the danios tomorrow!
You might want to do a small water change before putting them in, generally it's a better idea to put them in there before the cycle starts so that they have time to adjust to the ammonia present. Once you have them in there it's not a good idea to add any more fish until the cycle is finished since they have not had any time to adjust to the toxicity of the tank and you're likely to end up with floaters. Just serves as a good time to work on your patience :)
---
This is the song that never ends...
I will do it right before I go to the LFS. What percent change should I do? Also, I should tap condition the water in a bowl before I add it in the tank, right?

(Sorry for all the Q's, I just don't want to harm innocent little fishies)[/list]
It took only a month for my paint to wear off. My tank was cycled and the parameters were normal. Just keep an eye on the gravel up close for any fading.
---
Fancying the fish world!
Depends on where your ammonia levels are. If it's above .25 probably at least 30%, maybe 50% if it's really high. And spend a little extra time acclimating them. Also, tap water almost always must be dechlorinated and conditioned before using it in the tank (though you do have a small amount of time after adding the water to add the conditioner but unless you have a Python you may as well add it to the bucket).
---
This is the song that never ends...
YES!!!! I just got back from my LFS! I got 3 Serpae Tetras. I love them! They look so cool. What are some good names? I like more "tropicalish" names. Also, I got a huge driftwood and 3 little ones. They are boiling on the stove right now. How long should I keep them on? I also got a Lutea, which does good in low light conditions. The 3 fish seemed pretty slow at first, but as soon as I added the food, they bolted to the top. They like my new Lutea plant the most so far. Pics soon!!!! :D
Sorry about the double post, but you can only edit after 30 minutes.
Here is the full tank shot, crypt in back left, Lupea in front left, and bamboos on right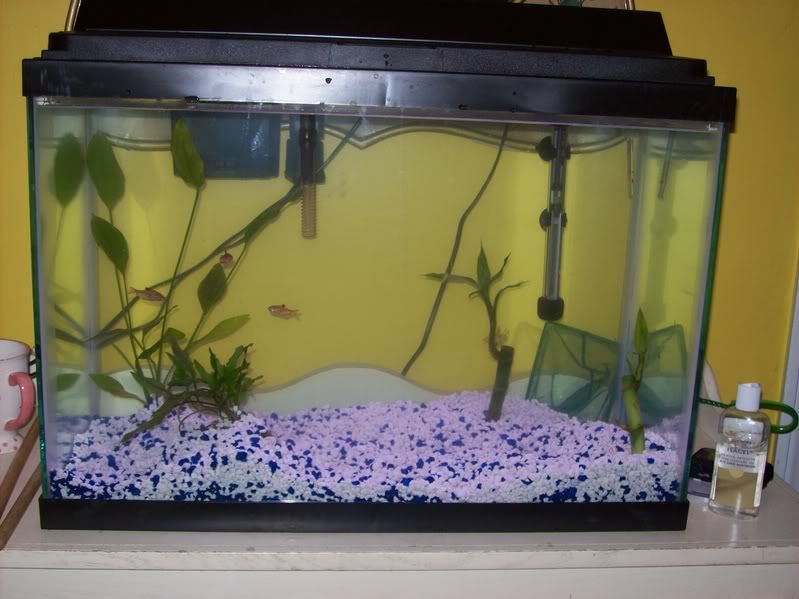 Here are the 3 Serpae Tetras resting after a meal in the middle of the tank
Only the little driftwood(4 inch long, 1/2 inch wide) is in there now because it sank the fastest in the boiling water
After you get the driftwood in, you should see if there is any room for other decor like caves and stuff so they can hide. If you eventually get shrimp they will appreciate it very much.
---
This is the song that never ends...
Still, the only driftwood that sank is the smaller one. The next smallest one should be done in about 1/2 an hour. The 30$ large driftwood I got is great. It has a little cave on top and a a large base. I was amazed to find it. That won't be done till tomorrow afternoon, though.
Finally, the driftwood is done! So far, my Serpaes like the large cave thing in the middle of the wood, but I couldn't get a pic of them swimming through it. This is the final product, but I might add some more plants soon. Just a quick question, if I set up my tank last Saturday, bought 3 plants Monday, bought 3 fish and 1 plant yesterday, is there any beneficial bacteria on the gravel yet? Because I wanted to change it to a sand or coral sand or a more natural colored gravel. Any help?
Well, anyway, here are the pics! This is the full tank shot: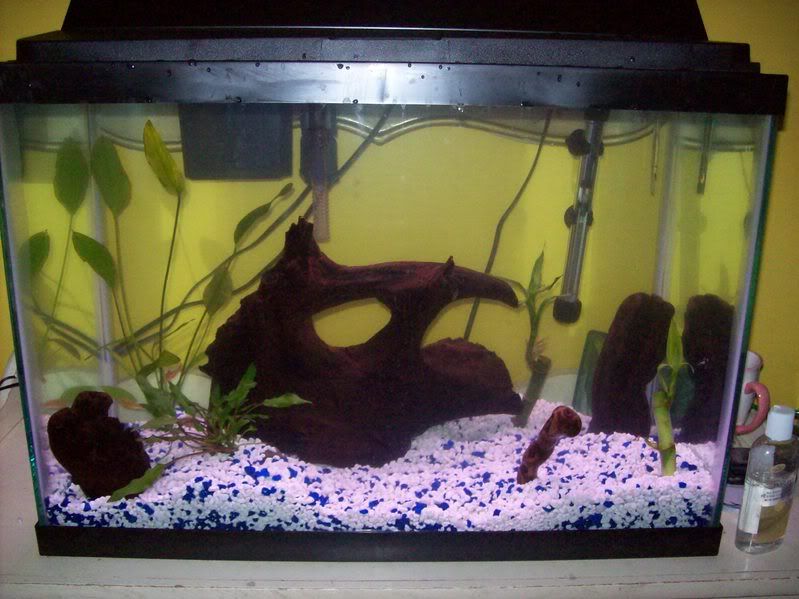 Here is the biggest driftwood:
And here is one fish behind the driftwood: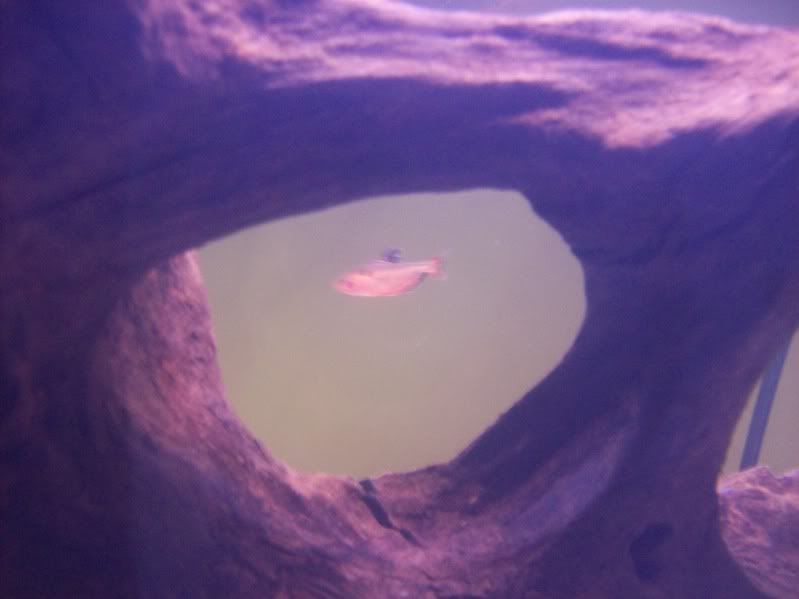 Still haven't thought of any names. Help appreciated 8)
Similar Threads
Thread
Thread Starter
Forum
Replies
Last Post
Helping my uncle

musho3210

Vivariums and Reptiles

18

03-20-2007

08:23 PM
Posting Rules

You may not post new threads

You may not post replies

You may not post attachments

You may not edit your posts

---

HTML code is Off

---