Welcome to the forum

As someone who has kept crayfish with fish for several years, I am certain that the crayfish will eventually eat all the fish in your tank. One must really consider the nature, behavior and attitude when choosing fish to live with a crayfish, and unfortunately the fish you have are just extremely easy targets, especially in a 20 gallon tank.

I would absolutely return the crayfish.

I can't say anything about the crabs - never kept them, don't intend to ever keep them, don't know a thing about them.
---
125 - BGK, chanchito cichlid, pictus cats, silver dollars, palmas bichir

125 - cichlids (severums, bolivian rams, chocolate), rainbows ( turquoise, red), loaches (angelicus, zebra, kuhli and horseface), plecos (BN, RL and clown), denison barbs, tiretrack eel, pearl gouramis, betta
90 - Congo tetras, african knife, upside down cats, spotted ctenopoma, kribensis, delhezzi bichir
2.5 - betta

| | |
| --- | --- |
| The Following User Says Thank You to jaysee For This Useful Post: | |
Yep, as a few said the crayfish will not work in there. I have two blue crayfish right now and I don't even trust the female with my own hand and certainly not with almost any fish. I am guessing you bought it very little as a baby?? For good idea of how big they get( and mean) my female is roughly 8month-1yr and here she is and still growing very fast
sorry it's blurry..just took it now a (little too fast) so you can get accurate recent pics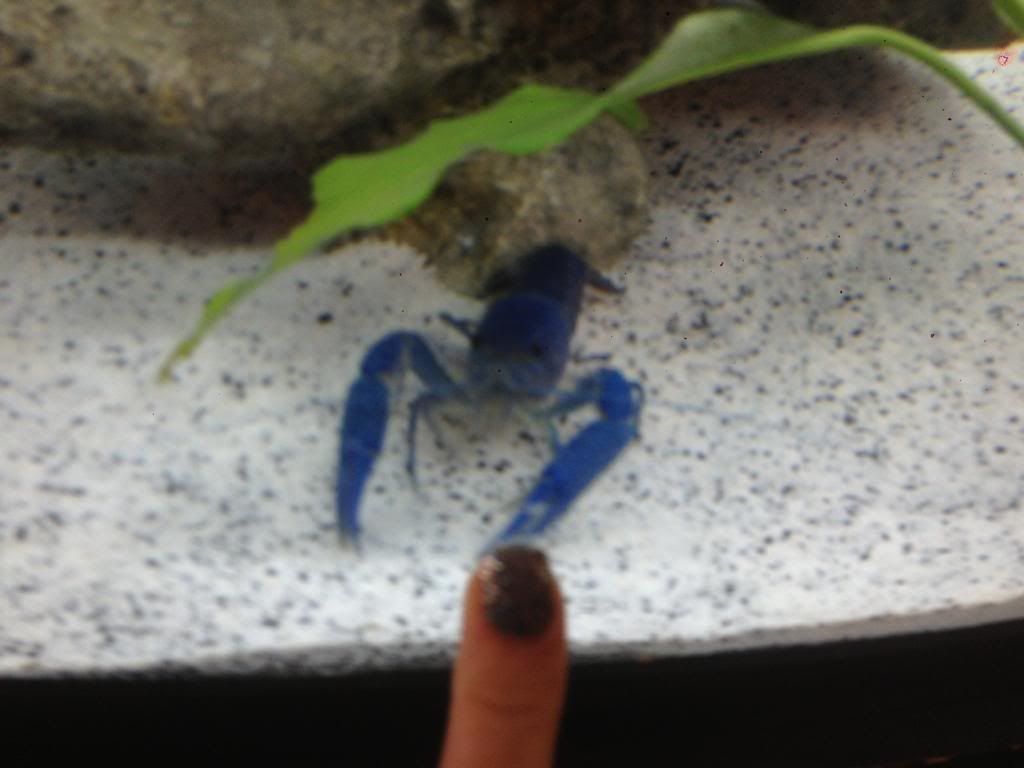 those claws are about the length of my index finger and she is not waving hello right here lol
---
Last edited by Agent13; 06-24-2013 at

11:07 AM

.
Posting Rules

You may not post new threads

You may not post replies

You may not post attachments

You may not edit your posts

---

HTML code is Off

---