Man, I went into a pet store today to check out the Bettas. They were displaying two or three males together in the same bowls.

These are the people we look to for pet care advice.
wow! thats all I'm gonna say
---
~veganchick~

All things bright an beautiful,
All creatures great and small,
All things wise and wonderful,
The Lord, God made them all.


*Vegans Have more Fun*

http://www.petshopanimals.webs.com

???
---
Biggest Pleco Ive seen was In my hometown Philippines!
a black adonis pleco (janitor fish)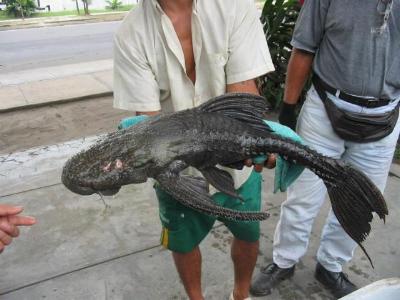 plecos are nice but this one looks..err..scary...it got malformed because they had a ship full of oil sink down into the ocean causing all the oil to harm fish making them abnormalities.. poor fish :( a.k.a oil spill
---
○○○○○○○○
╔╦╦╦═╦══╦═╦╦╗
║║║║═╠╗╔╣═╣╔╝
║║║║║║║║║═╣║─
╚══╩╩╝╚╝╚═╩╝─

╔═╦═╦╦╦══╦╦╗
║═╣═║╔╩╗╔╣╩║
║═╣║║║─║║║║║
╚═╩╩╩╝─╚╝╚╩╝

╔═╦╦╦╗
║═║║╔╝
║║║║║─
╚╩╩╩╝─
○○○○○○○○
I'm not sure how affective this is, but I ALWAYS go leave a review on listing on google maps. So many people use this to find the place where they are going, if they see a bad review, they might be more likely to avoid it. Often times there will already be reviews saying that same thing that you want to say, but more is better! It really drives the point home.

I've also considered writing a letter to be published in the local newspaper, but I haven't gotten that far yet.
I'm always tempted to steal the sad bettas. :(
I used to buy them, and then when I had too many, I started putting them (the non-sick bettas) in the fish store's community tanks (only the compatible ones) and then one time at petsmart this huge security dude came out and followed me around the store, so I don't do that anymore xD
I had never ever heard of fish rescue before I found this forum, I think it is very interesting, but kind of alien to me. Like the OP stated, it would be like paying the store to mistreat them. Plus, I would not want to pay money for an unhealthy animal. If I really wanted a sick fish, because of price or rarity, and I thought I could treat it easily, I might buy it, but compassion would not be a factor.

The nearest to a fish rescue I can think of was when I was buying a small breed pleco, while waiting to get him bagged we noticed he only had one eye! He was otherwise healthy, it was a birth defect or a very old injury and fully healed. The fish guy offered a discount, half as a joke I think, but I took it! I would have payed full price anyway. He turned out to be quite a charactor and we had him for many years. :)
Posted via Mobile Device
Quote:
I agree. Normally I'll check out the store, ask some questions that I know the answers and see what everything looks like. If compaining goes nowhere there's nothing I can do except not go there and let everyone else I know about what's going on so they don't go either. That's one thing I love about this web site, I've asked about good lfs to go to in NJ and I've gotten great responces. Word of mouth is the best way to make or break a business.
There is a few bad stores in NJ.
Like:
-Pet Goods= Friend worked there for a year, tons of fish died easily, fish that were for a cent they put it for 10bucks. They even get some fish they LITERARY get off the streets. Like someone drops it infront of their store and they actually charge a TON of money for it. Like I saw a pleco they charged for 40bucks.
Staff is rude, and generally unknowledgable
Adam's pet safari= Bought a toad from there it was full of parasites, and tons of stuff. I saw skeletons of some frogs on the side of t he tank. They keep toads with skinks in a dessert set up with the dish of water empty. Told the guy to fill it up. Said he would. never did. Bought his overly expensive fish and they all died in the same day. The service was bad, employees were rude and racist. Etc.
Petsmart=Some fish were okay, but for the most part, unknowledgable staff, uncaring, etc.
Petco=Death trap for animals, tons of fish die there a week, they keep sick animals and never tend to them. They have seriously poor knowledge.
Like I dont know why, but these people are stupid(general petstores). Like I mean even the basics, they dont know. Like who doesnt know you dont keep a goldfish in a bowl anymore? Or who doesnt know that you dont mix two species of animals from:
a)Two different families
b)Two different locations
c)Different necessities
All of this is common sense. Or who doesnt know that you dont feed frogs mice because frogs dont consume mammal tissue that well?
I'm living near pet store "Pets at Home" in gateshead, metrocentre north east of England.
I'm going there every two weeks and I don't remember time when I didn't see any dead fish in tank or dieying.
If you'll buy a fish and it'll die then you can replace it within 10 days.

That doesn't make much difference since I've been having lots of problems with fish flickering and dieying constantly, now I have white spot.

They also said to me that I can keep fish I bought together and they're compatible - I found on this forum that it's far from truth and I have real problem with compatibility. Having fish which likes hard water and soft water isn't good idea and they said to me "they'll be fine, your water is good".

I don't trust them anymore and only go there for frozen food (best I could find). Apart from that I go to LFS in gateshead.

Those people often don't have idea about aquaristic. Some of them have aquariums but their advise is often wrong and it's most likely not their hobby. They're just cleaning and selling stuff there.

I would say that local fish stores are a lot better then companies selling for masses. Huge companies employ people which don't know much. In LFS owner opens stores like this because it's his hobby and he has to know something about it, it's not like opening fast food where you don't need to know anything about it.

Although most of huge pet stores have lots of equipment I wouldn't recommend going there for fish. In my case LFS have lot more equipement and if he hasn'tgot it then you can ask and it will be ordered.

In comparison I bought 5 neons from Pets at Home and only 2 survived, when I bought them from LFS all of them survived.And it's like that every time.
Quote:
I have seen sick fish all the time in PETCO. most of the time ich and rot tail deseases. really more than in petsmart. But even if you go to a specialysed shop you have always fishes that have ich or because they are more prompt to get it (more stressful fishes) or because at some point the store can have a problems to handle their water parameters. At the same time, at some point they are also dependent on what their dealers give them.
I work at a pet shop and we are so dependent on the dealers,we all ways get sick fish. We get dead fish,and we get bags of dead fish.
And the problem is this is the only dealer that ships them in our location.
I have not saved a fish yet but I have saved a budgie.
---
Good,better,best
I Shall Never Rest
Until My Good Is Better
And My better, best!!

Posting Rules

You may not post new threads

You may not post replies

You may not post attachments

You may not edit your posts

---

HTML code is Off

---