My tap water also comes out high. 8.0. I don't try to mess around with or alter the ph because I think that a stable ph is better than an *ideal* ph. It would be too much maintenance for me to constantly be adding buffers, etc. I did add a large amount of driftwood at tank set up and I know that helped lower the ph some. I slowly acclimated my fish and the ph does not seem to bother them in the slightest. I'm also not keeping fish that *must* have a lower ph. Of course, mine is 8.0 and not 8.5. If I had 8.5 I'd go for cool cichlid tank! Just my .02 cents...
---
If you don't stand up for something you'll fall for anything...
Thanks, I guess I will just leave the pH alone then and focus on controling the nirtate
. I really appreiciate all the members who helped me and taught me things to make my tank better. Thanks so much, as I do beleive the tank right now is on its way to recovery!
Hello Everyone! I have good news to bring, the fish massacre has stopped and fish are returning back to their previous health. I did a follow up nitrate test and it read 20 mg/L! A huge improvment and from what I am hearing that is pretty good. The tank has cleared up hugely. And all the fish have their top fin(I dont know what its called) up in the air which I know means that they are happy! Here is a picture of the tank currently. I am hoping to put the plants and such back in tonight. Thanks so much to everyone who helped me through this and help put my tank back together.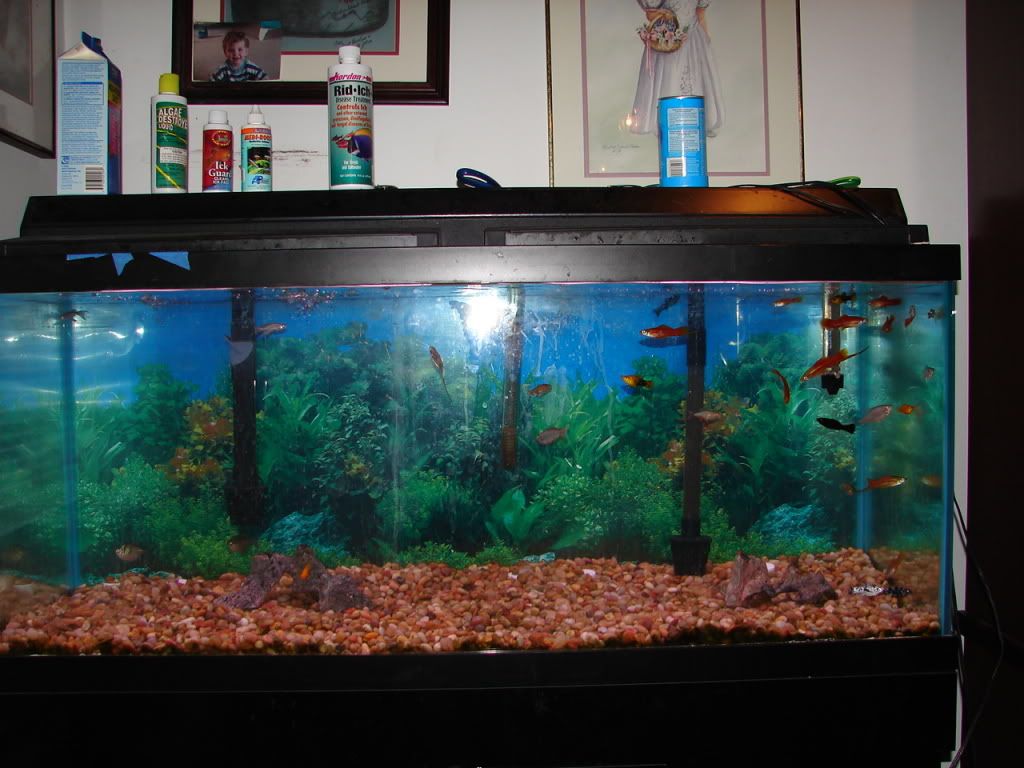 I'm glad you're back on track. It's great how happy you sound!! Patience & Perseverance = Happy Fishkeeping.
---
If you don't stand up for something you'll fall for anything...
Phew! Glad to hear things are working out for you. I wish I could have jumped on this thread earlier, but it's finals season and all so I haven't been on the forum as much as I normally am. Anyway...

Those filters are Marineland Bio-wheel filters. Very good filters, in my opinion. The actual Bio-wheels should never be replaced. As far as the filter cartridges - those shouldn't be replaced until they start to physically fall apart. If they get gunked up, you can swish them around in some water you remove during a water change. As for the carbon, definitely keep it out of your tank while you're medicating or it'll suck the medication right out of the water. If you want to run carbon on your tank on a regular basis, take a sharp knife and slice open that blue sponge along the top edge of the cartridge. Then, buy yourself a big jug of carbon from the LFS. This will allow you to replace the carbon however often you'd like without having to replace the entire filter cartridge and thus compromise your bacteria colonies.

I would guess that you lost fish due to both the stress of adding more fish as well as the water being so cold. Also, I didn't see any evidence of ich in any of your pictures. Ich looks exactly like someone poured salt on your fish. Some ich medications can be very harsh on certain types of fish, like your tetras, so that could be causing problems.

I would add those fake plants back to the tank - the fish will be a lot more comfortable if there are plenty of hiding spaces and stuff to break up lines of site in the tank.

Glad things are back on track, though!
---
4 8 15 16 23 42
Similar Threads
Thread
Thread Starter
Forum
Replies
Last Post
Fish are dying, PLEASE HELP!!

wsmrffjames

Tropical Fish Diseases

4

10-03-2009

09:57 PM

Dying fish

goldfishgill

Tropical Fish Diseases

2

05-13-2007

03:36 PM

fish dying

rocky00

Tropical Fish Diseases

1

05-10-2007

01:26 AM
Posting Rules

You may not post new threads

You may not post replies

You may not post attachments

You may not edit your posts

---

HTML code is Off

---