DIY Co2
---
Has or is anyone useing a Co2 system? and how many of you are using one you made yourself, ie yeast, sugar, water method?
---
"A gentle answer turns away wrath, but a harsh word stirs up anger."
I'm using a DIY yeast tank. I'm still playing around with the recipe to get the most gas out of my "bugs". :) I believe it lasted me for a week so far (and still bubbling). Right now I'm using 1/2 gal of water, 1 cup of sugar, 1 tsp of bread yeast and 1 tsp for baking soda. I'm pumping the produced CO2 through a container with water (to remove alcohol) and then into the tank.

Did you set up a system yet?
I have a pressurized system that feeds 2 tanks. As well as a paintball system thats retired ATM. I played with yeast system for a while but got fed up with the high maintance. Pressurized systems are not that bad if you can DIY them. Especially paintball systems for smaller tanks.
Posted via Mobile Device
Hey Mika, how much time can you cover with your paintball system? I tried that and the tank was empty in 2 days! It seemed very unlikely that I would run out so fast, so I'm assuming it was due to a leak in the tubing somewhere. Unfortunately, I didn't bother to troubleshoot and reverted back to my yeast system. I just want to see if it will be worth it to invest into a new paintball setup again.
Thanks
On a 20 gallon it lasted 2 or 3 months with a 20 oz CO2 tank. I only took that system down because when I moved all my tanks ended up in the same room. Before they were on different floors. My full sized system has the ability to support 1 to 3 different CO2 lines. So I just been using it now. Its been doing just fine since I switched it over. Only issue is my 20 is too close to the baseboard. It melted through the CO2 line once and scared me. Jez it was loud and unexpected lol.

When running tubing leaks can be common. Using a lighter to warm the tubing then attaching it before it cools works great.
Posted via Mobile Device
---
Last edited by Mikaila31; 12-15-2011 at

01:02 PM

.
Thanks for the tip with the tubing, Mika. I will try again. Just out of curiosity, what type of full size system did you install?
My full sized system is from rex griggs. Its a little over 3 years old. It was setup on just my 55 gallon for most of its life. For the last 6 months its been setup with the two lines. There is a 3rd port on the back side, since its not in use it has plug there instead of a hose barb. Then I use inline needle valves, and bubble counters. Its 5lb tank lasts at least 3 months running a 20 and 55 gallon.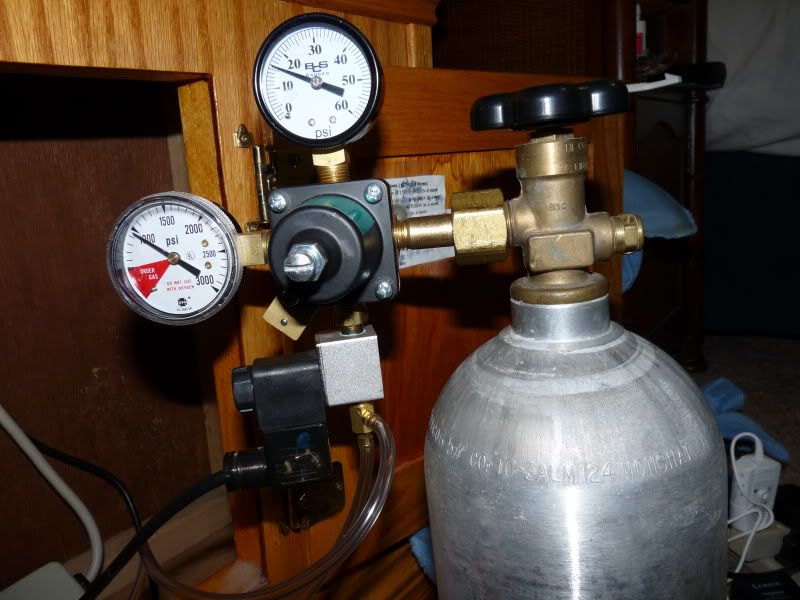 For what it is its decently priced. You could customize a beverage regulator to do the same thing for cheaper. Most aquarium regulators are just glorified beverage regulators. Regulators themselves are pretty long lived devices. Given the easy life a hobbyist regulator has compared to a commercial one they should last many many years. Only difficulty with DIY pressurized it to make sure threads match and what not.
I would avoid any really custom manufactured regulators. My red sea paintball system is a good example of what to avoid. Its going on 5 years, which kinda impresses me given how much plastic it is made out of. However once that reg eventually fails, its basically garbage or scrap. I doubt I could repair a regulator like that one as I doubt it uses common parts. Most commercial type regulators though are pretty easy to fix with interchangeable parts. Pressure guages, valve stem, and output fittings all just screw into the main diaphragm, which can also be disassembled. A $50 premium or $30 cheap/used beverage reg can be pretty easily converted to a aquarium reg if you take off its original output barb then use the correct adapters. You could directly attach a solenoid, needle valve, ect. You just need the correct adapters.
| | |
| --- | --- |
| The Following User Says Thank You to Mikaila31 For This Useful Post: | |
Posting Rules

You may not post new threads

You may not post replies

You may not post attachments

You may not edit your posts

---

HTML code is Off

---