DIY 40 gallon Breeder
---
Alright I impulse bought a 40 breeder around new years from petcos $1/gal sale. I've been slowly and lazily working on setting it up. I'm getting fairly close now, much is DIY including the stand, lid, light/hood, which has all been getting put together. It will be a planted tank ofc with quite a bit of light, but no CO2. My intentions are to set it up at a cost of ~$150, not counting plants and stock. I always have excess plants so those are not an issue. Stock IDK exactly yet.
The stand was the first thing I made. It is a dual stand. I've nothing to stick on the bottom yet.... but I made it dual anyway! Rounded cost was $20, it was $17 for the wood and nails which is all I bought. Had stain and polyurethane siting around.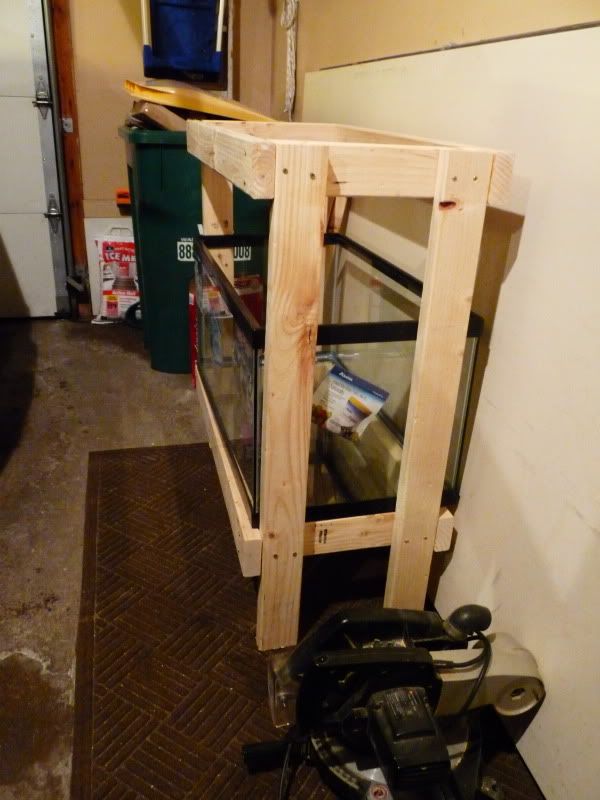 Then the lid which is simple enough, but none the less required a lot of measuring and more thinking they you would expect. The lid effects the dimensions of the hood which effects its light output and spread. So lots of double checking to make sure lid/hood/lights would work together. The lid isn't fully done but its pretty close. One reason I was set on a custom lid is I found the opening of the premade lids way to wide which would of given less then awesome light cover on a tank 18" wide. The lid I made as an 6" wide opening then an 8" wide section of glass which leaves about a 3" gap at the rear of the tank. Which is mostly covered by plexi. The glass and plexi are currently curing with some silicon on them. I just used some random tubing I had laying around to run around the edges of the glass. The reason for that is because it is regular pane window glass from Ace hardware and it has sharp edges! The glass and plexi was cut for me and cost $13. I'm not gonna bother with the tubing and what not, but it was a whole 6cents a foot originally.
The light housing is built, its half wired ATM but needs some more parts and Menards is out of one of them
. The silly light is gonna end up being over 1/3 of the cost when its done and its not even gonna be T5 lol. I could of bought a cheap/crappy one off ebay for less but I have to be picky about my light
. The wood was about $17, being much nicer(and thinner) wood then what the stand was make out of. Its 36x11.5x3.5 in dimensions.
More to come soon
.
This looks awesome you have done very well. I am just getting ready to start a planted tank in a 40 gallon breeder myself, but first I need to adjust my lighting situation. If you don't mind me asking what kind of lighting are you going to use?
Very very nice. Can't wait to see the completed setup.
---
Never too far from crazy
Nice!

Custom stands are a great way to save money, I can't believe how much petstores sell those things for, especially since almost all of them are really cheap particle board!

One thing I noticed, did you look at the shear strength of the screws you used? With how that stand is built, all of the weight is being transfered through screws, instead of through the two by lumber and then the floor.

40 gallons isn't too much though so probably a non-issue. My only DIY project was for my 125g and I had to be sure none of the weight was held by screws.
That stand is cool....but the hood is awesome! Love the work!

You not a little worried about using a regular window pane for the top? I'd worry it was a little fragile at only a few mill??
Think I'd be too worried and opt for plexi for the lid. Lol.
Depends how thick of window glass it is ;) A lot of people use glass lids, not sure how the thickness of the ones in petstores would compare as.

As for sharpe edges, I believe you can round them out with the use of a torch. I remember way back in my highschool days making our own glass pipets and tubing out of stock glass tubing. Score it at the length we needed, snap it, then slowly twirl it on a bunsen burner. Or to make a pipet heat the center, then pull it apart to make a tip.
Really geo? At school when I was near a Bunsen burner, I found it necessary to melt stuff. Pens especially. Haha.

And yeah true about the glass..... I just don't know the diff between window pane glass and glass from a pet store as you said....
Quote:
Really geo? At school when I was near a Bunsen burner, I found it necessary to melt stuff. Pens especially. Haha.

And yeah true about the glass..... I just don't know the diff between window pane glass and glass from a pet store as you said....
I have glass cover sets over my three largest tanks, and I have broken some of the panes a few times. I just go to the glass store with the measurements and buy regular glass to replace them. Last one was maybe 10 years ago? The fluorescent T8 lighting is warm but not hot enough to cause issues with the glass.
---
Byron Hosking, BMus, MA
Vancouver, BC, Canada

The aquarist is one who must learn the ways of the biologist, the chemist, and the veterinarian. [unknown source]

Something we all need to remember: The fish you've acquired was quite happy not being owned by you, minding its own business. If you're going to take it under your wing then you're responsible for it. Every aspect of its life is under your control, from water quality and temperature to swimming space. [Nathan Hill in PFK]
I'm not worried about the stand. I used 3" screws not sure what kind but I did shred a bit on them making that stand. 16 screws support the tank, which full will weigh about 500 lbs. That weight should not be an issue IMO.

Im find with just using the tube to provide some protection. I could round the edges but that would have to be done outside, which isn't the funnest thing in a Minnesota winter. The glass is only a bit thinner then the normal tank tops. The middle section sags a bit, but the plexi should help support it. The entire hood weight rests on the tank not the glass.

Far as plexi goes I find it a pain and it does not work well. The heat and humidity have always caused it to flex/warp very quickly on me. And given the wattage a want on this tank, I dont think plexi would hold up very long at all.
Posted via Mobile Device
I have never had much luck with plexiglass. I have glass tops on all of my tanks and have only broke one in 2 years.
---
Trevor Cockrum
Posting Rules

You may not post new threads

You may not post replies

You may not post attachments

You may not edit your posts

---

HTML code is Off

---