yeah his sump would dwarf my tank :(. great find dude cant wait to see you get it running in these next few weeks.
Hey guys, just givin a update on my tank, ammonia is still dropping its around .5-1.0 now but my oscar is turned pale again yesterday he was nice and black, im not going to say much because im not feeling good at all, ive slept most the day and missed work (boss wasnt too happy about that part) but anyways have a great day ive got to lay back down
---
Thanx for all the help
I hope your feeling better soon! And your oscar, that doesn't sound good. But at least you have the ammonia levels dropping, best of luck!
---
And just before you laid dead weight upon its shores, I stung you in the face for that's the nature of my core.
Quote:
Originally Posted by iamntbatman
Awesome find!

That wet/dry should provide you with a massive amount of biological filtration. It looked like it dwarfed your 22g tank so it should definitely get the job done on the bigger tank. However, I would think about adding some more mechanical filtration to the big tank in addition to the wet/dry. A big power filter or two should do the trick.

As for substrate, since you aren't going to be keeping live plants in the tank (trust me...you really won't with those cichlids) you don't have to worry about getting expensive plant substrates. Instead, I would get either play sand or river pebbles from a home improvement store or landscaper. The pebbles look nice, but oscars tend to form this habit of picking them up in their mouths and spitting them at the glass to get your attention (i.e. to tell you they're hungry). The sand would be much quieter. Make sure you're getting play sand though and not paver sand.

As for the rocks, unless you're really looking for those interesting pieces of lava rock or rainbow holey rock, I would avoid getting it from a fish store. A much better option is a landscaper. Slates and shales are usually best. For example, I looked at some red shale for one of my tanks at the LFS; they wanted $3 a pound for it. I found the same rock at a landscaper for $0.14 a pound. Some big pieces of driftwood would also look nice in that tank. It's also expensive at fish stores, so you might want to keep your eyes peeled on craigslist or even check out aquabid, which often has a good selection of driftwood at pretty good prices.
Thank you for the info, Now about the extra filters, will i need to get big enough filters (say two 80 gallon filters) or since i have the wet/dry do i just need a little extra say around one 80 gallon filter, the lids he gave me makes me believe ide need two (since he has two cut outs in them)
EDIT: here is some pictures of the tank cleaned up a bit and i put the glass tops on after i added a piece in the middle to support them, i also put the light on top for the picture and the board in front that will cover the bottom and you can see the side piece that ive started to cover with a black peel and stick paper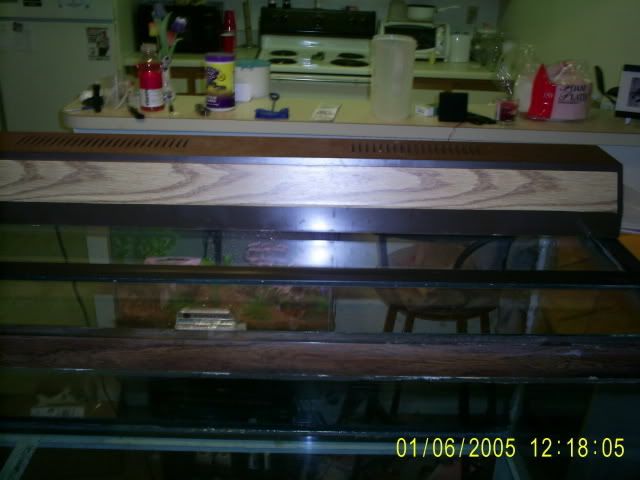 ---
Thanx for all the help
Posting Rules

You may not post new threads

You may not post replies

You may not post attachments

You may not edit your posts

---

HTML code is Off

---