That's great you were able to get a bigger tank. Looking forward to watching it progress. Good luck!
---
150 Gallon - Mostly American Cichlids
135 Gallon - Angelfish Community
75 Gallon - Odd couple (Polleni/Angelfish)
55 Gallon - African tank
20 Gallon Long - QT
10 Gallon - Empty

Well this sucks, i spend all night working out this deal for the tank since i dont have a lot of money to get the tank right now, i was offering some of my electronics (gaming system and such) and the lady was all happy about it because she had birthdays coming up, i get in the car to go get it and i get a call from someone who says its her son and says there was a crack in it "but some type of glass risen or some sh!t would be just fine for it" (reminded me of the ahole who said my fish would be fine in the tank i have), so i kindly hung up loudly.......BUT now i have two guys 30 minutes from me attempting to sell to me, both are 125 gal tanks but one is offering a lot more for only 50$ more so im going to see if i cant knock the price down a bit with a gaming console (i have two sony psp's )
GUY #1: (he has a 125 gallon tank also)
Quote:
I have some things for the tank, not sure what exactly. You want to come look at it?
GUY #2:
Quote:
I have tank with iron stand bio balls, and a motor. I want 125 for that, I
have a light and glass top lids however I would need to get more for the
light and lid as they costs me over 125.00 I could do it all for 200 just
let me know what you do or dont need.
i personally like the sound of Guy #2 better then GUY #1 i dont want to end up in someones freezer lol
either way it sounds like i still have a chance of getting a nice tank by tonight
---
Thanx for all the help
Erm... Yeahhh lol guy one doesn't sound to promising. To bad about the 150 gallon.
Did guy 2 go into detail about the filtration or anything? Thats important.
---
And just before you laid dead weight upon its shores, I stung you in the face for that's the nature of my core.
good luck with the tanks man i hope it works out for you. im sure cycling a tank that big will take time but it will be much more forgiving with the stocking you have. and yeah definately post as much as you can about the extras you end up getting.
Alright i went with Guy #2 he was a really nice guy, ontop of selling the tank i think he was selling a little something else too haha cause ive never had 4 or 5 friends come by to say hey in the time it took us to chat a bit and load it up, but anyways really cool guy!! Here are the Specs on the stuff i was able to bring inside before it started raining (Tank and the rest of the tubing is still in the Jeep)
Stand is 72.5"L x 18.5"W x 29.75"H made of iron
Light case: 73" L x 4.75"W x 4"H
two 36" Eclipse 2 Natural DayLight F30T8
The sump tank (or Wet/Dry filter still reading about the two so please correct me) is made by:
Optimum Aquarium Mfg Palm Harbor and the sticker says on it says:
"Aquatic life Support Systems"
from comparing pictures of it to others made by the same company it looks like it could handle a larger tank
(the rest of the pieces are still in the jeep btw)
the only kicker he said is the water pump can get loud some times but told me how to clean the fan and it will quite down a lot
here is the pump specs:
GenX waterpump
model: pcx-40
Max flow: 19.84gpm 1190gph
Max Head: 22 feet
once it stops raining and i get help moving the tank in later tonight i will get better pictures but here are some for now: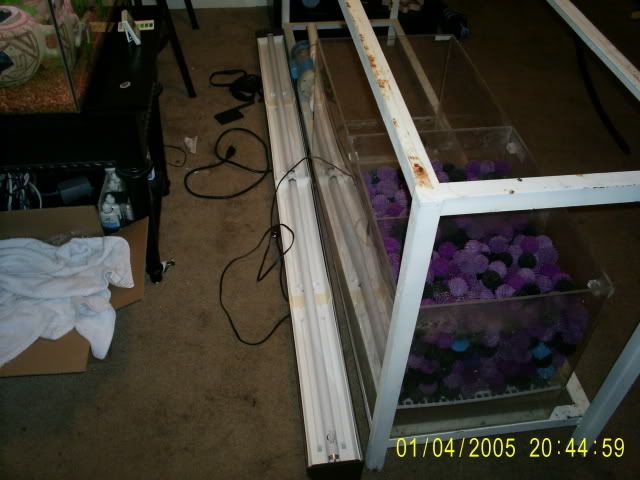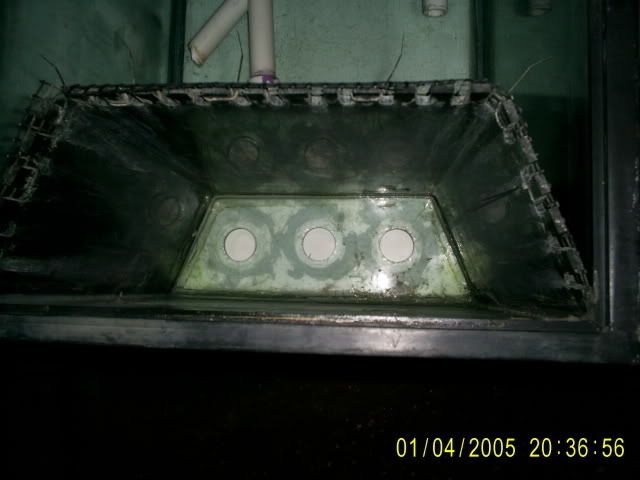 oh yea, he showed me where a piece of pvc broke coming from the pump all i got to do is get 2 couplers and a piece of pvc
other than that what do you guys think?
it should have water in it, in about 2 weeks or so, as soon as i feel comfortable working with it fully (at a minimum 1 week because im moving to a new building next week so im not about to put water in it now haha)
EDIT: i also just checked the water in my 22 gallon and the ammonia has dropped down to 1.0 so that tank is doing much much better
---
Thanx for all the help
Ugly as hell. But a little paint here, a little scrubbing there and you'll have the biggest badass tank in the neighborhood. You certainly have my respect. Many people would have kept the fish in a tiny aquarium. Some would have given them away. But you do it the only manly way there is: buy a huuuuuge tank. Thumbs up!
alright well now you got a few weeks to clean, paint, and plan your super awesome tank. i have no idea how you can wait. im about to move out of my 1 bdr apartment into a nice house and i shop craigslist all the time for tanks and i keep seeing like 125s and wish i had a new place so i could get one lol. good luck with your tank man.

i would start looking into substrate and ornaments though. can get kind of pricey depending on what you want. i think play sand is probably one of the cheaper routes to go. and with your fish id probably go for nice silk plants. they look real but if your fish dig them up its not like they are killing them. :) and maybe look into some slate or something to make quite a few caves to help keep the aggression down.

just some food for thought. and honestly man good luck. keep an eye on the ammonia in your other tank too. and definitely dont overfeed that will not help.

lots of people here have set up tanks with awesome designs using alternative materials compared to what you find in your fish stores. example play sand from lowes. cheap non-toxic and works just as good as the sand a lfs would sell your for two or three times as much.
Quote:
Originally Posted by PDXfishy
Ugly as hell. But a little paint here, a little scrubbing there and you'll have the biggest badass tank in the neighborhood. You certainly have my respect. Many people would have kept the fish in a tiny aquarium. Some would have given them away. But you do it the only manly way there is: buy a huuuuuge tank. Thumbs up!
haha thanks yea im not trying to win a prettiest tank contest with it i just want my fish to have a proper pimped out home now, and since for once i think ive found something me and my girlfriend truly have a passion for (be it just found) i think this not only will be a nice learning experience for the both of us but also help us grow together more
but anyways once my friend feels like getting over here to help me bring in the fish tank (it stopped raining finely) im going to put things in its proper places but im pretty sure its missing the top part to the sump tank which isnt a problem i can rebuild that, plus we are going to sand it down and paint the metal black (it also came with a wood cover for the stand) the front and both sides they are white also but everything in our living room is black so....
i dont pay for utilities where i live right now so what better time to learn how to do this then when it will be cheap
---
Thanx for all the help
Awesome find!

That wet/dry should provide you with a massive amount of biological filtration. It looked like it dwarfed your 22g tank so it should definitely get the job done on the bigger tank. However, I would think about adding some more mechanical filtration to the big tank in addition to the wet/dry. A big power filter or two should do the trick.

As for substrate, since you aren't going to be keeping live plants in the tank (trust me...you really won't with those cichlids) you don't have to worry about getting expensive plant substrates. Instead, I would get either play sand or river pebbles from a home improvement store or landscaper. The pebbles look nice, but oscars tend to form this habit of picking them up in their mouths and spitting them at the glass to get your attention (i.e. to tell you they're hungry). The sand would be much quieter. Make sure you're getting play sand though and not paver sand.

As for the rocks, unless you're really looking for those interesting pieces of lava rock or rainbow holey rock, I would avoid getting it from a fish store. A much better option is a landscaper. Slates and shales are usually best. For example, I looked at some red shale for one of my tanks at the LFS; they wanted $3 a pound for it. I found the same rock at a landscaper for $0.14 a pound. Some big pieces of driftwood would also look nice in that tank. It's also expensive at fish stores, so you might want to keep your eyes peeled on craigslist or even check out aquabid, which often has a good selection of driftwood at pretty good prices.
---
4 8 15 16 23 42
All I can say is wow. These fish don't know how lucky they are. And I have a great deal of respect for you because PDX is right. Hell, some people would have even just flushed them.

You can use vinegar for scrubbing that stuff, it usually works pretty well and is safer than bleach.
---
This is the song that never ends...
Posting Rules

You may not post new threads

You may not post replies

You may not post attachments

You may not edit your posts

---

HTML code is Off

---