Quote:
How big did he get? I had to bring my common plec back a few weeks ago (didn't know how big and poopy they get when i got him) and am looking for a replacement. i have a 45 gal. hex.

thx
He's fully grown now in my 55g and I'd say he's no more than 3 maybe 3 and a half inches.
Here he is. The grey spotted one... Don't have a full pic of him at the moment.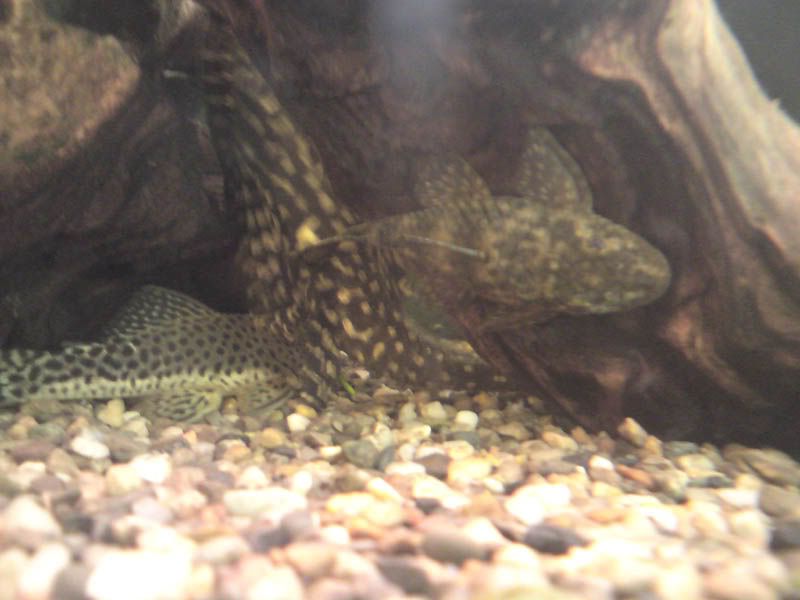 The single most important issue in selecting fish for an aquarium is to know the water parameters and select fish that are compatible with those parameters. Adjusting very hard water to suit soft water fish, and vice versa, is not easy nor inexpensive (although hardening soft water is easier than the reverse). Once you know the pH and hardnes of the water out of your tap (assuming this is your water source, another would be a well) you will know the range and can look for fish that require that range. The Fish Profiles section is currently being updated and you will find this type of information in the profiles.

Along with hardness and pH of course is temperature, some fish like neons prefer cooler (below 78F) whereas others prefer warmer [above 78] so mixing fish like these is asking for trouble because someone is going to be stressed from too cool or too warm an environment; it really is not possible to sort of adjust the temp to a "happy" medium. For instance, in your original list (which was not possible for other reasons as members have already mentioned) you had discus which require very soft, acidic and warm water, not below 82F. While these fish can tolerate slightly basic water, they cannot survive at lower temperatures, and neons would burn out at such high temperatures. Plus there are other issues with this mix.
---
Byron Hosking, BMus, MA
Vancouver, BC, Canada

The aquarist is one who must learn the ways of the biologist, the chemist, and the veterinarian. [unknown source]

Something we all need to remember: The fish you've acquired was quite happy not being owned by you, minding its own business. If you're going to take it under your wing then you're responsible for it. Every aspect of its life is under your control, from water quality and temperature to swimming space. [Nathan Hill in PFK]
---
Last edited by Byron; 02-28-2010 at

06:29 PM

.
Discus, no...20g is not big enough. Also, guppies, and pretty much all livebearers, breed like rabbits, get fish that are the same gender unless you plan on breeding them.
---

Betta bound! WOO-HOO!
-Ben

Posting Rules

You may not post new threads

You may not post replies

You may not post attachments

You may not edit your posts

---

HTML code is Off

---