Aquascaping suggestions?
---
My plants have grown wild! There is not much room in the middle for the fish to swim freely, and I'm not liking the messy, haphazard look of it. Does anyone have any suggestions for how I should rearrange things? I have three sword plants hiding along the back of the tank. There is a large piece of driftwood with java moss and java fern growing out of it. There are 4-5 anubias barteri, some attached to rocks and a couple that are just floating because I have no idea what to attach them to. In addition to that, there is water nymph, egeria densa, hydrilla verticillato, cryptocoryne pontederiifolia, and limnophila sessiflora, all of which were recently purchased at an auction and thrown randomly into the tank... I keep meaning to google them to find out the common names but I haven't done so yet... There is some corkscrew val somewhere in there, and when you look at the pictures, the stuff that's all growing from the substrate in the middle of the tank is hygrophilia coryombosa (sp?), which grows like MAD in my tank.
So, what do you think? Am I being too picky, or is the tank really as much of a mess as I think it is?
Left side of the tank: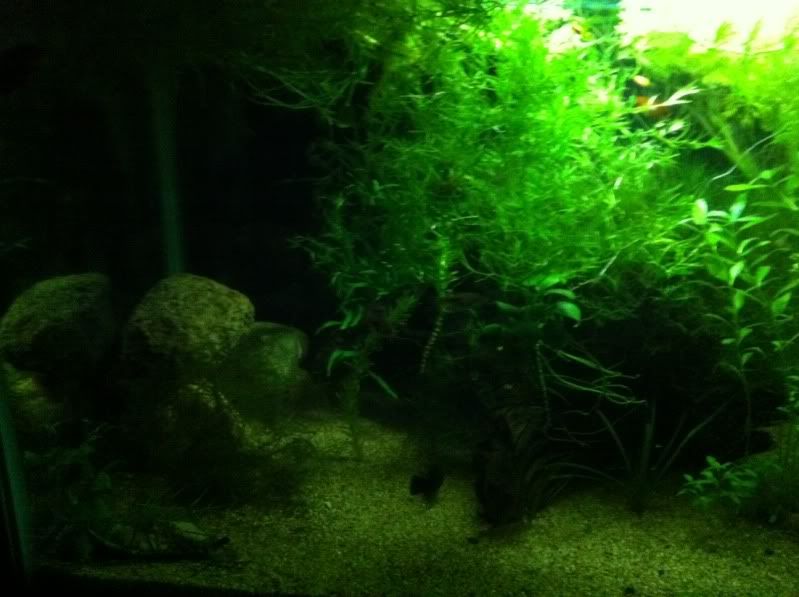 Middle of the tank: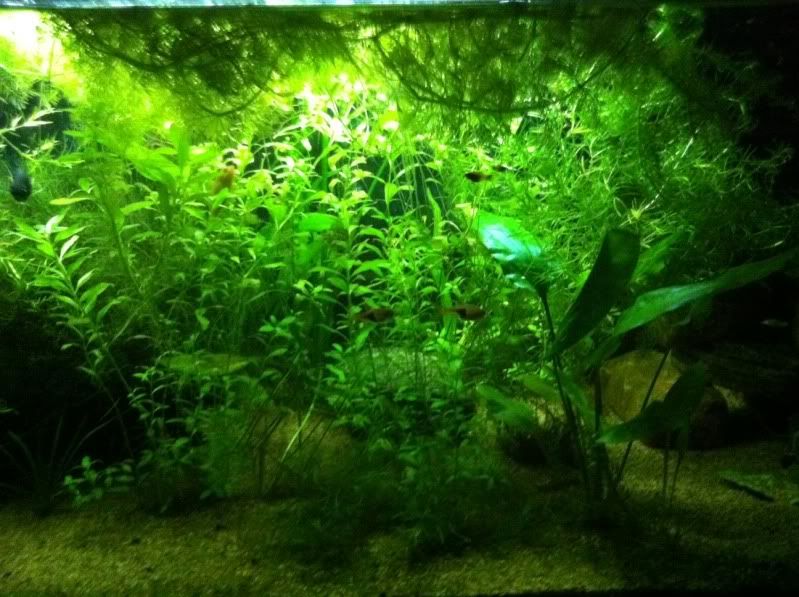 Right side of the tank: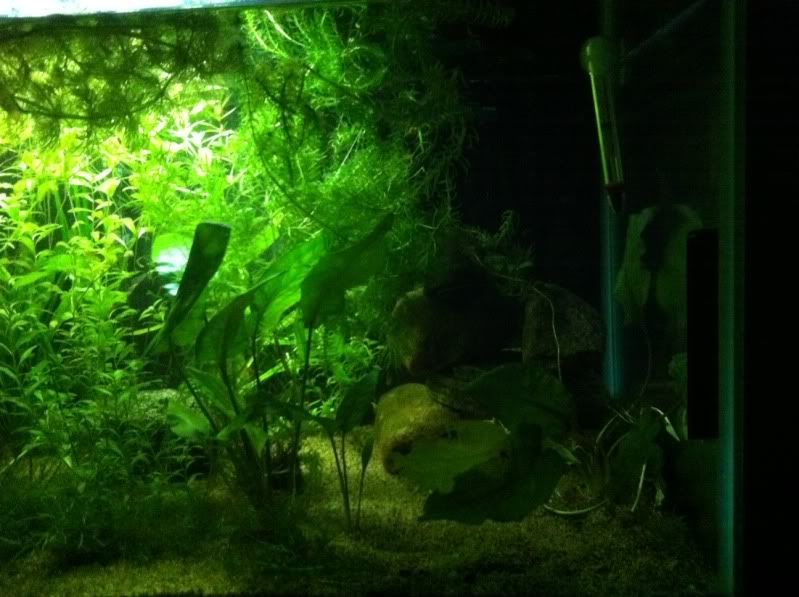 Whole tank:
Oh I forgot to mention the sword in the front/right side of the tank.

Also, it is a 67 G (48x18x18"). Light is a 24" strip over the middle of the tank, 6500K, not sure of the watts, fat tube (T12?). I fertilize with Flourish Comprehensive liquid fertilizer, and there are some root tabs spread out near the swords in the back but those might be gone... it has been awhile since I replaced them. One concern of mine is that the light doesn't hit the sides, and that's why I have concentrated the majority of the plants in the centre of the tank. Am I right to be concerned about that?
Time to weed the garden!
---
Father Knows Best but Abbey knows everything! I once knew everything, then I asked one question.
` •...><((((º>` • . ¸¸ . • ´` • . . . ¸><((((º>¸ . • ´` • .. . ¸ ><((((º>
Aaaaaand... Would you happen to have any suggestions as to where I should move the weeds to once I uproot them?
Oh and one more thing in case it's important... Substrate is pool filter sand.
I would just trim them a little and put them back where you had them. Especially the stem plants. I don't know how well you are going to get anything to grow on the sides of the tank because of your light being only 24"
Though I don't know if you have any floating plants so I would leave some floating or some long enough to shade the tank still (if that makes sense)
Water nymph is floating... I have also left the hydrilla verticillata and limnophila sessiflora floating, but am thinking of planting them in the substrate (somewhere!) after doing a bit of reading up on them. Then, I would spread the water nymph out more (rather than leaving it in the clump I've got it in now) in order to make up for the surface coverage that would be lost when I plant the other two.

Regarding what I feel to be a lack of space for fish to swim along the front of the tank... The hygrophilia corymbosa is the stuff that's closest to the front of the tank, at about 3-4 inches back from the front glass. Is that enough open space, or should I look at pushing it back further? Or will trimming it and thinning out the surface plants - which will make more space in the top part of the tank and over the middle - achieve enough of an effect on their open swimming area?
This is my thoughts on this (though might wanna wait for others to respond.) if the fish are able to swim through plants in the middle of the tank as well as in front of them I wouldn't worry about not having enough space. However if they do not and just have the 3-4" in front to swim then I think I would push it back some.
| | |
| --- | --- |
| The Following User Says Thank You to Boredomb For This Useful Post: | |
Would adding another 24 inch fixture be an option?

Your tank looks nice, but I feel like its very "centered". Everything is clumped in the center in a large mass and then each side is almost bare. If you have the option to have the light go from end to end, you'd have SO many more options and I think your tank would look amazing.
Unfortunately, adding another light fixture is not an option at this point. I bought the tank used, with no bracing, and had the lid custom built at work. While I had asked them to build the frame with a lip, and the actual lid as a separate piece that would sit on that lip, they ended up welding it all as one piece.

There is enough space for the fish to swim through the plants right now, but as I trim that hygrophilia corymbosa and replant the tops, they will eventually run out of room. Although this time around when I trim them, I think I'll bag them and take them to work to plant in my 10 G.
Iamgray do you just have one tube in your fixture? The reason I am asking is I just realized that the plant
Giant Hygrophila (Hygrophila corymbosa) is one I have looked at growing in the past but didn't think I had enough light.
Similar Threads
Thread
Thread Starter
Forum
Replies
Last Post
Re aquascaping

Blaxicanlatino

Beginner Planted Aquarium

30

08-03-2011

08:28 PM

re aquascaping

newby30gallon

Beginner Saltwater Aquariums

9

03-13-2010

10:26 AM

Need Help Aquascaping!

x2fast4everyone

Beginner Planted Aquarium

4

01-18-2010

04:29 PM

aquascaping

Rogergolf66

Beginner Saltwater Aquariums

12

05-02-2008

10:50 PM

Aquascaping

Howl52

Beginner Freshwater Aquarium

12

04-15-2007

08:32 AM
Posting Rules

You may not post new threads

You may not post replies

You may not post attachments

You may not edit your posts

---

HTML code is Off

---