aquarium restoration
---
im currently restoring a 55 gallon aquarium and im having a little trouble with the glass. so far iv taken it apart and scraped any silicon that was on the panes of glass off and separated them. the panes have some scum on them and i can see where the water level was. i think the scum is from a time when it was a salt water tank. my dad and i have been trying to get rid of the scum and we have tried power washing the glass and a very very fine wet sand paper but so far nothing has worked. we just called our local glass shop but they didnt know what to do and iv looked on line searching for how to polish glass but that didnt come back with any good results and im wondering if someone may know how to deal with this.
here is what im up against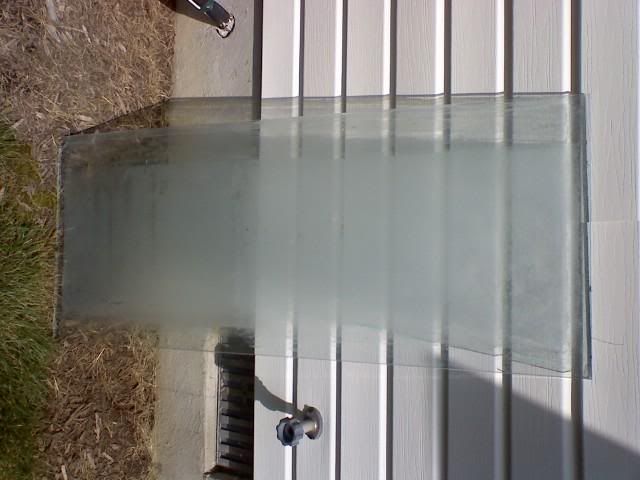 ---
its a half a inch of water and you think your gunna drown
I have had the same problem with an old African cichlid tank...

You could try CLR or soak it in a tub of water and white vinegar maybe bleach may even do something.
CLR? and id feel like if i soaked it in bleach or something would that poison the fish when the tank is all set up?
---
its a half a inch of water and you think your gunna drown
CLR= Calcium, Lime & Rust remover. I use it on my toilets and it works like a charm. I think any cleaner you use (vinegar, bleach) won't affect future fish keeping as long as you rinse the heck out of it after cleaning and let it dry before setting it up. JMHO
---
If you don't stand up for something you'll fall for anything...
try some CLR or a vinegar/water solution and let it soak.....crud cutter is another great cleaner, but like kymmie said make sure you rinse the heck out of it, then rinse it again...
Posting Rules

You may not post new threads

You may not post replies

You may not post attachments

You may not edit your posts

---

HTML code is Off

---