Algae
---
I have some green algae on the ground on my rocks and some dark brown on the top of my fake plant near the light. My pleco died so have no algae eater, What would the best way to remove it be?
---
55 Gallon Aquarium
1 Black Kuhli Loach
3 Black Skirt Tetras
4 Angelfish (3 Marble, 1 Gold)
1 Glass Fish
2 Blue Sunset Gourami
3 African Dwarf Frog
Amano shrimp are great at removing algae, as well as snails. My snails love the green algae that's creeping across my plants, and have managed to remove it all. I'm not sure that shrimp or snails will eat the brown algae, but you could definatly give it a try.

Do you know the water parameters? How long are you leaving your lights on daily? Any live plants?? What's your water change schedule?
Does your tank get direct sunlight? How long do you leave your lights on? Too much light is the first thing i would look to in your situation.

Plecs don't really at algae, unless they are bN plecs, so i doubt his absence will be the problem.

A nutrient imbalance could be a cause as well. What are your water parameters?
I recently got a plec for my algae problem. He wasn't a bristlenose, but he definatly took care of the algae -- expecially the algae on the driftwood.
I should have been clearer - sorry. Plecs while young will often eat algae, but as they mature they tend to stop doing so. Another thing to point out is that they are huge waste producers, so they aren't going to make your tank any "cleaner", the opposite actually.
I second Falina's statement. I had two commons when I was about 8 or 9 (still remember) and they were great algea eaters untill they reached 4-6".

Amano Shrimp are amazing cleaners. I have one in my 30, and my tank is spotless.
I'm going to go ahead and swear by my cherry shrimp. The research I did said it would eat most of the leftovers and algae in my tank and they weren't wrong!
well i got a albino pleco here are the pics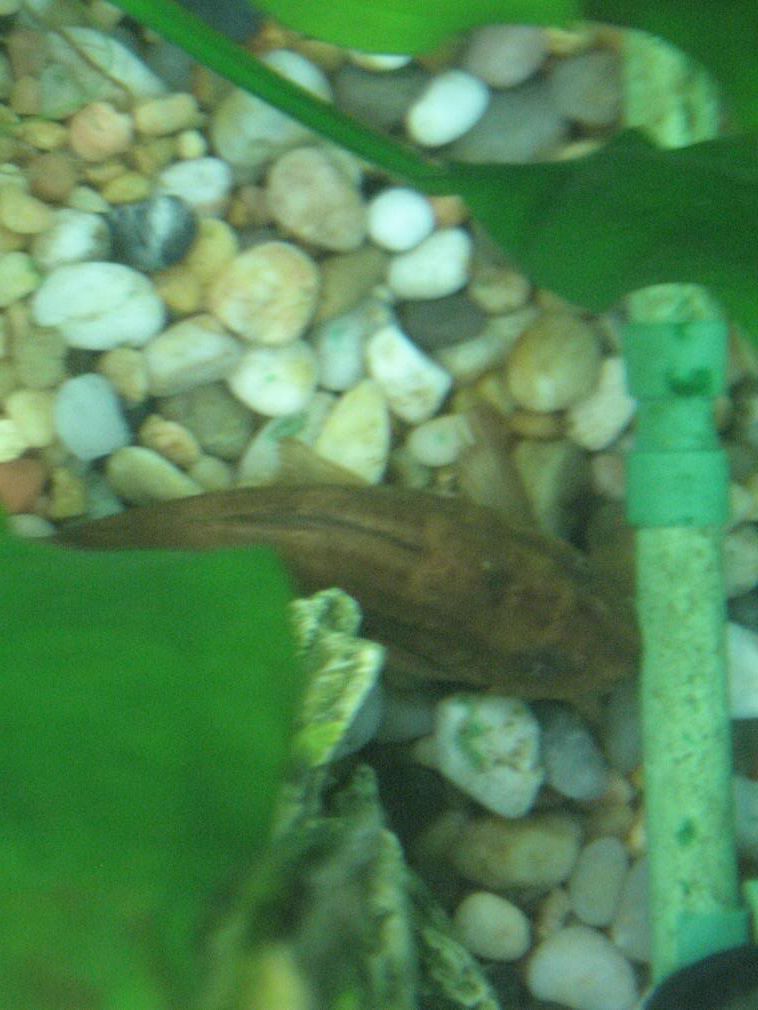 Tell me what you think. I'll test the parameters on saturday after i've done a water change. I'm going to winter camp tommorow thru friday so i won't be back till friday.
---
55 Gallon Aquarium
1 Black Kuhli Loach
3 Black Skirt Tetras
4 Angelfish (3 Marble, 1 Gold)
1 Glass Fish
2 Blue Sunset Gourami
3 African Dwarf Frog
Similar Threads
Thread
Thread Starter
Forum
Replies
Last Post
After all these yrs: My first algae

Angel079

Beginner Freshwater Aquarium

21

11-19-2009

11:52 AM

why is algae bad?

Aquarius Keeper

Beginner Saltwater Aquariums

8

11-18-2008

10:29 AM

algae

jeffwee559

Coral and Reef Creatures

6

04-27-2007

10:30 PM
Posting Rules

You may not post new threads

You may not post replies

You may not post attachments

You may not edit your posts

---

HTML code is Off

---