OK - my last post was about the 4th picture which was the only one that I saw initially.

It's good that you have extra filter cartridges. Once we know what the actual filter is, it will be easier to advise you on how to try to preserve any beneficial bacteria that the filter cartridges are housing so that you can quick cycle the tank once you get it cleaned out and set back up. I'll try to figure out which filter takes those size cartridges.
---
Animal testing is a terrible idea; they get all nervous and give the wrong answers.
---
Animal testing is a terrible idea; they get all nervous and give the wrong answers.
---
Last edited by Romad; 04-25-2014 at

07:07 PM

.
as a matter of fact.... check out these photos! It says it is a Marine Guard.
Yipee! So I will trash the gravel and bring everything home. Wash the tank and parts as you directed and then rinse the gravel, put it in and then add the water. After that, I will reinstall the Marine guard w/one new filter and leaving the other alone.
I can then install the heater that I found with it and then...? do I add more Prime? At what point will I be able to put the fish back in.
And finally, I still swish one of the filters around in the water I use to transport the fish?
Sort of but not exactly :)

Does the filter have one or two cartridges in it? If two, try to salvage one of the filter cartridges that are already in the filter, swish it around in the tank water before you empty it but after you remove the fish from the tank. Then once you have the gunk cleaned off of it, you can add it to the bucket that the fish are in. If one, try to do the same thing. Can't be sure until you get that open and see what's in there.

Once you have the filter cleaned out and ready to go in the clean tank, refill the tank with tap water that is as close to the safe zone temp as you can get it to. Add 1 to 2 drops of Prime for each gallon of new water to the new water or into the tank as you're adding the water.

Then take the filter cartridge out of the fish bucket and put it back into the filter along with a clean filter cartridge (if there are two cartridge slots obviously) Otherwise, if you weren't able to salvage the old "single" cartridge, you'll have to start cycling the tank all over again with a new cartridge.

But there's a bio wheel as well which will house a lot of beneficial bacteria. Let us know if that is salvagable. Rinse that off same way as the old filter cartridge and add it to the bucket of fish.

Plug in the heater, filter and airstone and make sure everything is functioning properly.

As for the fish, i would add some clean conditioned water to the bucket slowly as you remove and discard the bucket water from the old tank. Just try to acclimate them slowly. Then you can add them to the new tank.

We will want picture of the tank once you have it cleaned and set up again :)
---
Animal testing is a terrible idea; they get all nervous and give the wrong answers.
---
Last edited by Romad; 04-25-2014 at

08:44 PM

.
Oh glory. That tank is right scuzzy. The tetras you have look surprisingly ok...In case I missed the post on them, they're black skirts, and maybe a white skirt in there.
Yeah, that's gonna be work. lol You'd be surprised how things clean up though. Work yes, but probably not as bad as you think after looking at it. Scrub the windows good, vacuum. If you go slow it'll probably a week or two to actually look good again, but it should start looking better faster than you think.
As for your medicines and stuff you got, yeah, the PH tester good, aquarium salt always good to have on hand, I know nadda on the rest so I'd go with Romad's advice on just about everything, looks like he has you covered. lol That'll be a gorgeous tank once you have it fixed up. Mine started out similar, except without the water and fish, which I suppose made it easier(they drained it for me and I bought no fish, they did, however, leave it with the same water and dead fish for a couple years before selling it to me....ugh, I was washing fish bits off the windows), they also broke the cabinet on the stand and it has this stain, like someone dumped a soda on it and left it there and I can't get it off. x.x Bits of water stains on the lid and lights too...but it looks good, yeah? Hopefully it'll make a nice example, though I'm no awesome decorator or anything. lol
This is how mine looks now: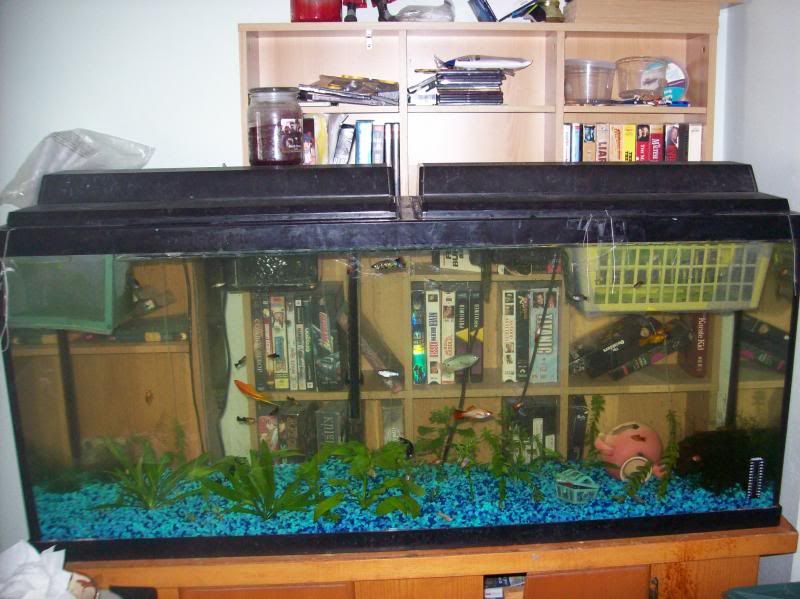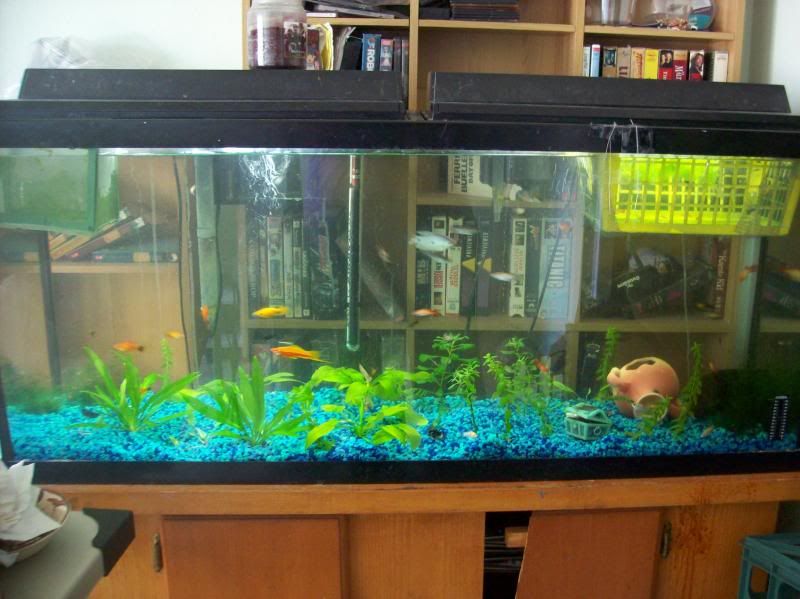 ---


Turning on the Aquarium lamp in the morning is MY cup of coffee.
---
Last edited by Sylverclaws; 04-25-2014 at

11:50 PM

.
Your tank is wonderful! Thanks for the help!

Romad, I printied everything out and will do my best. I'm off to work now. Should be able to post something later this evening when I get home.
OK good luck!!
---
Animal testing is a terrible idea; they get all nervous and give the wrong answers.
I love reading threads like this and seeing how the tank starts and then the final result.

Keep at it, can't wait to see what you do with this tank.
| | |
| --- | --- |
| The Following User Says Thank You to Super4Ever For This Useful Post: | |
Okay, well we all made it home safely, if a little on the shaken side. The tank is very dirty and we have been able to get all the alge out and most of the hard water stains. Here are some photos of when we first unloaded it in the yard.

The hard water stains have left a white film that I cannot get off not matter how much I scrub with salt. Any ideas about the film layer?

if there was a heater in the tank, I don;t know which it is. There are three tubes that seem to blow air bubbles...The heater I found in the box separate does not have a temp on the dial, so I keep checking it. I bought one yesterday tho. It's around 70 now in the but and keeps going higher. I am not sure how to keep it at the same temp once it has reached optimal.

There are two cartridges in the filter. For now, I am going to have to keep both until Thursday when I can buy a new one. Does anyone know how to help me check out the bio wheel?

back to scrubbing! Thank you so much for your help!
Try some white vinegar on the stains. Honestly, you're probably not going to get the majority of those off without toxic chemicals since they're pretty bad.
---
Animal testing is a terrible idea; they get all nervous and give the wrong answers.
| | |
| --- | --- |
| The Following User Says Thank You to Romad For This Useful Post: | |
Posting Rules

You may not post new threads

You may not post replies

You may not post attachments

You may not edit your posts

---

HTML code is Off

---