Looks like a nice piece of driftwood.
I am excited for it to get early next week, then I got to waterlog it. I'm thinking the glass canopy would keep it in the tank until it does get waterlogged like it did the tall piece which is in there now!
Water is so tannin rich! I'll try a full tank shot tonight, as my camera well takes best pictures in the dark.
But here's comparison shots of a day or so ago to now:
Suspect it'll be a deep dark wood scape by end of next week!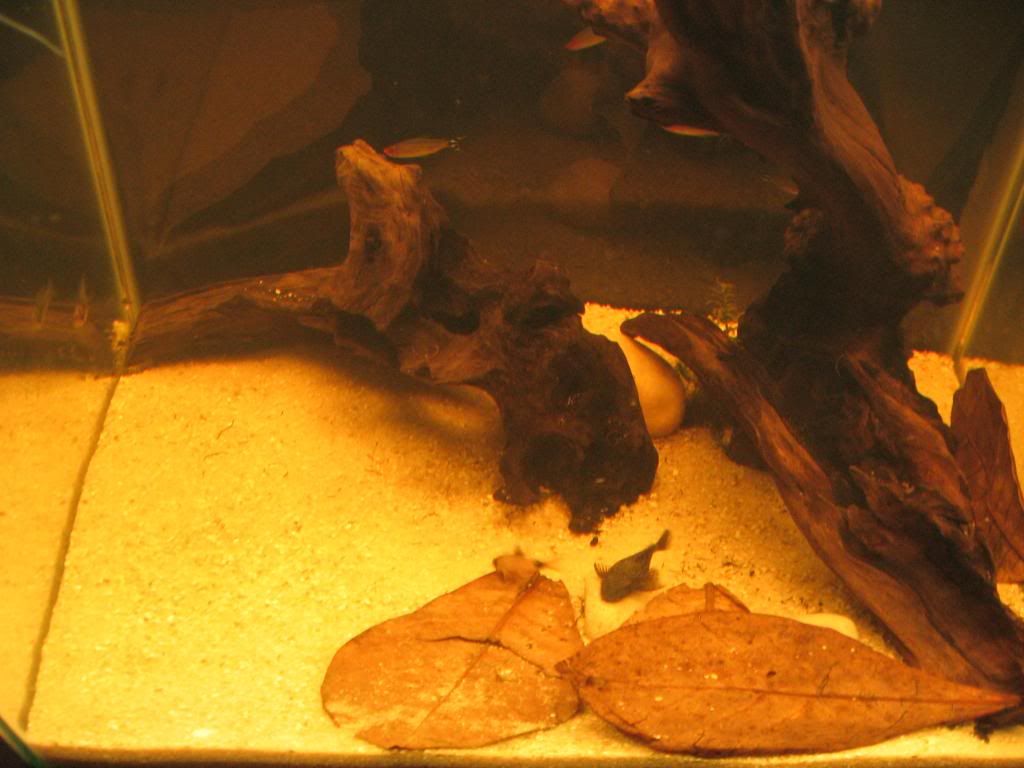 Tannins definately leaking in more so but ph has remained stable (7.2, same as it was).
STILL waiting for that new wood piece, should arrive tomorrow afternoon LATEST. Here's what it looks like now. The heater is an eyesore I know it. Aside from the heater, I like how it's coming along.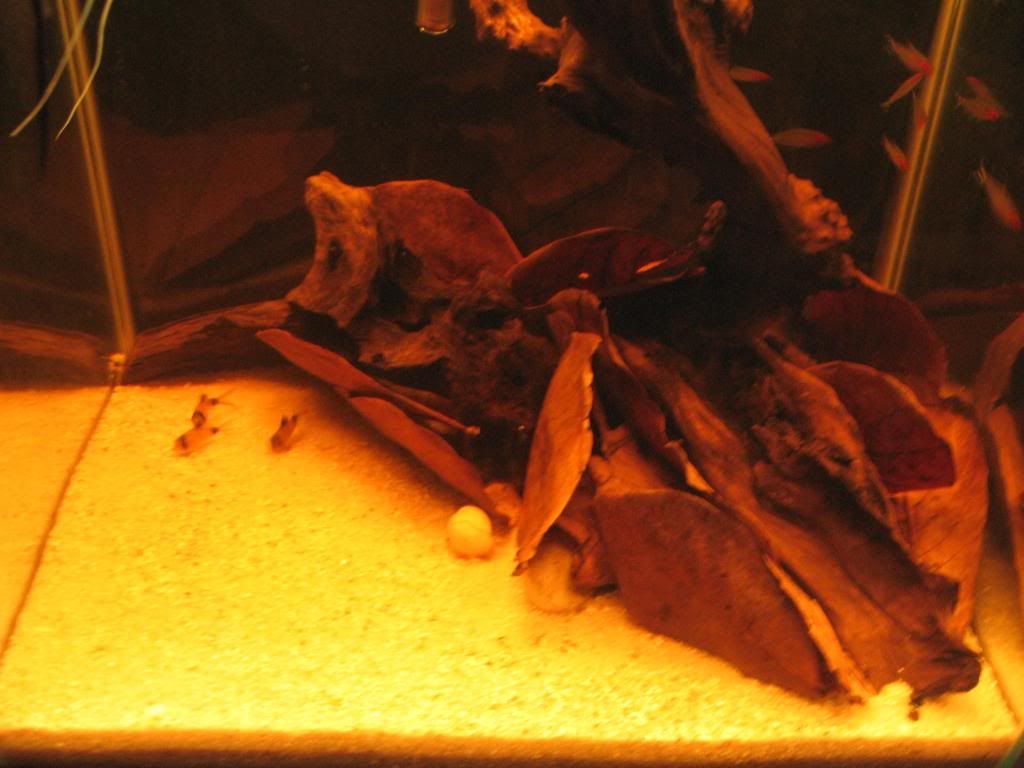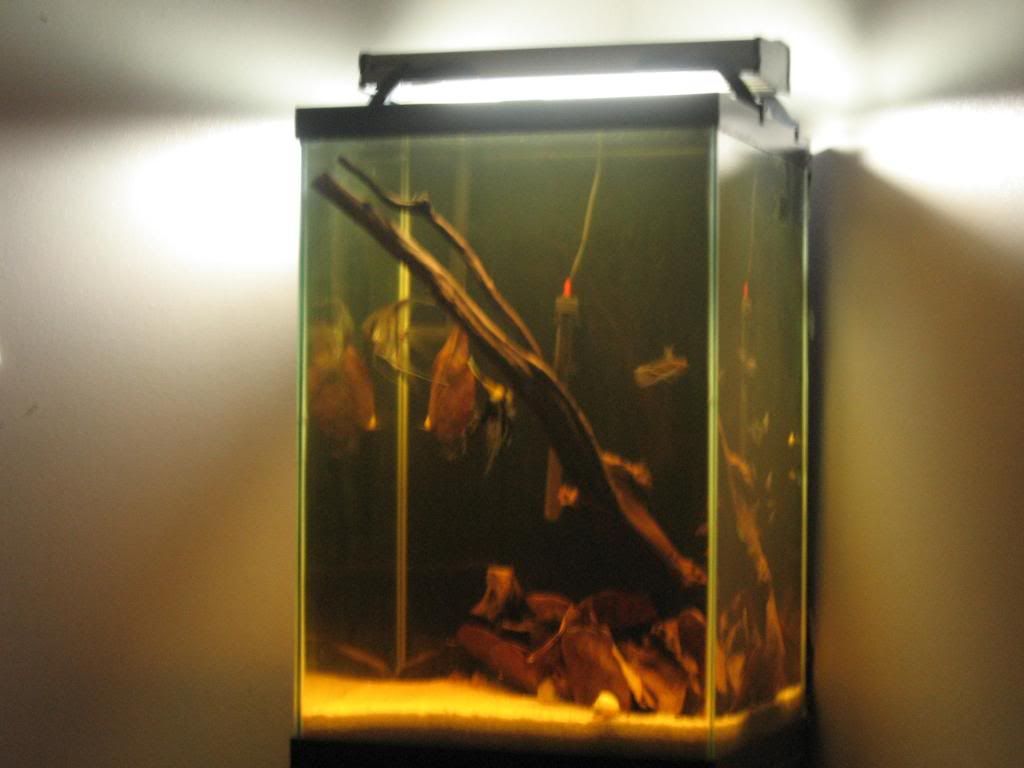 ---
Last edited by Clubber; 01-25-2012 at

10:15 AM

.
Just a question ... How do you keep the water full of tannins if you keep doing weekly water changes?
Btw its looking good!
I have alot of 5 gallon buckets I got from Home Depot that I use just for aquarium maitenance. And I got extra leaves and some BW extract.
I fill these buckets and let the water sit and soak inside of them with Tetra Aquasafe, Tetra Blackwater Extract and more leaves. Just a method I heard that I decided to experiment with and now am going to continue using. I just have to keep a lid on the buckets else my boxers may drink from them lol.
Thanks btw! Means alot coming from you.
I think once you get the other piece of driftwood its really going to fill in the tank. Have you thought about adding some floating plants? I think that little touch would add a lot. As the roots from the plants will just add to the blackwater setup.

I have always liked blackwater setups just wasn't sure how to maintain the color. I will have to keep that method in mind if I ever do one.

Btw what kind of leaves are those?
I've given the plants some thought, I definately want to add a touch of floating water sprite.
Once the coming wood piece, and the sprite, are in the set up is complete and will just be in its maitenance phase. Then I go to work on my next blackwater project which will be a 46 bow or 56 column chocolate gourami BW tank. Yes I am up for a challenge haha. Then onto my 125 which won't be BW.
The leaves are indian almond leaves (terminalia catappa) but oak leaves work just the same. :) I have a friend who lives in the Philippines who is sending me a bunch as they are common in his backyard.
Good places online besides aquaticmagic are aquabid and ebay especially this womans store front:
blackwater breeding teabags, Ketapang betta fighter discus items in Amy's Ketapang Indian Almond Leaves Catappa store on eBay!
I thought those were almond leaves. LoL I have about 10 oak trees in my front yard so I am good there.
Posting Rules

You may not post new threads

You may not post replies

You may not post attachments

You may not edit your posts

---

HTML code is Off

---