Silver Arowana
---
Hello, I have a silver arowana in a 55 gallon till i get my uncles used tank of 240 gallons.He used it for his old black arowana and the red tailed catfish.Now they are kept in a bigger tank from someone who bought them.I will be putting my 5" Silver Arowana in the tank with a Jaguar Cichlid that is only 3" right now and was wondering what are they also compatible with? Can i also put a red tailed catfish that is till young too with the tank? I like my uncles catfish so i wanted one just like his.My Silver has a Red Tail is this normal for the silvers cuz most of the silvers in the local stores have them too but i got one that was havin a red color on its tail?Ill try to get a photo of it soon.=]
sorry bout the way the pic is....its kinda blurry and stuff.but u may be able to see the red tail.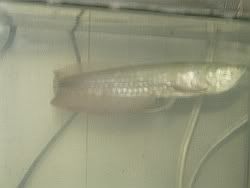 Its normal for silvers to have a shade of red or red around some scales when young, that usually goes away when they get bigger.

Dont get a red tail catfish (south american or asian) They both get to big way to fast.

Silvers can be kept with a lot of fish. Basically look for something that wont git in the aros mouth or cause the aro harm. Most large peaceful fish are good like silver dollars, tinfoils, severums and stuff like that. I would watch out for certain bottom dwellers as silvers can be aggressive to fish that dont move much but i've only seen that on a few cases.
maybe try shovelnose, they had them both in the display tank at my lfs. not sure which one you should get as the tiger shovelnose gets pretty big not sure a bout lima's
oh ok well i was also brainstorming on what are the possible tankmates...and can i get 1 florida gar in the 240 with just the silver arowana and jaguar cichlid?
The two standard 240 gallon tanks are 8'x2'x2' and 4'x4'x2'.

That combo would work, and you should still have some room in that tank. With the cube tank you could get more time with the silver.
yup its good you know your dimensions of the 240. =D it is indeed a 8'x2'x2' besides a i dont like the 4'long ones since they dont give much of a long open swiming space.And since a large fish exceeding over 2.5 ft the 4' is not an acceptable lenght.And to DAZ well about thinking a 240 gallon fish tank being at a 10' lenght its not but i really did wish that so my aro could get a large open space.=D So Can i only have these 3 together only alone? Or is their some other fishes that can go with them? I dont think having a pleco ( common ) is good with the Florida Gar b/c I have heard from alot of other aquarist that they had their Gars Suckedup by the pleco and gave a injury to the body of the gar.
Posting Rules

You may not post new threads

You may not post replies

You may not post attachments

You may not edit your posts

---

HTML code is Off

---