Sparkling gourami fighting
---
Sort of in a hurry. But I have 2 males and 1 female in a DENSELY planted 20 gallon long tank. One male always has his tail closed and is always being picked on by the other male.. Is this normal? Will a bigger group solve the issue? I thought they liked to live in small groups.
Thanks..
Posted via Mobile Device
I think that two females and one male would be a better arrangement. Maybe you could add two females to the group. My experience with gourami has been that there is always a pecking order. This is especially true among males.
---
Fishmonger
This species is not different from all species; males are territorial, and the ration of male/female should be more females than males.

In my several years of maintaining this species and having had many successful spawns, I found that this aggression was strongest during the period when a male is guarding the nest. For such a tiny fish, he is quite the fighter. I've had to remove hatchetfish due to the aggression of defending males.

Get a larger group, say 7 fish, and you will likely have a better ratio. They are not easy as you said to distinguish when young. Also, thick floating plants covering the surface with extensive root systems (Water Sprite, Wisteria allowed to float) also help to break up territories.

Byron.
---
Byron Hosking, BMus, MA
Vancouver, BC, Canada

The aquarist is one who must learn the ways of the biologist, the chemist, and the veterinarian. [unknown source]

Something we all need to remember: The fish you've acquired was quite happy not being owned by you, minding its own business. If you're going to take it under your wing then you're responsible for it. Every aspect of its life is under your control, from water quality and temperature to swimming space. [Nathan Hill in PFK]
As far as I know they haven't been breeding. o.O
I went and picked up 4 more today, hopefully that helps.. Here are some pics of their tank... Currently having some algae issues due to a too-old light tube.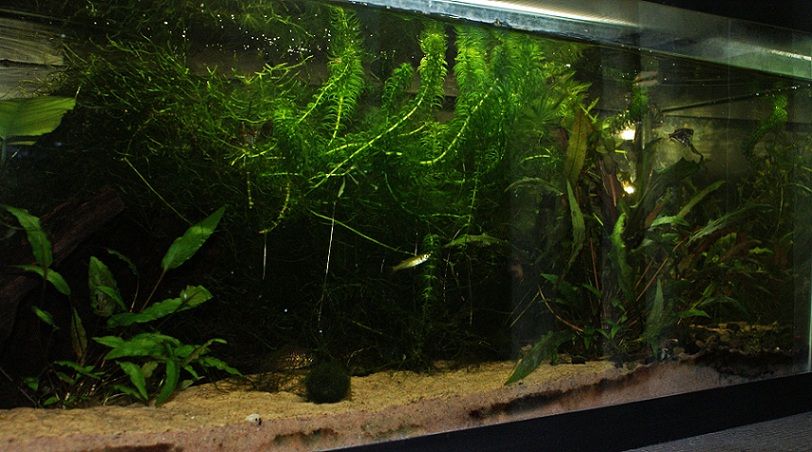 These new ones look very young..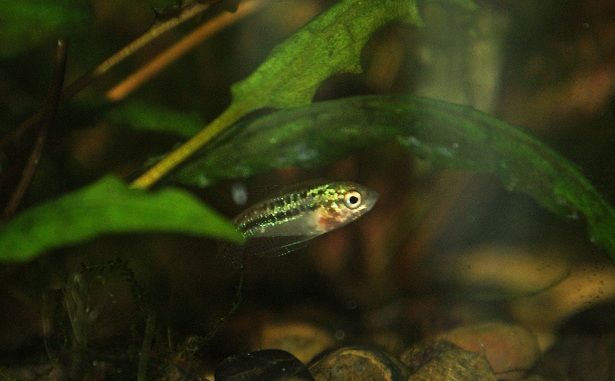 ---
taking a break from fish-keeping.
3 lovely male betta still keep me company.

That's fine, nice tank for them. And a beauty of a fish.
---
Byron Hosking, BMus, MA
Vancouver, BC, Canada

The aquarist is one who must learn the ways of the biologist, the chemist, and the veterinarian. [unknown source]

Something we all need to remember: The fish you've acquired was quite happy not being owned by you, minding its own business. If you're going to take it under your wing then you're responsible for it. Every aspect of its life is under your control, from water quality and temperature to swimming space. [Nathan Hill in PFK]
| | |
| --- | --- |
| The Following User Says Thank You to Byron For This Useful Post: | |
Posting Rules

You may not post new threads

You may not post replies

You may not post attachments

You may not edit your posts

---

HTML code is Off

---