Well, when I did my research, everywhere I looked it said three-spot gourami's do best in a male and female pair. x.x
Anywho, here's my boy. If I'm wrong and it's a girl, it's got a heck of a dorsal fin. lol He's hard to get good photos of.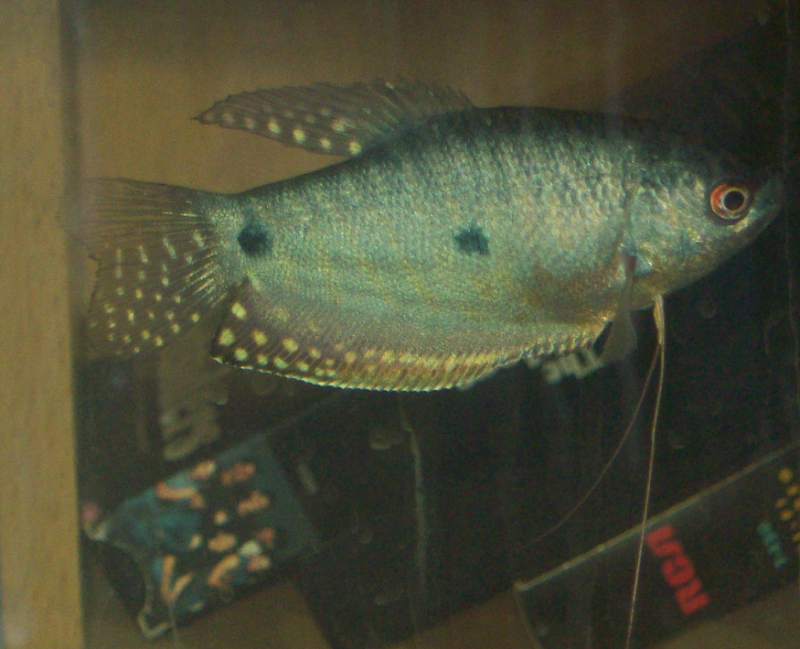 ---


Turning on the Aquarium lamp in the morning is MY cup of coffee.
Definitely a male.

I couldn't keep a pair in a 45. I wouldn't try to do a pair in less than a 4 foot tank.
---
125 - BGK, chanchito cichlid, pictus cats, silver dollars, palmas bichir

125 - cichlids (severums, bolivian rams, chocolate), rainbows ( turquoise, red), loaches (angelicus, zebra, kuhli and horseface), plecos (BN, RL and clown), denison barbs, tiretrack eel, pearl gouramis, betta
90 - Congo tetras, african knife, upside down cats, spotted ctenopoma, kribensis, delhezzi bichir
2.5 - betta

The tank is a planted 55 gallon. =( This is my third try at a pair...possibly the fourth. Usually it's the female who hates the male, and at one point I had two females with a younger male and he was kinda a dip... LOL I can't seem to win, but they're so pretty and were getting along, so I figured, hey, third time is the charm! Guess not.
Maybe they shouldn't interbreed on the colors even though they're the same species? But he looks like he's got some gold in him, I wanted some more similar to him with brighter markings, but eh!

Now that she's moved and fixed up, do you think I may be able to try again in the future? Put him in -her- space?
---


Turning on the Aquarium lamp in the morning is MY cup of coffee.
With aggressive species sometimes I think it's just a matter of getting the right specimens.
---
125 - BGK, chanchito cichlid, pictus cats, silver dollars, palmas bichir

125 - cichlids (severums, bolivian rams, chocolate), rainbows ( turquoise, red), loaches (angelicus, zebra, kuhli and horseface), plecos (BN, RL and clown), denison barbs, tiretrack eel, pearl gouramis, betta
90 - Congo tetras, african knife, upside down cats, spotted ctenopoma, kribensis, delhezzi bichir
2.5 - betta

Posting Rules

You may not post new threads

You may not post replies

You may not post attachments

You may not edit your posts

---

HTML code is Off

---